Now that 2015 is (almost) over, I thought I would share with you my Top 5 books that I read in 2015 and the most disappointing book of 2015, in my opinion of course. The books that I present here were not specifically published in 2015 but I read them this year. So let's start with the list!
Most disappointing book of 2015
The Riftwar Saga by Raymond E. Feist:
Magician: Apprentice (Book 1)
Magician: Master (Book 2)
Silverthorn (Book 3)
A Darkness at Sethanon (Book 4)
If I had to choose one book as the most disappointing of the year, that would be Silverthorn, the third book of The Riftwar Saga. But this whole series was very disappointing for me. This is a very well-known fantasy series that many people seem to enjoy but it just wasn't for me. I thought the protagonists were boring and the plot was not interesting. The action in these books followed a pattern of fighting, meeting comrades, adding comrades to the company, leaving from one place for another, fighting, meeting comrades…and so on. The women in this series are portrayed as sitting on their thrones looking pretty while the men were heroes and valiant fighters. This series really didn't do it for me, I almost gave up but I did finish it and now it's made it to my most disappointing book/series of 2015.
And now to my Top 5 List of 2015:
5.
Our Endless Numbered Days by Claire Fuller
First of all, this hardcover is so pretty! Seriously, look at it! Anyway, this is a very emotional and raw story of a young girl who traveled with her father away from their home and had to survive in a cabin in the woods for many years. This is such an interesting and unique book and the writing is brilliant. I strongly recommend that you check this book out because I don't think it has received the recognition it deserves. You can read my full review of this book if you click here.
4.
More Than This by Patrick Ness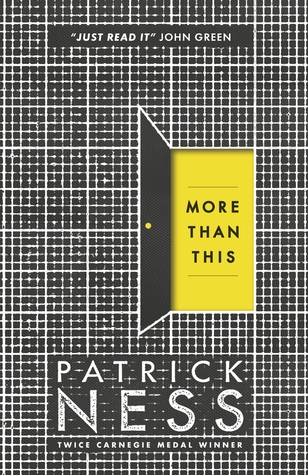 This book..Patrick Ness has such a genius imagination and such a wonderful way to keep the mystery going all the way through this book, even until the last page. More Than This is a young adult, science fiction book with LGBTQ+ themes and it's really really good. It keeps you guessing about what the heck is going on. When you think you finally understand what is happening, Patrick Ness throws a curve ball and makes you question everything over and over again. Just go check it out!
3.
The Liveship Traders Trilogy by Robin Hobb
Ship of Magic (Book 1)
The Mad Ship (Book 2)
Ship of Destiny (Book 3)
If you are looking for a good pirate book with strong bad-ass female characters, this is it! This series is a wonderful adventure in the sea with ships, sea monsters, pirates and politics in trade centres. Robin Hobb knows how to create realistic characters that actually make you experience a variety of emotions from anger to excitement. I will definitely be reading more Robin Hobb in the future and if you like a good adventure in the sea, I strongly suggest that you look into this series. You can check out my review of the Liveship Traders Trilogy here.
2.
Gardens of the Moon by Steven Erikson
This is the first book in the massive Malazan Book of the Fallen series which is an epic, high fantasy series with breathtaking world-building and genius characters. Steven Erikson has created such a detailed world with a complicated magic system where gods and mortals can interact, mages can be shapeshifters and assassin's roam around the rooftops at night. Be warned though, this is a humongous book series with many many pages of politics, war, plots, twists and turns. This is a big project of a book but definitely worth it!
1.
Aristotle and Dante Discover the Secrets of the Universe by Benjamin Alire Saenz
Aristotle and Dante Discover the Secrets of the Universe
This book doesn't have a specific plot. It's just a story of a boy, Ari, who is very depressed and is trying to find meaning in his life. One day he meets Dante, a very different type of guy than Ari is, and his life changes for ever. The story of Aristotle and Dante is written so beautifully and is so lyrical and sweet. It will give you a warm and nice feeling and keep you a very good company on a cold afternoon by the fireplace. This was the most beautiful story that I read this year and I would recommend it to anyone who enjoys young adult or LGBTQ+ literature.
So these were my Top 5 and the most disappointing books/series that I read this year. What were you favourite and worst books of the year? I'd really like to know!