So this year I stumbled upon this group on Goodreads while I was looking for possible readathons that I could join and #AYearAThon was one of them. This February, the yearathon will start on the 8th and will run for a week until the 14th and the genre we are reading is New Adult/Romance novels. Now, one thing I will not here is that this genre is not really my cup of tea BUT I am a curious human being who likes to try different things! So I managed to come up with a small "to-be-read" list for the month of February and I would like to share it here with you.
Ugly by Margaret McHeyzer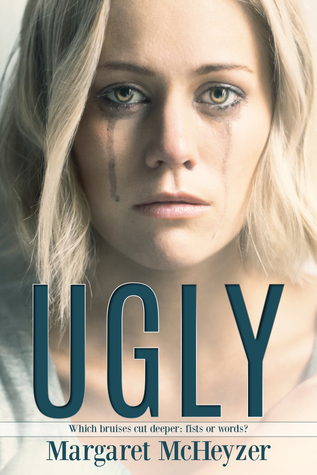 This is a New Adult/ Young Adult novel that deals with the very serious issue of physical and psychological abuse. I don't know much more about it since the description/synopsis is quite vague but I'm hoping I will enjoy it even though it obviously contains very dark themes. This cover though! I find it really ugly (no pun intended). I hate when they just put a random face that takes up the whole page but anyway..According to Goodreads there is also a book trailer which you can watch below if you are interested.
Right Kind of Mistake by Rebecca Thomas
 This is the first book in a two-book New Adult romance series, so I think I am pretty accurate in their genre description here! So in this story we follow Haylie whose heart has been broken by her cheating boyfriend. Her friends are advising her that the best course of action in this case is to find someone to have revenge sex with and that's exactly what Haylie wants to do. But that someone is Cam, a charming hockey hero who wants a lot more from Haylie than just one random hook-up. Oh dear. I'm completely out of my waters with this one but I will go for it goddammit, I will!
The Mother Road by Meghan Quinn
 A road trip story of a girl travelling with three guys, one of which is her brother and the other one her childhood crush, on route 66. Of course, in agreement to the theme of February, yet another New Adult romance book. Only this one sound a little bit more fun than the previous one, at least to me. But shall see!
So these are the three books I've decided to read for February's Yearathon theme. It's not much for a readathon, I know, but I do still have an important exam and I am not also not too into the New Adult/Romance genre. Do you maybe have any good suggestions for me? I would appreciate any recommendations for newbies of NA books! Are you also participating in any readathons? I will probably post regular updates of how things are going when the February Yearathon week stars! Feel free to check out the links I put in the description above and to participate with us on the #AYearAThon. Happy reading 🙂