Hello fellow readers, happy 1st of May! As usual, I have assembled a pretty lengthy list of all the books that come out in May and which I found interestingand added to my want-to-read list on Goodreads! Maybe you'll find something in my list below to add to yours! Let's have a look 🙂
Fiction
Starting off with a contemporary novel with an LGBT character, this is an adult fiction novel from a New York Times bestselling author. Here's the book synopsis:
Friends and former college bandmates Elizabeth and Andrew and Zoe have watched one another marry, buy real estate, and start businesses and families, all while trying to hold on to the identities of their youth. But nothing ages them like having to suddenly pass the torch (of sexuality, independence, and the ineffable alchemy of cool) to their own offspring.
Back in the band's heyday, Elizabeth put on a snarl over her Midwestern smile, Andrew let his unwashed hair grow past his chin, and Zoe was the lesbian all the straight women wanted to sleep with. Now nearing fifty, they all live within shouting distance in the same neighborhood deep in gentrified Brooklyn, and the trappings of the adult world seem to have arrived with ease. But the summer that their children reach maturity (and start sleeping together), the fabric of the adults' lives suddenly begins to unravel, and the secrets and revelations that are finally let loose—about themselves, and about the famous fourth band member who soared and fell without them—can never be reclaimed.
Another contemporary literary fiction book dealing with death. Louise Erdrich is an American author nominated for the Pulitzer award with her The Plague of Doves and winner of the National Book Award with her novel The Round House. Book synopsis:
North Dakota, late summer, 1999. Landreaux Iron stalks a deer along the edge of the property bordering his own. He shoots with easy confidence—but when the buck springs away, Landreaux realizes he's hit something else, a blur he saw as he squeezed the trigger. When he staggers closer, he realizes he has killed his neighbor's five-year-old son, Dusty Ravich.
The youngest child of his friend and neighbor, Peter Ravich, Dusty was best friends with Landreaux's five-year-old son, LaRose. The two families have always been close, sharing food, clothing, and rides into town; their children played together despite going to different schools; and Landreaux's wife, Emmaline, is half sister to Dusty's mother, Nola. Horrified at what he's done, the recovered alcoholic turns to an Ojibwe tribe tradition—the sweat lodge—for guidance, and finds a way forward. Following an ancient means of retribution, he and Emmaline will give LaRose to the grieving Peter and Nola. "Our son will be your son now," they tell them.
LaRose is quickly absorbed into his new family. Plagued by thoughts of suicide, Nola dotes on him, keeping her darkness at bay. His fierce, rebellious new "sister," Maggie, welcomes him as a co conspirator who can ease her volatile mother's terrifying moods. Gradually he's allowed shared visits with his birth family, whose sorrow mirrors the Raviches' own. As the years pass, LaRose becomes the linchpin linking the Irons and the Raviches, and eventually their mutual pain begins to heal.
But when a vengeful man with a long-standing grudge against Landreaux begins raising trouble, hurling accusations of a cover-up the day Dusty died, he threatens the tenuous peace that has kept these two fragile families whole.
Imagine Me Gone by by Adam Haslett
One last book from this genre that caught my interest. This book deals with mental illness and as a psychology student this definitely sounds like something I would enjoy reading. Book synopsis:
When Margaret's fiancé, John, is hospitalized for depression in 1960s London, she faces a choice: carry on with their plans despite what she now knows of his condition, or back away from the suffering it may bring her. She decides to marry him.Imagine Me Gone is the unforgettable story of what unfolds from this act of love and faith. At the heart of it is their eldest son, Michael, a brilliant, anxious music fanatic who makes sense of the world through parody. Over the span of decades, his younger siblings–the savvy and responsible Celia and the ambitious and tightly controlled Alec–struggle along with their mother to care for Michael's increasingly troubled and precarious existence.
BookDepository: Imagine Me Gone
Young Adult
The Crown's Game by Evelyn Skye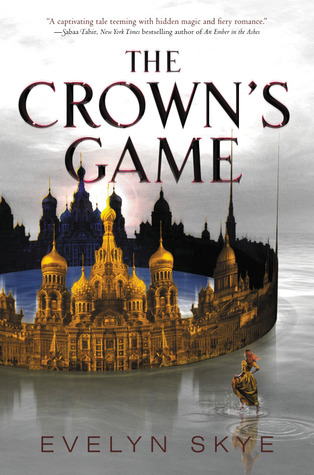 A new YA historical fantasy duology (I believe?) set in Russia, for all of you out there obsessed with books taking place in Russia. According to her Goodreads page, the author Evelyn Skye, was offered a job in the C.I.A.??I bet she has an interesting background to show through her new books. This is her debut novel and here is the book's synopsis:
Vika Andreyeva can summon the snow and turn ash into gold. Nikolai Karimov can see through walls and conjure bridges out of thin air. They are enchanters—the only two in Russia—and with the Ottoman Empire and the Kazakhs threatening, the Tsar needs a powerful enchanter by his side.
And so he initiates the Crown's Game, an ancient duel of magical skill—the greatest test an enchanter will ever know. The victor becomes the Imperial Enchanter and the Tsar's most respected adviser. The defeated is sentenced to death.
Raised on tiny Ovchinin Island her whole life, Vika is eager for the chance to show off her talent in the grand capital of Saint Petersburg. But can she kill another enchanter—even when his magic calls to her like nothing else ever has?
For Nikolai, an orphan, the Crown's Game is the chance of a lifetime. But his deadly opponent is a force to be reckoned with—beautiful, whip smart, imaginative—and he can't stop thinking about her.
And when Pasha, Nikolai's best friend and heir to the throne, also starts to fall for the mysterious enchantress, Nikolai must defeat the girl they both love… or be killed himself.
As long-buried secrets emerge, threatening the future of the empire, it becomes dangerously clear… the Crown's Game is not one to lose.
BookDepository: The Crown's Game
The Unexpected Everything by Morgan Matson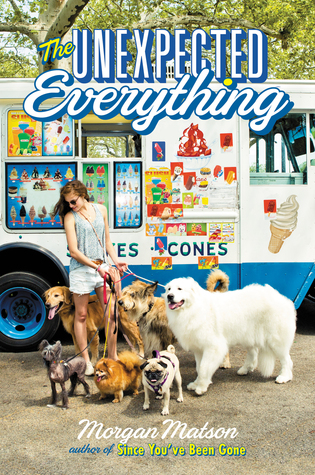 From the author of the beloved YA books Amy & Roger's Epic Detour (which I haven't read yet) and Since You've Been Gone (which I'll be picking up sometime in 2016), comes a new young adult contemporary that's already gaining fast in popularity on Goodreads. Book synopsis:
Andie had it all planned out.
When you are a politician's daughter who's pretty much raised yourself, you learn everything can be planned or spun, or both. Especially your future.
Important internship? Check.
Amazing friends? Check.
Guys? Check (as long as we're talking no more than three weeks)
But that was before the scandal. Before having to be in the same house with her dad. Before walking an insane number of dogs. That was before Clark and those few months that might change her whole life.
Because here's the thing – if everything's planned out, you can never find the unexpected.
And where's the fun in that?
BookDepository: Unexpected Everything
The Problem with Forever by Jennifer L. Armentrout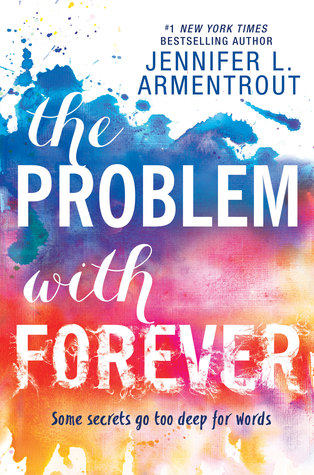 Who here hasn't read the Lux series by Jennifer L. Armentrout? Well..I haven't..yet! But here she comes, with a new YA contemporary this time but we all know the romantic element can't be missing from her books. Book synopsis:
For some people, silence is a weapon. For Mallory "Mouse" Dodge, it's a shield. Growing up, she learned that the best way to survive was to say nothing. And even though it's been four years since her nightmare ended, she's beginning to worry that the fear that holds her back will last a lifetime.
Now, after years of homeschooling with loving adoptive parents, Mallory must face a new milestone—spending her senior year at public high school. But of all the terrifying and exhilarating scenarios she's imagined, there's one she never dreamed of—that she'd run into Rider Stark, the friend and protector she hasn't seen since childhood, on her very first day.
It doesn't take long for Mallory to realize that the connection she shared with Rider never really faded. Yet the deeper their bond grows, the more it becomes apparent that she's not the only one grappling with the lingering scars from the past. And as she watches Rider's life spiral out of control, Mallory faces a choice between staying silent and speaking out—for the people she loves, the life she wants, and the truths that need to be heard.
BookDepository: The Problem with Forever
 A new young adult historical fiction stand-alone novel that has caught my attention. Book synopsis:
San Francisco, 1906: Fifteen-year-old Mercy Wong is determined to break from the poverty in Chinatown, and an education at St. Clare's School for Girls is her best hope. Although St. Clare's is off-limits to all but the wealthiest white girls, Mercy gains admittance through a mix of cunning and a little bribery, only to discover that getting in was the easiest part. Not to be undone by a bunch of spoiled heiresses, Mercy stands strong—until disaster strikes.
On April 18, an historic earthquake rocks San Francisco, destroying Mercy's home and school. With martial law in effect, she is forced to wait with her classmates for their families in a temporary park encampment. Mercy can't sit by while they wait for the Army to bring help. Fires might rage, and the city may be in shambles, yet Mercy still has the 'bossy' cheeks that mark her as someone who gets things done. But what can one teenaged girl do to heal so many suffering in her broken city?
BookDepository: Outrun the Moon
If I Was Your Girl by Meredith Russo
 A debut novel about the story of a transgender girl falling in love with Grant, a guy from her high school. I'm so happy that there are more and more books about transgender adolescents coming out on the market and gaining on popularity. This is definitely something that I'd like to read. Book synopsis:
Amanda Hardy is the new girl in school. Like anyone else, all she wants is to make friends and fit in. But Amanda is keeping a secret, and she's determined not to get too close to anyone.
But when she meets sweet, easygoing Grant, Amanda can't help but start to let him into her life. As they spend more time together, she realizes just how much she is losing by guarding her heart. She finds herself yearning to share with Grant everything about herself, including her past. But Amanda's terrified that once she tells him the truth, he won't be able to see past it.
Because the secret that Amanda's been keeping? It's that at her old school, she used to be Andrew. Will the truth cost Amanda her new life, and her new love?
BookDepository: If I Was Your Girl
Mystery/ Thriler
 Joe Hill is the pen name of Stephen King's son, Joseph Hillstrom King.The Fireman is his new post apocalyptic, horror mystery. Thrillers with a number of pages exceeding 700 and a post apocalyptic, sci-fi thing sounds like something right up my alley. Book synopsis:
No one knows exactly when it began or where it originated. A terrifying new plague is spreading like wildfire across the country, striking cities one by one: Boston, Detroit, Seattle. The doctors call it Draco Incendia Trychophyton. To everyone else it's Dragonscale, a highly contagious, deadly spore that marks its hosts with beautiful black and gold marks across their bodies—before causing them to burst into flames. Millions are infected; blazes erupt everywhere. There is no antidote. No one is safe.
Harper Grayson, a compassionate, dedicated nurse as pragmatic as Mary Poppins, treated hundreds of infected patients before her hospital burned to the ground. Now she's discovered the telltale gold-flecked marks on her skin. When the outbreak first began, she and her husband, Jakob, had made a pact: they would take matters into their own hands if they became infected. To Jakob's dismay, Harper wants to live—at least until the fetus she is carrying comes to term. At the hospital, she witnessed infected mothers give birth to healthy babies and believes hers will be fine too. . . if she can live long enough to deliver the child.
Convinced that his do-gooding wife has made him sick, Jakob becomes unhinged, and eventually abandons her as their placid New England community collapses in terror. The chaos gives rise to ruthless Cremation Squads—armed, self-appointed posses roaming the streets and woods to exterminate those who they believe carry the spore. But Harper isn't as alone as she fears: a mysterious and compelling stranger she briefly met at the hospital, a man in a dirty yellow fire fighter's jacket, carrying a hooked iron bar, straddles the abyss between insanity and death. Known as The Fireman, he strolls the ruins of New Hampshire, a madman afflicted with Dragonscale who has learned to control the fire within himself, using it as a shield to protect the hunted . . . and as a weapon to avenge the wronged.
In the desperate season to come, as the world burns out of control, Harper must learn the Fireman's secrets before her life—and that of her unborn child—goes up in smoke.
 John Hart is an author whose every book is a best-seller. Redemption Road is his new mystery, thriller novel and he sounds like an author I would really like to read. Book synopsis:
Imagine:
A boy with a gun waits for the man who killed his mother.
A troubled detective confronts her past in the aftermath of a brutal shooting.
After thirteen years in prison, a good cop walks free. But for how long?
And deep in the forest, on the altar of an abandoned church, the unthinkable has just happened…
This is a town on the brink. This is a road with no mercy.
BookDepository: Redemption Road
Before the Fall by Noah Hawley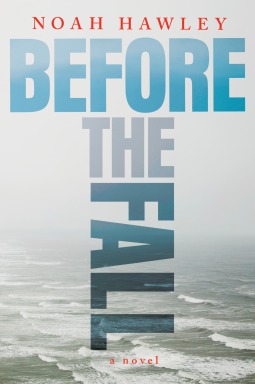 Noah Hawley is an American film and television producer that I've personally never heard of before. He's also the author of three other novels and his new thriller has been receiving a lot of attention. Book synopsis:
On a foggy summer night, eleven people-ten privileged, one down-on-his-luck painter-depart Martha's Vineyard on a private jet headed for New York. Sixteen minutes later, the unthinkable happens: the plane plunges into the ocean. The only survivors are Scott Burroughs-the painter-and a four-year-old boy, who is now the last remaining member of an immensely wealthy and powerful media mogul's family.
With chapters weaving between the aftermath of the crash and the backstories of the passengers and crew members-including a Wall Street titan and his wife, a Texan-born party boy just in from London, a young woman questioning her path in life, and a career pilot-the mystery surrounding the tragedy heightens. As the passengers' intrigues unravel, odd coincidences point to a conspiracy. Was it merely by dumb chance that so many influential people perished? Or was something far more sinister at work? Events soon threaten to spiral out of control in an escalating storm of media outrage and accusations. And while Scott struggles to cope with fame that borders on notoriety, the authorities scramble to salvage the truth from the wreckage.
BookDepository: Before the Fall
The Mirror Thief by Martin Seay
 This book is being compared to the works of Umberto Eco and David Mitchell. A fantasy mystery, thriller novel that has a very interesting premise. Book synopsis:
The core story is set in Venice in the sixteenth century, when the famed makers of Venetian glass were perfecting one of the old world's most wondrous inventions: the mirror. An object of glittering yet fearful fascination—was it reflecting simple reality, or something more spiritually revealing?—the Venetian mirrors were state of the art technology, and subject to industrial espionage by desirous sultans and royals world-wide. But for any of the development team to leave the island was a crime punishable by death. One man, however—a world-weary war hero with nothing to lose—has a scheme he thinks will allow him to outwit the city's terrifying enforcers of the edict, the ominous Council of Ten . . .
Meanwhile, in two other Venices—Venice Beach, California, circa 1958, and the Venice casino in Las Vegas, circa today—two other schemers launch similarly dangerous plans to get away with a secret . . .
BookDepository: The Mirror Thief
Science Fiction
Too Like the Lightning by Ada Palmer
I have become a big fan of Tor Books and their fantasy series and I have faith in them that I will also greatly enjoy their sci-fi series as well. Too Like the Lightning is the first book in a new sci-fi dystopian series called Terra Ignotta.
Mycroft Canner is a convict. For his crimes he is required, as is the custom of the 25th century, to wander the world being as useful as he can to all he meets. Carlyle Foster is a sensayer–a spiritual counselor in a world that has outlawed the public practice of religion, but which also knows that the inner lives of humans cannot be wished away.
The world into which Mycroft and Carlyle have been born is as strange to our 21st-century eyes as ours would be to a native of the 1500s. It is a hard-won utopia built on technologically-generated abundance, and also on complex and mandatory systems of labeling all public writing and speech. What seem to us normal gender distinctions are now distinctly taboo in most social situations. And most of the world's population is affiliated with globe-girdling clans of the like-minded, whose endless economic and cultural competition is carefully managed by central planners of inestimable subtlety. To us it seems like a mad combination of heaven and hell. To them, it seems like normal life.
And in this world, Mycroft and Carlyle have stumbled on the wild card that may destabilize the system: the boy Bridger, who can effortlessly make his wishes come true. Who can, it would seem, bring inanimate objects to life…
BookDepository: Too Like the Lightning
The Sudden Appearance of Hope by Claire North
 From the author of The First Fifteen Lives of Harry August comes a new sci-fi novel. Since booktubers have been raving on and on about Harry August, Claire North's new book was an instant addition to my want to read list. Book synopsis:
Listen.
All the world forgets me. First my face, then my voice, then the consequences of my deeds.
So listen. Remember me.
My name is Hope Arden, and you won't know who I am. We've met before – a thousand times. But I am the girl the world forgets.
It started when I was sixteen years old. A slow declining, an isolation, one piece at a time.
A father forgetting to drive me to school. A mother setting the table for three, not four. A teacher who forgets to chase my missing homework. A friend who looks straight through me and sees a stranger.
No matter what I do, the words I say, the people I hurt, the crimes I commit – you will never remember who I am.
That makes my life tricky. But it also makes me dangerous . . .
BookDepository: The Sudden Appearance of Hope
Fantasy
Children of Earth and Sky by Guy Gavriel Kay
 I'm sure many fantasy fans know Guy Gavriel Kay as he is a big name in the fantasy fiction genre. This is his new book taking place during Renaissance in Europe. Book synopsis:
From the small coastal town of Senjan, notorious for its pirates, a young woman sets out to find vengeance for her lost family. That same spring, from the wealthy city-state of Seressa, famous for its canals and lagoon, come two very different people: a young artist traveling to the dangerous east to paint the grand khalif at his request—and possibly to do more—and a fiercely intelligent, angry woman, posing as a doctor's wife, but sent by Seressa as a spy.
The trading ship that carries them is commanded by the accomplished younger son of a merchant family, ambivalent about the life he's been born to live. And farther east a boy trains to become a soldier in the elite infantry of the khalif—to win glory in the war everyone knows is coming.
As these lives entwine, their fates—and those of many others—will hang in the balance, when the khalif sends out his massive army to take the great fortress that is the gateway to the western world…
BookDepository: Children of Earth and Sky
Smoke by Dan Vyleta
 Smoke is a historical fantasy fiction book that begins in a boarding school. Who doesn't like fantasy, historical fiction and boarding schools? Plus the synopsis sounds super intriguing:
England. A century ago, give or take a few years.
An England where people who are wicked in thought or deed are marked by the Smoke that pours forth from their bodies, a sign of their fallen state. The aristocracy do not smoke, proof of their virtue and right to rule, while the lower classes are drenched in sin and soot. An England utterly strange and utterly real.
An elite boarding school where the sons of the wealthy are groomed to take power as their birthright. Teachers with mysterious ties to warring political factions at the highest levels of government.  Three young people who learn everything they've been taught is a lie – knowledge that could cost them their lives. A grand estate where secrets lurk in attic rooms and hidden laboratories. A love triangle. A desperate chase. Revolutionaries and secret police. Religious fanatics and coldhearted scientists. Murder. A London filled with danger and wonder. A tortured relationship between a mother and a daughter, and a mother and a son. Unexpected villains and unexpected heroes. Cool reason versus passion. Rich versus poor. Right versus wrong, though which is which isn't clear.
 Golden Age is the first book in the Shifting Tides series. James Maxwell is a fantasy author who has written the Evermen Saga (which I haven't read. Is it any good?). Book synopsis:
The discovery of a strange and superior warship sends Dion, youngest son of the king of Xanthos, and Chloe, a Phalesian princess, on a journey across the sea, where they are confronted by a kingdom far more powerful than they could ever have imagined.
But they also find a place in turmoil, for the ruthless sun king, Solon, is dying. In order to gain entrance to heaven, Solon is building a tomb—a pyramid clad in gold—and has scoured his own empire for gold until there's no more to be found.
Now Solon's gaze turns to Chloe's homeland, Phalesia, and its famous sacred ark, made of solid gold. The legends say it must never be opened, but Solon has no fear of foreigners' legends or even their armies. And he isn't afraid of the eldren, an ancient race of shape-shifters, long ago driven into the Wilds.
For when he gets the gold, Solon knows he will live forever.
Mongrels by Stephen Graham Jones
 Who doesn't like a good coming-of-age story. This is the story of a boy trying to understand his outcast-by-society family. Book synopsis:
He was born an outsider, like the rest of his family. Poor yet resilient, he lives in the shadows with his Aunt Libby and Uncle Darren, folk who stubbornly make their way in a society that does not understand or want them. They are mongrels, mixedblood, neither this nor that. The boy at the center of Mongrels must decide if he belongs on the road with his aunt and uncle, or if he fits with the people on the other side of the tracks.
For ten years, he and his family have lived a life of late-night exits and close calls—always on the move across the South to stay one step ahead of the law. But the time is drawing near when Darren and Libby will know if their nephew is like them or not. And the close calls they've been running from for so long are catching up fast, now. Everything is about to change.
Historical Fiction
The After Party by Anton DiSclafani
 Anton DiSclafani is a nationally bestselling author and her new book takes place in Texas in the 1950s. Book synopsis:
Joan Fortier is the epitome of Texas glamour and the center of the 1950s Houston social scene. Tall, blonde, beautiful, and strong, she dominates the room and the gossip columns. Every man who sees her seems to want her; every woman just wants to be her. But this is a highly ordered world of garden clubs and debutante balls. The money may flow as freely as the oil, but the freedom and power all belong to the men. What happens when a woman of indecorous appetites and desires like Joan wants more? What does it do to her best friend?
Devoted to Joan since childhood, Cece Buchanan is either her chaperone or her partner in crime, depending on whom you ask. But as Joan's radical behavior escalates, Cece's perspective shifts—forcing one provocative choice to appear the only one there is.
BookDepository: The After Party
Katherine of Aragon, the True Queen by Alison Weir
 In this historical fiction novel, Alison Weir gives her take on the lives of  Henry VIII's using research and new theories presented in a series of six novels. Book synopsis:
In all the romancing, has anyone regarded the evidence that Anne Boleyn did not love Henry VIII? Or that Prince Arthur, Katherine of Aragon's first husband, who is said to have loved her in fact cared so little for her that he willed his personal effects to his sister? Or that Henry VIII, an over-protected child and teenager, was prudish when it came to sex? That Jane Seymour, usually portrayed as Henry's one true love, had the makings of a matriarch? There is much to reveal …
BookDepository: Katherine of Aragon, the True Queen
 This is an autobiographical novel about the life of Maria Magdalena Dietrich and sounded very interesting to me so I decided to add it to my to-be-read list. Book synopsis:
Raised in genteel poverty after the first World War, Maria Magdalena Dietrich dreams of a life on the stage. When a budding career as a violinist is cut short, the willful teenager vows to become a singer, trading her family's proper, middle class society for the free-spirited, louche world of Weimar Berlin's cabarets and drag balls. With her sultry beauty, smoky voice, seductive silk cocktail dresses, and androgynous tailored suits, Marlene performs to packed houses, and becomes entangled in a series of stormy love affairs that push the boundaries of social convention.
For the beautiful, desirous Lili Marlene, neither fame nor marriage and motherhood can cure her wanderlust. As Hitler and the Nazis rise to power, she sets sail for America. Rivaling the success of another European import, Greta Garbo, Marlene quickly becomes one of Hollywood's leading ladies, starring with legends such as Gary Cooper, John Wayne, and Cary Grant. Desperate for her return, Hitler tries to lure her with dazzling promises. Marlene instead chooses to become an American citizen, and after her new nation is forced into World War II, tours with the USO, performing for thousands of Allied troops in Europe and Africa.
But one day she will return to Germany. Escorted by General George Patton himself, Marlene is heartbroken by the war's devastation and the evil legacy of the Third Reich that has transformed her homeland and the family she loved.
So there you have it, that was a lot of interesting-sounding books! I'm excited about May and the new releases from authors that we know and love but also debut novels. I hope you have a great month and that you enjoyed this post. Cheers!
I'm a BookDepository affiliate. If you want to buy a book online (free worldwide shipping) and you go through my links (the ones I used above) I'll get a small referral commission. Thank you very much for your support! 🙂