I am sooo far behind with my TBR list due to school work. I know you know how I feel! I'm still struggling with the books from the April Reads list but I also have a new to-be-read list for May (of course!). Let's have a look:
Never Fade by Alexandra Bracken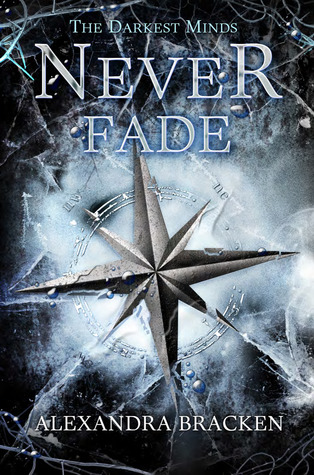 I was quite late to start with The Darkest Minds trilogy; I picked up the first book in April and actually enjoyed it. I wrote a book review which you can find here: The Darkest Minds by Alexandra Bracken (Book Review). I started reading Never Fade yesterday and I'm liking it so far. Book synopsis:
Ruby never asked for the abilities that almost cost her her life. Now she must call upon them on a daily basis, leading dangerous missions to bring down a corrupt government and breaking into the minds of her enemies. Other kids in the Children's League call Ruby "Leader", but she knows what she really is: a monster.
When Ruby is entrusted with an explosive secret, she must embark on her most dangerous mission yet: leaving the Children's League behind. Crucial information about the disease that killed most of America's children—and turned Ruby and the others who lived into feared and hated outcasts—has survived every attempt to destroy it. But the truth is only saved in one place: a flashdrive in the hands of Liam Stewart, the boy Ruby once believed was her future—and who now wouldn't recognize her.
As Ruby sets out across a desperate, lawless country to find Liam—and answers about the catastrophe that has ripped both her life and America apart—she is torn between old friends and the promise she made to serve the League. Ruby will do anything to protect the people she loves. But what if winning the war means losing herself?
The Healthy Dead by Steven Erikson
 I've praised this series many, many times and will do it again many times more. The Healthy Dead is the second novella in the Bauchelain & Korbal Broach series of Steven Erikson that accompanies the main series of Malazan the Book of the Fallen. Book synopsis:
Things are going all too well in the city of Quaint. So well, in fact, that something has to be done. The zeal for goodness can be catastrophic, and no-one knows this better than Bauchelain and Korbal Broach, two stalwart champions of all things bad. For the innumerable citizens of Quaint, driven to neurotic distraction and overwhelmed with good living, desperation breeds nefarious bed-mates, and before long the two homicidal necromancers – and their beleaguered and substance-addled manservant, Emancipor Reese – find themselves ensnared in a scheme to bring goodness into disrepute, if not utter ruination. To Reese's bemusement, laudable motivations are, in a bizarre twist, uncharacteristically relevant to Master Bauchelain, although, of course, the payment of a chest filled with gold helps. Even so, sometimes, it turns out, one must bring down civilization… in the name of civilization.
BookDepository: The Tales of Bauchelain & Korbal Broach (a collection of three novellas including The Healthy Dead)
A Little Life by Hanya Yanagihara
 I think I can say this with certainty that this book is my most exciting read in my TBR for 2016. My expectations are very high and I don't know if that's a good thing or a bad thing. I cannot wait to start reading this Beheamoth but I'm a patient person! It has to be on the right time, the mood has to be perfect!Book synopsis:
In its simplest terms, this is a novel about the long-term friendship of four classmates from a Massachusetts liberal arts college who come to New York to make their way; unlike most such college friendships the four never lose touch over the years and decades. There is Willem, an actor from the West who becomes a Ryan Gosling-type indie film star and heartthrob; Malcolm, an Upper East Side buppie who becomes a noted architect; JB, a painter of Haitian/Brooklyn middle class descent whose Basquiat-type portraits of his friends earn him art world fame and fortune; and Jude St. Francis, a damaged orphan with a mysterious past whose brilliance in the law cannot shield him from the effects of that past and whose fragility and need for protection bind the group together as much as any one thing. 
The book begins as a four-hander as we watch the friends progress in their lives and careers and observe the intricacies and shifting alliances of such a group friendship. But gradually Jude takes over the book and we learn his horrifying and beyond-Gothic backstory. The drama of the book is whether Jude can ever escape the grip of his Dickensian past–can he be saved? All of this unfolds over the decades in a mesmerizing fashion, with the tragic and the transcendent being on closer and more intimate terms than any work of fiction you have ever read.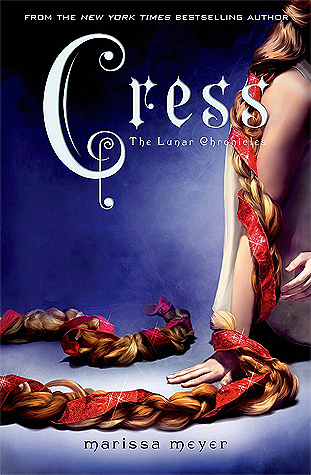 Continuing on with the story of Cinder, in May I will also be picking up Cress, the third book in The Lunar Chronicles series. This is a fairy tale retelling of Rapunsel (as you can probably tell by the long hair in the cover). Book synopsis:
Even in the future. there are damsels in distress…
In the third installment of the Lunar chronicles, Cress, having risked everything to warn Cinder of Queen Levana's evil plan, has a slight problem. She's been imprisoned on a satellite since childhood and has only ever had her netscreens as company. All that screen time has made Cress a great hacker. Unfortunately, she's just received orders from Levana to track down Cinder and her handsome accomplice.
When a daring rescue of Cress involving Cinder, Captain Thorne, Scarlet, and Wolf goes awry, the group is separated. Cress finally has her freedom, but it comes as a high price. Meanwhile, Levana will let nothing prevent her marriage to emperor Kai. Cress, Scarlet and Cinder may not have signed up to save the world, but they may be the only hope the world has.
Afterworlds by Scott Westerfeld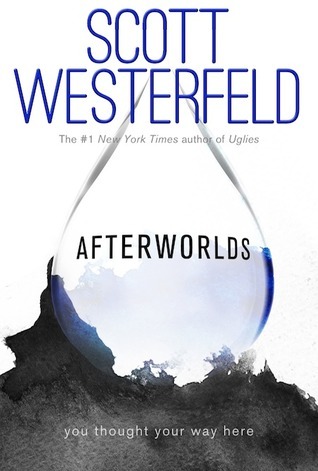 Scott Westerfeld's contemporary novel that looks like a dystopian fantasy book. I'm excited to read something of the contemporary genre by this author. Book synopsis:
Darcy Patel has put college and everything else on hold to publish her teen novel, Afterworlds. Arriving in New York with no apartment or friends she wonders whether she's made the right decision until she falls in with a crowd of other seasoned and fledgling writers who take her under their wings…
Told in alternating chapters is Darcy's novel, a suspenseful thriller about Lizzie, a teen who slips into the 'Afterworld' to survive a terrorist attack. But the Afterworld is a place between the living and the dead and as Lizzie drifts between our world and that of the Afterworld, she discovers that many unsolved – and terrifying – stories need to be reconciled. And when a new threat resurfaces, Lizzie learns her special gifts may not be enough to protect those she loves and cares about most.
In the Afterlight by Alexandra Bracken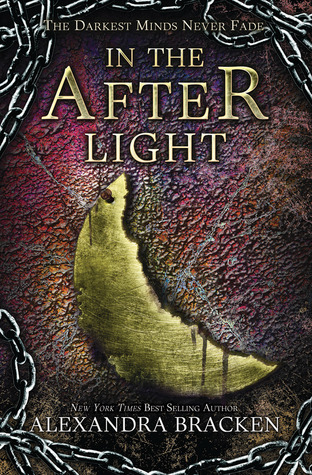 And finally, at the end of the month I'm planning on finishing The Darkest Minds trilogy with the third book in the series, In the Afterlight. Book synopsis:
Ruby can't look back. Fractured by an unbearable loss, she and the kids who survived the government's attack on Los Angeles travel north to regroup. With them is a prisoner: Clancy Gray, son of the president, and one of the few people Ruby has encountered with abilities like hers. Only Ruby has any power over him, and just one slip could lead to Clancy wreaking havoc on their minds.
They are armed only with a volatile secret: proof of a government conspiracy to cover up the real cause of IAAN, the disease that has killed most of America's children and left Ruby and others like her with powers the government will kill to keep contained. But internal strife may destroy their only chance to free the "rehabilitation camps" housing thousands of other Psi kids.
Meanwhile, reunited with Liam, the boy she would-and did-sacrifice everything for to keep alive, Ruby must face the painful repercussions of having tampered with his memories of her. She turns to Cole, his older brother, to provide the intense training she knows she will need to take down Gray and the government. But Cole has demons of his own, and one fatal mistake may be the spark that sets the world on fire.
BookDepository: In the Afterlight
So these are my reading plans for the month, plus I need to catch up on my April books! What are you planning on reading in May and how did April go for you? 🙂
I'm a BookDepository affiliate. If you'd like to buy a book online (free worldwide shipping) and you go through my links (above) I'll get a small commission. Thank you for your support! 🙂