Hello everyone, we are in the middle of summer and that means that we have more time for reading and exploring new characters and worlds. This month many new cool releases are out and here I have collected some exciting new books coming out in July for us to have a look at together.
Fiction
Harry Potter and the Cursed Child by J. K. Rowling, Jack Thorne and John Tiffany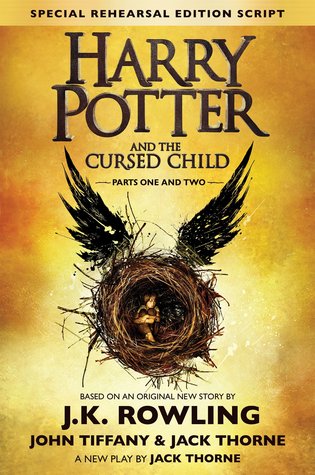 To start this New Releases post for this month, I chose a book that so many readers have been waiting for. This is based on an original story by the author of the Harry Potter series. The first official Harry Potter story coming on stage and now also in book form! Book synopsis:
It was always difficult being Harry Potter and it isn't much easier now that he is an overworked employee of the Ministry of Magic, a husband, and father of three school-age children.
While Harry grapples with a past that refuses to stay where it belongs, his youngest son Albus must struggle with the weight of a family legacy he never wanted. As past and present fuse ominously, both father and son learn the uncomfortable truth: sometimes darkness comes from unexpected places.
BookDepository: Harry Potter and the Cursed Child
Truly Madly Guilty by Liane Moriarty
This one sounds like a story that connects the lives of different people who happen to be in the same place at the same time when a life-changing event happens. I always enjoy these kinds of plots so this is something I'm very interested in picking up. Book synopsis:
Six responsible adults. Three cute kids. One small dog. It's just a normal weekend. What could possibly go wrong?
Sam and Clementine have a wonderful, albeit, busy life: they have two little girls, Sam has just started a new dream job, and Clementine, a cellist, is busy preparing for the audition of a lifetime. If there's anything they can count on, it's each other.
Clementine and Erika are each other's oldest friends. A single look between them can convey an entire conversation. But theirs is a complicated relationship, so when Erika mentions a last minute invitation to st   a barbecue with her neighbors, Tiffany and Vid, Clementine and Sam don't hesitate. Having Tiffany and Vid's larger than life personalities there will be a welcome respite.
Two months later, it won't stop raining, and Clementine and Sam can't stop asking themselves the question: What if we hadn't gone?
In Truly Madly Guilty, Liane Moriarty takes on the foundations of our lives: marriage, sex, parenthood, and friendship. She shows how guilt can expose the fault lines in the most seemingly strong relationships, how what we don't say can be more powerful than what we do, and how sometimes it is the most innocent of moments that can do the greatest harm.
BookDepository: Truly Madly Guilty
Heroes of the Frontier by Dave Eggers
From the best-selling author of  The Cicle, comes a new contemporary fiction novel taking place in the American wilderness. I haven't read anything from Dave Eggers yet, but I definitely want to check him out and his new book sounds awesome. Book synopsis:
Josie and her children's father have split up, she's been sued by a former patient and lost her dental practice, and she's grieving the death of a young man senselessly killed. When her ex asks to take the children to meet his new fiancee's family, Josie makes a run for it, figuring Alaska is about as far as she can get without a passport. Josie and her kids, Paul and Ana, rent a rattling old RV named the Chateau, and at first their trip feels like a vacation: They see bears and bison, they eat hot dogs cooked on a bonfire, and they spend nights parked along icy cold rivers in dark forests. But as they drive, pushed north by the ubiquitous wildfires, Josie is chased by enemies both real and imagined, past mistakes pursuing her tiny family, even to the very edge of civilization.
BookDepository: Heroes of the Frontier
The Perfect Neighbours by Sarah Pekkanen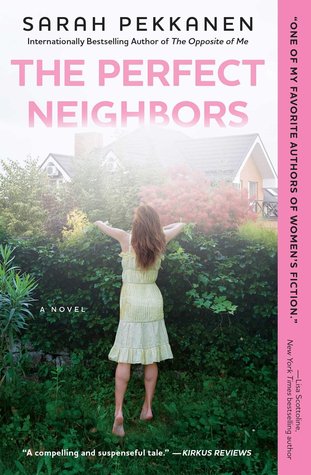 Another interesting contemporary that revolves around a suburban neighbourhood where everyone is hiding their own secrets. Sounds like a fun and kind of mysterious plot to follow and is one of the books that I'd like to check out. Book synopsis:
Bucolic Newport Cove, where spontaneous block parties occur on balmy nights and all of the streets are named for flowers, is proud of its distinction of being named one the top twenty safest neighborhoods in the US.
It's also one of the most secret-filled.
Kellie Scott has just returned to work after a decade of being a stay-at-home mom. She's adjusting to high heels, scrambling to cook dinner for her family after a day at the office—and soaking in the dangerous attention of a very handsome, very married male colleague. Kellie's neighbor Susan Barrett begins every day with fresh resolutions: she won't eat any carbs. She'll go to bed at a reasonable hour. And she'll stop stalking her ex-husband and his new girlfriend. Gigi Kennedy seems to have it all together—except her teenage daughter has turned into a hostile stranger and her husband is running for Congress, which means her old skeletons are in danger of being brought into the light.
Then a new family moves to this quiet, tree-lined cul-de-sac. Tessa Campbell seems friendly enough to the other mothers, if a bit reserved. Then the neighbors notice that no one is ever invited to Tessa's house. And soon, it becomes clear Tessa is hiding the biggest secret of all.
BookDepository: The Perfect Neighbours
On the Other Side by Carrie Hope Fletcher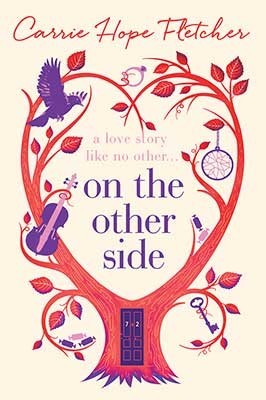 Final book in the Fiction genre is a debut novel by a widely know YouTuber. Carrie's channel "ItsWayPastMyBedtime" has over 600.000 subscribers. Although I personally don't know her, I'm definitely going to chech her channel and her book out. Book synopsis:
Evie Snow is eighty-two when she quietly passes away in her sleep, surrounded by her children and grandchildren. It's the way most people wish to leave the world but when Evie reaches the door of her own private heaven, she finds that she's become her twenty-seven-year-old self and the door won't open.
Evie's soul must be light enough to pass through so she needs to get rid of whatever is making her soul heavy. For Evie, this means unburdening herself of the three secrets that have weighed her down for over fifty years, so she must find a way to reveal them before it's too late. As Evie begins the journey of a lifetime, she learns more about life and love than she ever thought possible, and somehow , some way, she may also find her way back to her long lost love . . .
BookDepository: On the Other Side
Young Adult
This Savage Song by Victoria Schwab
Another much awaited new release for July is Victoria Schwab's new YA novel. This is the first book in a duology called Monsters of Verity. If you didn't know already, Victoria Schwab is kind of a very big deal on BookTube. Her books are loved by both YA and Adult fiction readers. I need to get my hands on one of her books right now! Book synopsis:
Kate Harker and August Flynn are the heirs to a divided city—a city where the violence has begun to breed actual monsters. All Kate wants is to be as ruthless as her father, who lets the monsters roam free and makes the humans pay for his protection. All August wants is to be human, as good-hearted as his own father, to play a bigger role in protecting the innocent—but he's one of the monsters. One who can steal a soul with a simple strain of music. When the chance arises to keep an eye on Kate, who's just been kicked out of her sixth boarding school and returned home, August jumps at it. But Kate discovers August's secret, and after a failed assassination attempt the pair must flee for their lives.
BookDepository: This Savage Song
Learning to Swear in America by Kattie Kennedy
A sci-fi, young adult story about the upcoming hit of an asteroid on Earth. This sounds like a funny and, at times, sad book that will push its readers to ask and wonder about the secrets of the universe. Book synopsis:
An asteroid is hurtling toward Earth. A big, bad one. Yuri, a physicist prodigy from Russia, has been called to NASA as they calculate a plan to avoid disaster. He knows how to stop the asteroid: his research in antimatter will probably win him a Nobel prize–if there's ever another Nobel prize awarded. But Yuri's 17, and having a hard time making older, stodgy physicists listen to him. Then he meets Dovie, who lives like a normal teenager, oblivious to the impending doom. Being with her, on the adventures she plans when he's not at NASA, Yuri catches a glimpse of what it means to save the world and save a life worth living.
BookDepository: Learning to Swear in America
Children's Fiction
The Voyage to Magical North by Claire Fayers
For July's children's category, we have a fantasy adventure with pirates! Who doesn't love a wonderful sea adventure, full of magic and monsters and all kinds of fantastical elements? Book synopsis:
Twelve-year-old Brine Seaborne is a girl with a past–if only she could remember what it is. Found alone in a rowboat as a child, clutching a shard of the rare starshell needed for spell-casting, she's spent the past years keeping house for an irritable magician and his obnoxious apprentice, Peter.
When Brine and Peter get themselves into a load of trouble and flee, they blunder into the path of the legendary pirate ship theOnion. Before you can say "pieces of eight," they're up to their necks in the pirates' quest to find Magical North, a place so shrouded in secrets and myth that most people don't even think it exists. If Brine is lucky, she may find out who her parents are. And if she's unlucky, everyone on the ship will be eaten by sea monsters. It could really go either way.
BookDepository: The Voyage to Magical North
Mystery/Thriller
All is not Forgotten by Wendy Walker
A book that's been receiving a lot of attention even before its release is this new thriller by Wendy Walker. A psychological thriller revolving arounf the asault of a young woman and how she and her parents deal with this horrible incident after it is over. Book synopsis:
In the small, affluent town of Fairview, Connecticut everything seems picture perfect.
Until one night when young Jenny Kramer is attacked at a local party. In the hours immediately after, she is given a controversial drug to medically erase her memory of the violent assault. But, in the weeks and months that follow, as she heals from her physical wounds, and with no factual recall of the attack, Jenny struggles with her raging emotional memory. Her father, Tom, becomes obsessed with his inability to find her attacker and seek justice while her mother, Charlotte, prefers to pretend this horrific event did not touch her perfect country club world.
As they seek help for their daughter, the fault lines within their marriage and their close-knit community emerge from the shadows where they have been hidden for years, and the relentless quest to find the monster who invaded their town – or perhaps lives among them – drive this psychological thriller to a shocking and unexpected conclusion.
BookDepository: All is not Forgotten
The Woman in Cabin 10 by Ruth Ware
This one sounds intruiging! A thriller taking place in a luxurious cruise ship when a woman is witness to a murder. Another book that's been getting quite a buzz around it. Book synopsis:
In this tightly wound, enthralling story reminiscent of Agatha Christie's works, Lo Blacklock, a journalist who writes for a travel magazine, has just been given the assignment of a lifetime: a week on a luxury cruise with only a handful of cabins. The sky is clear, the waters calm, and the veneered, select guests jovial as the exclusive cruise ship, the Aurora, begins her voyage in the picturesque North Sea. At first, Lo's stay is nothing but pleasant: the cabins are plush, the dinner parties are sparkling, and the guests are elegant. But as the week wears on, frigid winds whip the deck, gray skies fall, and Lo witnesses what she can only describe as a dark and terrifying nightmare: a woman being thrown overboard. The problem? All passengers remain accounted for—and so, the ship sails on as if nothing has happened, despite Lo's desperate attempts to convey that something (or someone) has gone terribly, terribly wrong…
BookDepository: The Woman in Cabin 10
While the title doesn't say much, this book has a very interesting plot. Secrets and mysteries. People who are not what they seem to be. When you find yourself closer to the truth but also closer to danger. Book synopsis:
Grace hasn't been the same since the death of her best friend Charlie. She is haunted by Charlie's words the last time she saw her, and in a bid for answers, opens an old memory box of Charlie's. It soon becomes clear that there was a lot she didn't know about her best friend.
When Grace starts a campaign to find Charlie's father, Anna, a girl claiming to be Charlie's sister steps forward. For Grace, finding Anna is like finding a new family and soon Anna has made herself very comfortable in Grace and boyfriend Dan's home.
But something isn't right. Things disappear, Dan's acting strangely and Grace is sure that someone is following her. Is it all in Grace's mind? Or as she gets closer to discovering the truth about both Charlie and Anna, is Grace in terrible danger?
You Will Know Me by Megan Abbott
Although this is a triller featuring a teenage protagonist, this is not a yound adult book. What is also interesting here is that it's a thriller with gymnastics which we don't see very often. Book synopsis:
Katie and Eric Knox have dedicated their lives to their fifteen-year-old daughter Devon, a gymnastics prodigy and Olympic hopeful. But when a violent death rocks their close-knit gymnastics community just weeks before an all-important competition, everything the Knoxes have worked so hard for feels suddenly at risk. As rumors swirl among the other parents, revealing hidden plots and allegiances, Katie tries frantically to hold her family together while also finding herself drawn, irresistibly, to the crime itself, and the dark corners it threatens to illuminate.
BookDepository: You Will Know Me
The synopsis of this book doesn't reveal much which makes me very curious about the plot. I definitely want to check this one out. Book synopsis:
When Zoe Walker sees her photo in the classifieds section of a London newspaper, she is determined to find out why it's there. There's no explanation, no website: just a grainy image and a phone number. She takes it home to her family, who are convinced it's just someone who looks like Zoe. But the next day the advert shows a photo of a different woman, and another the day after that.
Is it a mistake? A coincidence? Or is someone keeping track of every move they make . .
Science Fiction
Blake Crouch's Wayward Pines mystery trilogy was a great success that was even translated into a TV show. Now he comes with a new science fiction presence, Dark Matter. A book that's been receiving a lot of attention from readers already and has an excellent aerage of 4.19 stars on Goodreads. Book synopsis:
"Are you happy with your life?" Those are the last words Jason Dessen hears before the masked abductor knocks him unconscious. Before he awakens to find himself strapped to a gurney, surrounded by strangers in hazmat suits. Before a man Jason's never met smiles down at him and says, "Welcome back, my friend."
In this world he's woken up to, Jason's life is not the one he knows. His wife is not his wife. His son was never born. And Jason is not an ordinary college physics professor but a celebrated genius who has achieved something remarkable–something impossible.
Is it this world or the other that's the dream? And even if the home he remembers is real, how can Jason possibly make it back to the family he loves? The answers lie in a journey more wondrous and horrifying than anything he could've imagined—one that will force him to confront the darkest parts of himself even as he battles a terrifying, seemingly unbeatable foe.
A thrilling new sci-fi apocalyptic novel which I always find very intriguing. Here we have many random horrific incidents that lead to a great catastrophic outcome. Something ancient is waking up and the world is in grave danger. Book synopsis:
Deep in the jungle of Peru, where so much remains unknown, a black, skittering mass devours an American tourist whole. Thousands of miles away, an FBI agent investigates a fatal plane crash in Minneapolis and makes a gruesome discovery. Unusual seismic patterns register in a Kanpur, India earthquake lab, confounding the scientists there. During the same week, the Chinese government "accidentally" drops a nuclear bomb in an isolated region of its own country. As these incidents begin to sweep the globe, a mysterious package from South America arrives at a Washington, D.C. laboratory. Something wants out.
The world is on the brink of an apocalyptic disaster. An ancient species, long dormant, is now very much awake.
Underground Airlines by Ben H. Winters
For fans of speculative fiction comes an alternate history novel with a great star average on Goodreads. Check this one out. Book synopsis:
It is the present-day, and the world is as we know it: smartphones, social networking and Happy Meals. Save for one thing: the Civil War never occurred.
A gifted young black man calling himself Victor has struck a bargain with federal law enforcement, working as a bounty hunter for the US Marshall Service. He's got plenty of work. In this version of America, slavery continues in four states called "the Hard Four." On the trail of a runaway known as Jackdaw, Victor arrives in Indianapolis knowing that something isn't right–with the case file, with his work, and with the country itself.
A mystery to himself, Victor suppresses his memories of his childhood on a plantation, and works to infiltrate the local cell of a abolitionist movement called the Underground Airlines. Tracking Jackdaw through the back rooms of churches, empty parking garages, hotels, and medical offices, Victor believes he's hot on the trail. But his strange, increasingly uncanny pursuit is complicated by a boss who won't reveal the extraordinary stakes of Jackdaw's case, as well as by a heartbreaking young woman and her child who may be Victor's salvation. Victor himself may be the biggest obstacle of all–though his true self remains buried, it threatens to surface.
Victor believes himself to be a good man doing bad work, unwilling to give up the freedom he has worked so hard to earn. But in pursuing Jackdaw, Victor discovers secrets at the core of the country's arrangement with the Hard Four, secrets the government will preserve at any cost.
BookDepository: Underground Airlines
Arabella of Mars by David D. Levine
David D. Levine is a well-established SF and Fantasy author of many stories. Arabella of Mars is his newest release and one of the most anticipated books of July for me. Book synopsis:
Ever since Newton witnessed a bubble rising from his bathtub, mankind has sought the stars. When William III of England commissioned Capt. William Kidd to command the first expedition to Mars in the late 1600s, they proved that space travel was both possible and profitable.
Now, one century later, a plantation in the flourishing British colony on Mars is home to Arabella Ashby. A tomboy who shares her father's deft hand with complex automatons. Being raised on the Martian frontier by her Martian nanny, Arabella is more a wild child than a proper young lady. Something her mother plans to remedy with a move to an exotic world Arabella has never seen: London, England.
Arabella soon finds herself trying to navigate an alien world until a dramatic change in her family's circumstances forces her to defy all conventions in order to return to Mars in order to save both her brother and the plantation. To do this, Arabella must pass as a boy on the Diana, a ship serving the Mars Trading Company with a mysterious Indian captain who is intrigued by her knack with automatons. Arabella must weather the naval war between Britain and France, learning how to sail, and a mutinous crew if she hopes to save her brother from certain death.
BookDepository: Arabella of Mars
Fantasy
The Last Days of Jack Sparks by Jason Arnopp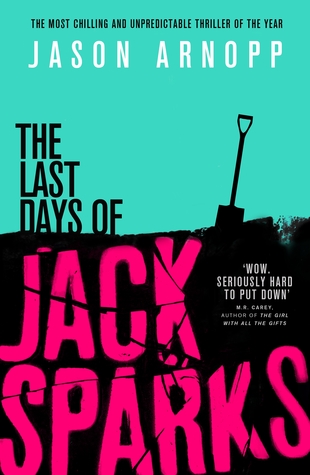 A new paranormal, horror mystery story makes an appearance in July with a story that sounds like something I would enjoy reading very much. Book synopsis:
Jack Sparks died while writing this book. This is the account of his final days.
In 2014, Jack Sparks – the controversial pop culture journalist – died in mysterious circumstances.
To his fans, Jack was a fearless rebel; to his detractors, he was a talentless hack. Either way, his death came as a shock to everyone.
It was no secret that Jack had been researching the occult for his new book. He'd already triggered a furious Twitter storm by mocking an exorcism he witnessed in rural Italy.
Then there was that video: thirty-six seconds of chilling footage that Jack repeatedly claimed was not of his making, yet was posted from his own YouTube account.
Nobody knew what happened to Jack in the days that followed – until now. This book, compiled from the files found after his death, reveals the chilling details of Jack's final hours.
BookDepository: The Last Days of Jack Sparks
The Waking Fire by Anthony Ryan
This is definitely exciting, a book that is right up my alley. Dragons in a big fat fantasy novel. The Waking Fire is the first book in The Draconis Memoria series. Is anybody else getting Westerosi vibes from this? Book synopsis:
The Waking Fire is set in a vibrant new world where the blood of drakes—creatures similar to dragons—is valued beyond reckoning, and can be distilled into elixirs that grant fearsome powers to those who are "blood-blessed." The novel follows an unregistered blood-blessed as he searches for an elusive variety of drake so potent, its capture would mean unrivalled riches; the second in command of a blood-burning ironclad ship; and a young woman in a lifelong contract to a trading syndicate, whose espionage mission places her on the front lines of a newly declared war. As empires clash and arcane mysteries reveal themselves, these characters are tested again and again and soon discover that the fate of the world rests on their shoulders.
BookDepository: The Waking Fire
The Interminables by Paige Orwin
A new adult dystopian fantasy novel taking place 4 years from now, in 2020. That doesn't sound that far away. Book synopsis:
It's 2020, and a magical cataclysm has shattered reality as we know it. Now a wizard's cabal is running the East Coast of the US, keeping a semblance of peace.
Their most powerful agents, Edmund and Istvan — the former a nearly immortal 1940s-era mystery man, the latter, well, a ghost — have been assigned to hunt down an arms smuggling ring that could blow up Massachusetts.
Turns out the mission's more complicated than it seemed. They discover a shadow war that's been waged since the world ended, and, even worse, they find out that their own friendship has always been more complicated than they thought. To get out of this alive, they'll need to get over their feelings, their memories, and the threat of a monstrous foe who's getting ready to commit mass murder…
BookDepository: The Interminables
Night of the Animals by Bill Broun
This book sounds quite peculiar to me. First of all it's taking place in the not-so-far future London. This is described as a retelling of the tale of Noah's Ark but more politically heavy and complex – as this is an adult fantasy novel. Book synopsis:
Over the course of a single night in 2052, a homeless man named Cuthbert Handley sets out on an astonishing quest: to release the animals of the London Zoo. As a young boy, Cuthbert's grandmother had told him he inherited a magical ability to communicate with the animal world—a gift she called the Wonderments. Ever since his older brother's death in childhood, Cuthbert has heard voices. These maddening whispers must be the Wonderments, he believes, and recently they have promised to reunite him with his lost brother and bring about the coming of a Lord of Animals . . . if he fulfills this curious request.
Cuthbert flickers in and out of awareness throughout his desperate pursuit. But his grand plan is not the only thing that threatens to disturb the collective unease of the city. Around him is greater turmoil, as the rest of the world anxiously anticipates the rise of a suicide cult set on destroying the world's animals along with themselves. Meanwhile, Cuthbert doggedly roams the zoo, cutting open the enclosures, while pressing the animals for information about his brother.
Just as this unlikely yet loveable hero begins to release the animals, the cult's members flood the city's streets. Has Cuthbert succeeded in harnessing the power of the Wonderments, or has he only added to the chaos—and sealed these innocent animals' fates?
BookDepository: Night of the Animals
Historical Fiction
The first historical novel by Jessie Burton was narrating a story taking place in the Netherlands. This time, we travel with her to England and Spain. A story taking place in the span of 30 years, two women whose fates intercept and their stories come together. Book synopsis:
England, 1967. Odelle Bastien is a Caribbean émigré trying to make her way in London. When she starts working at the prestigious Skelton Art Gallery, she discovers a painting rumored to be the work of Isaac Robles, a young artist of immense talent and vision whose mysterious death has confounded the art world for decades. The excitement over the painting is matched by the intrigue around the conflicting stories of its discovery. Drawn into a complex web of secrets and deceptions, Odelle does not know what to believe or who she can trust, including her mesmerizing colleague, Marjorie Quick.
Spain, 1937. Olive Schloss, the daughter of a Viennese Jewish art dealer and English heiress, follows her parents to Arazuelo, a poor, restless village on the southern coast. She grows close to Teresa, a young housekeeper, and her half-brother Isaac Robles, an idealistic and ambitious painter newly returned from the Barcelona salons. A dilettante buoyed by the revolutionary fervor that will soon erupt into civil war, Isaac dreams of being a painter as famous as his countryman, Picasso.
Raised in poverty, these illegitimate children of the local landowner revel in exploiting this wealthy Anglo-Austrian family. Insinuating themselves into the Schloss's lives, Teresa and Isaac help Olive conceal her artistic talents with devastating consequences that will echo into the decades to come.
The House at the Edge of Night by Catherine Banner
I've personally never read a novel taking place in Italy but this one is something I should definitely check out. It reminds me a lot of The Strange and Beautiful Sorrows of Ava Lavender but without the magical realism aspect. This book is also exploring the lives of multiple generations of the same family and their surrounding neighbours and close friends. Book synopsis:
Castellamare is an island far enough away from the mainland to be forgotten, but not far enough to escape from the world's troubles. At the center of the island's life is a café draped with bougainvillea called the House at the Edge of Night, where over generations the community gathers to gossip and talk. Amedeo Esposito, a foundling from Florence, finds his destiny on the island with his beautiful wife, Pina, whose fierce intelligence, grace, and unwavering love guide her every move. An indiscretion tests their marriage, and their children—three sons and an inquisitive daughter—grow up and struggle with both humanity's cruelty and its capacity for love and mercy.
BookDepository: The House at the Edge of Night
The Lost Girls by Heather Young
I believe this book is read from two different perspectives of two women who come together to tell the story of a disappearance, a decades-old mystery that happened at their lake house. Book synopsis:
In the summer of 1935, six-year-old Emily Evans vanishes from her family's vacation home on a remote Minnesota lake. Her disappearance destroys her mother, who spends the rest of her life at the lake house, hoping in vain that her favorite daughter will walk out of the woods. Emily's two older sisters stay, too, each keeping her own private, decades-long vigil for the lost child.
Sixty years later Lucy, the quiet and watchful middle sister, lives in the lake house alone. Before she dies, she writes the story of that devastating summer in a notebook that she leaves, along with the house, to the only person to whom it might matter: her grandniece, Justine.
For Justine, the lake house offers a chance to escape her manipulative boyfriend and give her daughters the stable home she never had. But it's not the sanctuary she hoped for. The long Minnesota winter has begun. The house is cold and dilapidated, the frozen lake is silent and forbidding, and her only neighbor is a strange old man who seems to know more than he's telling about the summer of 1935.
Soon Justine's troubled oldest daughter becomes obsessed with Emily's disappearance, her mother arrives with designs on her inheritance, and the man she left behind launches a dangerous plan to get her back. In a house steeped in the sorrows of the women who came before her, Justine must overcome their tragic legacy if she hopes to save herself and her children.
BookDepository: The Lost Girls
Comics/ Graphic Novels
Monstress Vol. 1 by Marjorie M. Liu and Sana Takeda
This graphic novel was recommended to me by a very enthusiastic Goodreads friend who loved it. So I decided to check it out and show it here too. Book synopsis:
Set in an alternate matriarchal 1900's Asia, in a richly imagined world of art deco-inflected steampunk, MONSTRESS tells the story of a teenage girl who is struggling to survive the trauma of war, and who shares a mysterious psychic link with a monster of tremendous power, a connection that will transform them both.
BookDepository: Monstress Vol. 1
So these are all the new and exciting releases of July that were added to my to-be-read list on Goodreads. I hope you found some of the titles as interesting as I did. I'd love to hear which books you are most excited about and which books you decided to buy for this month. Thanks for stopping by, I hope you have a great summer and an awesome reading month! 🙂
I'm a BookDepository affiliate. If you want to buy a book online (free worldwide shipping) and you go through my links (found above) I'll get a small referral commission. Thank you very much for your support!
Also, I'm a Twitter newbie, so if you'd like to follow me you can do so here.