It is time….for the BookTube-A-Thon TBR!!!!
In a few days, more specifically on the 18th of July and until the 24th of July (so from Monday to Sunday) the big summer BookTube-A-Thon begins! This is my first ever time participating in this bookish YouTube event and I'm very excited. While the BookTube-A-Thon is running, a second readathon is also taking place on the 23rd and 24th of July. And that is the 24in48 readathon. I will be participating in both! 🙂
Another thing I'm excited about for both of these readathons is that I get a chance to catch up with my reading and my growing TBR pile. According to Goodreads I am 7 books behind on my schedule so this is going to help me get back on the horse and do some heavy reading.
If you are new to the BookTube-A-Thon or you've never heard of it before, it's basically a biannual bookish "event" (the Christmas BookTube-A-Thon is way smaller and more relaxed than the summer one) in which you can choose to complete as many of the 7 challenges as you want. The goal of course is to read as many books as you can but also to have fun doing it with the rest of the bookish community. The event is taking place across most of the social media (YouTube, Instagram, Twitter). For more information over this readathon check out the video below:
Moreover, the 24in48 readathon takes place in the span of 48 hours and the goal is to fit and manage to read for 24 hours in total during these 48 hours. If you'd like to know more about this readathon and participate you can visit the official website 24in48 readathon.
To take a look at the reading challenges for this year, check out the video below:
Now let's get to the books and the challenges that I'm aiming for in this mixed BookTube-A-Thon/24in48 readathon:
Challenge #1: Read a book with yellow on the cover
Challenge #2: Read a book only after sunset
For these two challenges I chose The Fireman by Joe Hill. First of all, this is obviously a book with a gorgeous, yellow and red cover (but we will focus on the yellow here). Second of all, this is a horror, science-fiction, apocalyptic story which I hope will creep me out. So it's the perfect book to read only after sunset (which here in the Netherlands begins at 21:49 FYI). I will be listening to the audiobook for this book read by the wonderful actress Kate Mulgrew (not in a Russian accent though!). Here is the book synopsis:
No one knows exactly when it began or where it originated. A terrifying new plague is spreading like wildfire across the country, striking cities one by one: Boston, Detroit, Seattle. The doctors call it Draco Incendia Trychophyton. To everyone else it's Dragonscale, a highly contagious, deadly spore that marks its hosts with beautiful black and gold marks across their bodies—before causing them to burst into flames. Millions are infected; blazes erupt everywhere. There is no antidote. No one is safe.
Harper Grayson, a compassionate, dedicated nurse as pragmatic as Mary Poppins, treated hundreds of infected patients before her hospital burned to the ground. Now she's discovered the telltale gold-flecked marks on her skin. When the outbreak first began, she and her husband, Jakob, had made a pact: they would take matters into their own hands if they became infected. To Jakob's dismay, Harper wants to live—at least until the fetus she is carrying comes to term. At the hospital, she witnessed infected mothers give birth to healthy babies and believes hers will be fine too. . . if she can live long enough to deliver the child.
Convinced that his do-gooding wife has made him sick, Jakob becomes unhinged, and eventually abandons her as their placid New England community collapses in terror. The chaos gives rise to ruthless Cremation Squads—armed, self-appointed posses roaming the streets and woods to exterminate those who they believe carry the spore. But Harper isn't as alone as she fears: a mysterious and compelling stranger she briefly met at the hospital, a man in a dirty yellow fire fighter's jacket, carrying a hooked iron bar, straddles the abyss between insanity and death. Known as The Fireman, he strolls the ruins of New Hampshire, a madman afflicted with Dragonscale who has learned to control the fire within himself, using it as a shield to protect the hunted . . . and as a weapon to avenge the wronged.
In the desperate season to come, as the world burns out of control, Harper must learn the Fireman's secrets before her life—and that of her unborn child—goes up in smoke.
Challenge #3: Read a book you discovered through BookTube
Challenge #6: Read and watch a book-to-movie adaptation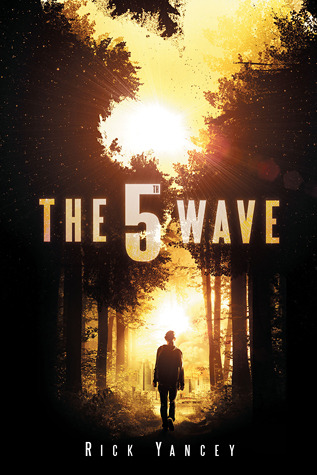 For these two challenges I'm also gonna go with one single book and that is The 5th Wave by Rick Yancey. I discovered this book a year ago when I started watching older BookTube videos and I remember that it really intrigued me because of the mysterious synopsis and what it was about. I've never really read much of the synopsis though because I want to go into it blind. I only know that it's about an alien invasion on Earth. This book, as many of you probably already know, was recently translated into a movie which I will watch during the BookTube-A-Thon. I'm very excited. Here is the book synopsis and the movie trailer (both of which I am still refusing to read/watch):
After the 1st wave, only darkness remains. After the 2nd, only the lucky escape. And after the 3rd, only the unlucky survive. After the 4th wave, only one rule applies: trust no one.
Now, it's the dawn of the 5th wave, and on a lonely stretch of highway, Cassie runs from Them. The beings who only look human, who roam the countryside killing anyone they see. Who have scattered Earth's last survivors. To stay alone is to stay alive, Cassie believes, until she meets Evan Walker. Beguiling and mysterious, Evan Walker may be Cassie's only hope for rescuing her brother-or even saving herself. But Cassie must choose: between trust and despair, between defiance and surrender, between life and death. To give up or to get up.
Challenge #4: Read a book by one of your favourite authors
The Tales of Beedle the Bard by J. K. Rowling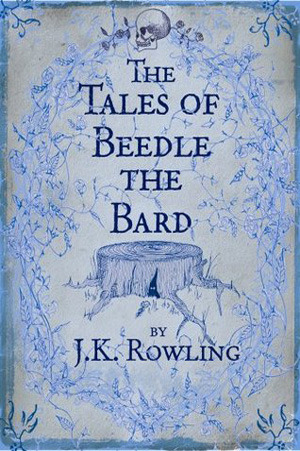 Not a surprise that one of my favourite authors is J. K. Rowling,but I chose to read The Tales of Beedle the Bard for two reasons. First of all, I've never read this book and it sounds like a lovely, funny collection of short stories (judging by the title). I'm very happy to once again immerge into the magical world of Harry and his friends. The second reason I chose this book is strategic in nature. This is a very short and fast read and so it's perfect motivation for a readathon in which you need to read a lot and fast. When things get tough and I need a push duing the readathon, this will help me keep going (hopefully!). I ordered this book from the BookDepository but it hasn't arrived yet so I wasn't able to include it in the picture. But here is the book synopsis:
The Tales of Beedle the Bard, a Wizarding classic, first came to Muggle readers' attention in the book known as Harry Potter and the Deathly Hallows. Now, thanks to Hermione Granger's new translation from the ancient runes, we present this stunning edition with an introduction, notes, and illustrations by J. K. Rowling, and extensive commentary by Albus Dumbledore. Never before have Muggles been privy to these richly imaginative tales: "The Wizard and the Hopping Pot," "The Fountain of Fair Fortune," "The Warlock's Hairy Heart," "Babbitty Rabbitty and Her Cackling Stump," and of course, "The Tale of the Three Brothers." But not only are they the equal of fairy tales we now know and love, reading them gives new insight into the world of Harry Potter.
BookDepository: The Tales of Beedle the Bard
Challenge #5: Read a book that is older than you
Fried Green Tomatoes at the Whistle Stop Cafe by Fannie Flagg
For the fifth challenge I didn't want to go with a classic because all the classics I haven't yet read are too big for a readathon so instead I decided to go with something more recent. Fried Green Tomatoes at the Whistle Stop Cafe has been sitting on my shelf for almost a year now. It is an LGBT themed book that I've been very interested to read and which has many great reviews on Goodreads. This book was first published in 1987. I was born in 1992 so this makes it a book older than me. Book synopsis:
Folksy and fresh, endearing and affecting, Fried Green Tomatoes at the Whistle Stop Cafe is the now-classic novel of two women in the 1980s: of gray-headed Mrs. Threadgoode telling her life story to Evelyn, who is in the sad slump of middle age. The tale she tells is also of two women–of the irrepressibly daredevilish tomboy Idgie and her friend Ruth–who back in the thirties ran a little place in Whistle Stop, Alabama, a Southern kind of Cafe Wobegon offering good barbecue and good coffee and all kinds of love and laughter, even an occasional murder. And as the past unfolds, the present–for Evelyn and for us–will never be quite the same again…
BookDepository: Fried Green Tomatoes at the Whistle Stop Cafe
Challenge #7: Read seven books
The following three books collectively complete the last challenge:
Infomocracy is a book that I'm very excited to pick up. I requested an ARC from the publisher (Tor) for reviewing and they were very kind to send one over. This is a science fiction, dystopian book with a heavy political theme and marks Marka Older's debut novel. I decided to read this through the BookTube-A-Thon to add something different in my TBR pile and because, as I said, I am very interested in this SF read. I will also be posting a review as soon as I reading here on the blog. Book synopsis:
It's been twenty years and two election cycles since Information, a powerful search engine monopoly, pioneered the switch from warring nation-states to global micro-democracy. The corporate coalition party Heritage has won the last two elections. With another election on the horizon, the Supermajority is in tight contention, and everything's on the line.
With power comes corruption. For Ken, this is his chance to do right by the idealistic Policy1st party and get a steady job in the big leagues. For Domaine, the election represents another staging ground in his ongoing struggle against the pax democratica. For Mishima, a dangerous Information operative, the whole situation is a puzzle: how do you keep the wheels running on the biggest political experiment of all time, when so many have so much to gain?
The Summer that Melted Everything by Tiffany McDaniel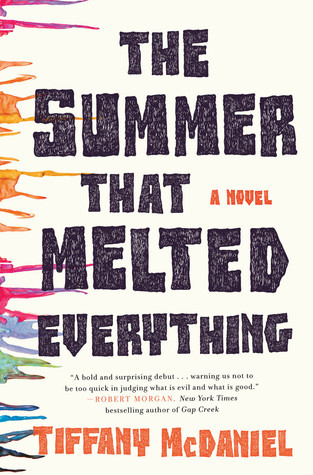 My sixth pick for the readathon is a debut novel by Tiffany McDaniel who sent me a copy of her book to review. This is a literary fiction novel that sounds like something right up my alley. I'm especially interested to read this because it's taking place during a heatwave in Ohio. I'm a Greek girl spending my summer in the Netherlands, so a book that reminds me of home (with the heatwave) is something I would really like to read right now! This is also a book that I will be soon reviewing on my blog. Check out the book synopsis:
Fielding Bliss has never forgotten the summer of 1984: the year a heat wave scorched Breathed, Ohio. The year he became friends with the devil.
Sal seems to appear out of nowhere – a bruised and tattered thirteen-year-old boy claiming to be the devil himself answering an invitation. Fielding Bliss, the son of a local prosecutor, brings him home where he's welcomed into the Bliss family, assuming he's a runaway from a nearby farm town.
When word spreads that the devil has come to Breathed, not everyone is happy to welcome this self-proclaimed fallen angel. Murmurs follow him and tensions rise, along with the temperatures as an unbearable heat wave rolls into town right along with him. As strange accidents start to occur, riled by the feverish heat, some in the town start to believe that Sal is exactly who he claims to be. While the Bliss family wrestles with their own personal demons, a fanatic drives the town to the brink of a catastrophe that will change this sleepy Ohio backwater forever.
BookDepository: The Summer that Melted Everything
A Tortoise in the Road by Warren Riggs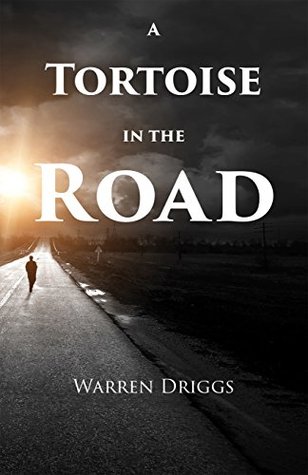 Finally, this is the last book I want to get to in this BookTube-A-Thon. I requested this book from the author because I found the premise very intruiging. This book deals with a very controversial topic, assisted suicide. I had started reading this book a few weeks back and I enjoyed the writing style. But I didn't get much reading done from it and then I stopped because of uni responsibilities. But now it's the perfect chance to get back into it and finish it. Book synopsis:
June 2, 2002, is an ordinary day for a handful of strangers driving through the desert when a tortoise crosses the road, resulting in a horrific automobile collision that will connect the lives of these strangers forever.
Flash forward a few years, and Blake Morgan, a reporter who covered the collision, is assigned to provide an update on the survivors for a human interest story in his newspaper. He discovers that things have gotten worse for the survivors: one has terminal cancer, another ALS, and a young woman who had been rendered quadriplegic has fallen into a deep depression. All of them have lost their will to live and seek a permanent end to their suffering. Staggering medical costs, anxious heirs, government, and religion all tug at their choices. And should it even be their exclusive choice to make?
BookDepository: A Tortoise in the Road
As for the 24in48 readathon, I don't really have a specific TBR list planned. What I'm planning on doing is trying to catch up with my reading since it's during the last 2 days of the BookTube-A-Thon. I'm really pumped about both of these reasathons and I really want to try and make the challenges. At the end of the week of the BookTube-A-Thon I will post a general update of how it went and how many books and pages I got done daily.
I'm also very interested to hear if you are also participating in one or both of the readathons and also what is on your TBR. Have you ever participated in the BookTube-A-Thon before or are you a newbie like me? 🙂
I'm a BookDepository affiliate. If you want to buy a book online (free worldwide shipping) and you go through my links (found above) I'll get a small referral commission. Thank you very much for your support!