Hello lovely readers! 🙂
Today I have a somewhat different bookish post. Yesterday the longlist for the Man Booker Prize of 2016 was announced and I wanted to share with you the 13 books that made it to the list.
But first what is the Man Booker Prize?
The Man Booker Prize is the leading literary award worth 50.000£ given to the winner while the 6 shortlisted authors each receive 2.500£. To be eligible for the Man Booker a book must be written originally in English and have been published in the UK. As you can imagine, this is a very prestigious award which helps authors receive worldwide recognition for their literary work.
How does the process work?
On the 27th of July 2016, the longlist of the Man Booker Prize is announced. This list includes 13 out of 155 books that were submitted since October 2015. From the longlist comes the shortlist which is announced on the 13th of August the same year. The shortlist includes – I believe – 6 titles and as mentioned above, the authors who make it in receive 2.500£. Finally, on the 25th of October 2016 the judges will decide the winner of the Man Booker Prize.
Who won the Man Booker Prize last year (2015)?
Last year's winner was Marlon James with his novel A Brief History of Seven Killings.
For more information about the Man Booker Prize you can click here to visit the official website: The Man Booker Prize website
Let's take a look at the Man Booker Prize longlist of 2016:
Beginning with a satire of a young man, this book explores a father-son relationship and discusses racial equality. Book synopsis:
Paul Beatty's The Sellout showcases a comic genius at the top of his game. A biting satire about a young man's isolated upbringing and the race trial that sends him to the Supreme Court, it challenges the sacred tenets of the United States Constitution, urban life, the civil rights movement, the father-son relationship, and the holy grail of racial equality—the black Chinese restaurant.
Born in the "agrarian ghetto" of Dickens—on the southern outskirts of Los Angeles—the narrator of The Sellout resigns himself to the fate of lower-middle-class Californians: "I'd die in the same bedroom I'd grown up in, looking up at the cracks in the stucco ceiling that've been there since '68 quake." Raised by a single father, a controversial sociologist, he spent his childhood as the subject in racially charged psychological studies. He is led to believe that his father's pioneering work will result in a memoir that will solve his family's financial woes, but when his father is killed in a police shoot-out, he realizes there never was a memoir. All that's left is the bill for a drive-thru funeral.
Fueled by this deceit and the general disrepair of his hometown, the narrator sets out to right another wrong: Dickens has literally been removed from the map to save California from further embarrassment. Enlisting the help of the town's most famous resident—the last surviving Little Rascal, Hominy Jenkins—he initiates the most outrageous action conceivable: reinstating slavery and segregating the local high school, which lands him in the Supreme Court.
The Schooldays of Jesus by J. M. Coetzee
This book comes out on the 29th of September and the author J. M. Coetzee has already won the Man Booker Prize twice in the past. Definitely worth checking it out. Book synopsis:
Davíd is the small boy who is always asking questions. Simón and Inés take care of him in their new town Estrella. He is learning the language; he has begun to make friends. He has the big dog Bolívar to watch over him. But he'll be seven soon and he should be at school. And so, Davíd is enrolled in the Academy of Dance. It's here, in his new golden dancing slippers, that he learns how to call down the numbers from the sky. But it's here too that he will make troubling discoveries about what grown-ups are capable of.
BookDepository: The Schooldays of Jesus
Serious Sweet by A. L. Kennedy
Moving on to a book I spotted a few weeks ago at my local book store and immediately caught my eye with its beautiful cover and its massive size. Unfortunately, the bookstore was selling it too pricy and so I didn't have the chance to buy it then. But this one sounds very interesting and I need to make it mine soon. Book synopsis:
A good man in a bad world, Jon Sigurdsson is 59 and divorced: a senior civil servant in Westminster who hates many of his colleagues and loathes his work for a government engaged in unmentionable acts. A man of conscience.
Meg Williams is 'a bankrupt accountant — two words you don't want in the same sentence, or anywhere near your CV'. She's 45 and shakily sober, living on Telegraph Hill, where she can see London unfurl below her. Somewhere out there is safety.
Somewhere out there is Jon, pinballing around the city with a mobile phone and a letter-writing habit he can't break. He's a man on the brink, leaking government secrets and affection as he runs for his life.
Hot Milk by Deborah Levy
Here we have a literary fiction story set in Spain. Deborah Levy, the author of Hot Milk, was shortlisted for the Man Booker Prize in 2012. Book synopsis:
Sofia, a young anthropologist, has spent much of her life trying to solve the mystery of her mother's unexplainable illness. She is frustrated with Rose and her constant complaints, but utterly relieved to be called to abandon her own disappointing fledgling adult life. She and her mother travel to the searing, arid coast of southern Spain to see a famous consultant—their very last chance—in the hope that he might cure her unpredictable limb paralysis.
But Dr. Gomez has strange methods that seem to have little to do with physical medicine, and as the treatment progresses, Sofia's mother's illness becomes increasingly baffling. Sofia's role as detective—tracking her mother's symptoms in an attempt to find the secret motivation for her pain—deepens as she discovers her own desires in this transient desert community.
His Bloody Project by Graeme Macrae Burnet
Next we have a literary crime novel set in 1869 which has received a few but very positive reviews so far. I've never read a crime literary fiction novel before but this one sounds very intriguing. Book synopsis:
A brutal triple murder in a remote northwestern crofting community in 1869 leads to the arrest of a young man by the name of Roderick Macrae. There's no question that Macrae is guilty, but the police and courts must uncover what drove him to murder the local village constable.
And who were the other two victims? Ultimately, Macrae's fate hinges on one key question: is he insane?
BookDepository: His Bloody Project
The North Water by Ian McGuire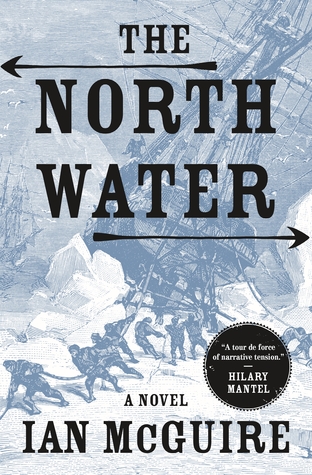 The North Water is Ian McGuire's second novel, a historical fiction thriller that sounds very exciting and gripping. Book synopsis:
Behold the man: stinking, drunk, and brutal. Henry Drax is a harpooner on the Volunteer, a Yorkshire whaler bound for the rich hunting waters of the arctic circle. Also aboard for the first time is Patrick Sumner, an ex-army surgeon with a shattered reputation, no money, and no better option than to sail as the ship's medic on this violent, filthy, and ill-fated voyage.
In India, during the Siege of Delhi, Sumner thought he had experienced the depths to which man can stoop. He had hoped to find temporary respite on the Volunteer, but rest proves impossible with Drax on board. The discovery of something evil in the hold rouses Sumner to action. And as the confrontation between the two men plays out amid the freezing darkness of an arctic winter, the fateful question arises: who will survive until spring?
BookDepository: The North Water
The first (out of four) debut novel to make it to the longlist this year, Hystopia is a science fiction alternate history book about war echoing Catch 22 and Slaughterhouse Five (according to Goodreads)! Book synopsis:
By the early 1970s, President John F. Kennedy has survived several assassination attempts and—martyred, heroic—is now in his third term. Twenty-two-year-old Eugene Allen returns home from his tour of duty in Vietnam and begins to write a war novel—a book echoing Catch-22 and Slaughterhouse-Five—about veterans who have their battlefield experiences "enfolded," wiped from their memories through drugs and therapy. In Eugene's fictive universe, veterans too damaged to be enfolded stalk the American heartland, reenacting atrocities on civilians and evading the Psych Corps, a federal agency dedicated to upholding the mental hygiene of the nation by any means necessary.
Our second debut novel of the longlist, The Many is a very short title (~160 pages) that so far has received very few but only positive reviews on Goodreads. Book synopsis:
On the surface, his move to the isolated village on the coast makes perfect sense. But the experience is an increasingly unsettling one for Timothy Bucchanan. A dead man no one will discuss. Wasted fish hauled from a contaminated sea. The dream of faceless men. Questions that lead to further questions. What truth are the villagers withholding? What fuels their interest and animosity towards him? And what pushes Timothy to dig deeper?
The third debut novel of the Man Booker longlist is a mystery thriller story taking place just before Christmas. Book synopsis:
A lonely young woman working in a boys' prison outside Boston  in the early 60s is pulled into a very strange crime, in a mordant,  harrowing story of obsession and suspense, by one of the brightest  new voices in fiction.
So here we are. My name was Eileen Dunlop. Now you know me. I was twenty-four years old then, and had a job that paid fifty-seven dollars a week as a kind of secretary at a private juvenile correctional facility for teenage boys. I think of it now as what it really was for all intents and purposes—a prison for boys. I will call it Moorehead. Delvin Moorehead was a terrible landlord I had years later, and so to use his name for such a place feels appropriate. In a week, I would run away from home and never go back.
This is the story of how I disappeared.
The Christmas season offers little cheer for Eileen Dunlop, an unassuming yet disturbed young woman trapped between her role as her alcoholic father's caretaker in a home whose squalor is the talk of the neighborhood and a day job as a secretary at the boys' prison, filled with its own quotidian horrors. Consumed by resentment and self-loathing, Eileen tempers her dreary days with perverse fantasies and dreams of escaping to the big city. In the meantime, she fills her nights and weekends with shoplifting, stalking a buff prison guard named Randy, and cleaning up her increasingly deranged father's messes. When the bright, beautiful, and cheery Rebecca Saint John arrives on the scene as the new counselor at Moorehead, Eileen is enchanted and proves unable to resist what appears at first to be a miraculously budding friendship. In a Hitchcockian twist, her affection for Rebecca ultimately pulls her into complicity in a crime that surpasses her wildest imaginings.
Work Like Any Other by Virginia Reeves
The fourth and final debut novel is a book I actually read and reviewed here on my blog (Work Like Any Other by Virginia Reeves (Book Review)). A historical fiction novel taking place in Alabama in 1920. I recommend you check out this title, it was an emotional read set in a horrible prison. Book synopsis:
 Roscoe T Martin set his sights on a new type of power spreading at the start of the twentieth century: electricity. It became his training, his life's work. But when his wife, Marie, inherits her father's failing farm, Roscoe has to give up his livelihood, with great cost to his sense of self, his marriage, and his family. Realizing he might lose them all if he doesn't do something, he begins to use his skills as an electrician to siphon energy from the state, ushering in a period of bounty and happiness. Even the love of Marie and their child seem back within Roscoe's grasp.
Then a young man working for the state power company stumbles on Roscoe's illegal lines and is electrocuted, and everything changes: Roscoe is arrested; the farm once more starts to deteriorate; and Marie abandons her husband, leaving him to face his twenty-year sentence alone. Now an unmoored Roscoe must carve out a place at Kilby Prison. Climbing the ranks of the incarcerated from dairy hand to librarian to "dog boy," an inmate who helps the guards track down escapees, he is ultimately forced to ask himself once more if his work is just that, or if the price of his crimes—for him and his family—is greater than he ever let himself believe.
BookDepository: Work Like Any Other
My Name is Lucy Barton by Elizabeth Strout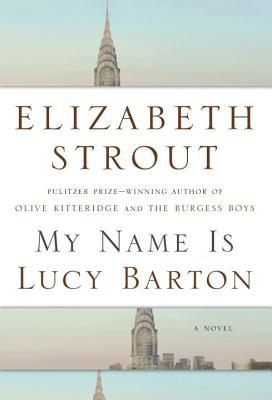 Elizabeth Strout is a winning author of multiple awards including the Pulitzer Prize. Her new novel, My Name is Lucy Barton, explores the delicate relationship between a mother and her daughter. This is another book that I read and reviewed here (My Name is Lucy Barton by Elizabeth Strout (Book Review)). This is a very short novel of less than 200 pages, beautifully written and has already received a lot of attention from readers despite its quite recent release in January. Book synopsis:
Lucy Barton is recovering slowly from what should have been a simple operation. Her mother, to whom she hasn't spoken for many years, comes to see her. Gentle gossip about people from Lucy's childhood in Amgash, Illinois, seems to reconnect them, but just below the surface lie the tension and longing that have informed every aspect of Lucy's life: her escape from her troubled family, her desire to become a writer, her marriage, her love for her two daughters. Knitting this powerful narrative together is the brilliant storytelling voice of Lucy herself: keenly observant, deeply human, and truly unforgettable.
BookDepository: My Name is Lucy Barton
All That Man Is by David Szalay
This book sounds extremely appealing to my book taste. I need it right now. No more words. Book synopsis:
Nine men. Each of them at a different stage in life, each of them away from home, and each of them striving–in the suburbs of Prague, in an overdeveloped Alpine village, beside a Belgian motorway, in a dingy Cyprus hotel–to understand what it means to be alive, here and now. Tracing a dramatic arc from the spring of youth to the winter of old age, the ostensibly separate narratives of All That Man Is aggregate into a picture of a single shared existence, a picture that interrogates the state of modern manhood while bringing to life, unforgettably, the physical and emotional terrain of an increasingly globalized Europe. And so these nine lives form an ingenious and new kind of novel, in which David Szalay expertly plots a dark predicament for the twenty-first-century man.
BookDepository: All That Man Is
Do Not Say We Have Nothing by Madeleine Thien
Finally, last but certainly not least in the longlist of the Man Booker Prize is a historical fiction novel set in China in 1989 during and after the Tiananmen Square protests. Book synopsis:
Madeleine Thien's new novel is breathtaking in scope and ambition even as it is hauntingly intimate. With the ease and skill of a master storyteller, Thien takes us inside an extended family in China, showing us the lives of two successive generations–those who lived through Mao's Cultural Revolution in the mid-twentieth century; and the children of the survivors, who became the students protesting in Tiananmen Square in 1989, in one of the most important political moments of the past century. With exquisite writing sharpened by a surprising vein of wit and sly humour, Thien has crafted unforgettable characters who are by turns flinty and headstrong, dreamy and tender, foolish and wise.
At the centre of this epic tale, as capacious and mysterious as life itself, are enigmatic Sparrow, a genius composer who wishes desperately to create music yet can find truth only in silence; his mother and aunt, Big Mother Knife and Swirl, survivors with captivating singing voices and an unbreakable bond; Sparrow's ethereal cousin Zhuli, daughter of Swirl and storyteller Wen the Dreamer, who as a child witnesses the denunciation of her parents and as a young woman becomes the target of denunciations herself; and headstrong, talented Kai, best friend of Sparrow and Zhuli, and a determinedly successful musician who is a virtuoso at masking his true self until the day he can hide no longer. Here, too, is Kai's daughter, the ever-questioning mathematician Marie, who pieces together the tale of her fractured family in present-day Vancouver, seeking a fragile meaning in the layers of their collective story.
BookDepository: Do Not Say We Have Nothing
So, these are the 13 titles that made it to the longlist of this year's Man Booker award. Some wonderful new recommendations for us bookworms. Have you read any of the books on the list? What did you think of them/it?
I'm a BookDepository affiliate. If you want to buy a book online (free worldwide shipping) and you go through my links (found above) I'll get a small referral commission. Thank you very much for your support!