Hello everyone!
Today I have a massive book haul to present and I'm very excited to share all my new books with you.
The Last Light of the Sun by Guy Gavriel Kay
Guy Gavriel Kay is a much praised fantasy author for his wonderful writing style and imaginative stories..and I still haven't read anything from him yet! But this is a stand-alone (yes, stand-alone!) fantasy novel that I chose to introduce me into his work. I have high expectations for this one guys! Book synopsis:
In his eagerly awaited new novel, Guy Gavriel Kay turns his gaze to the northlands, brilliantly evoking the Viking, Anglo-Saxon and Celtic cultures of a turbulent age.
There is nothing soft or silken about the north. The lives of men and women are as challenging as the climate and lands in which they dwell. For generations, the Erlings of Vinmark have taken their dragon-prowed ships across the seas, raiding the lands of the Cyngael and Anglcyn peoples, leaving fire and death behind. But times change, even in the north, and in a tale woven with consummate artistry, people of all three cultures find the threads of their lives unexpectedly brought together…
Bern Thorkellson, punished for his father's sins, commits an act of vengeance and desperation that brings him face-to-face, across the sea, with a past he's been trying to leave behind.
In the Anglcyn lands of King Aeldred, the shrewd king, battling inner demons all the while, shores up his defenses with alliances and diplomacy-and with swords and arrows-while his exceptional, unpredictable sons and daughters pursue their own desires when battle comes and darkness falls in the woods.
And in the valleys and shrouded hills of the Cyngael, whose voices carry music even as they feud and raid amongst each other, violence and love become deeply interwoven when the dragon ships come and Alun ab Owyn, chasing an enemy in the night, glimpses strange lights gleaming above forest pools.
BookDepository: The Last Light of the Sun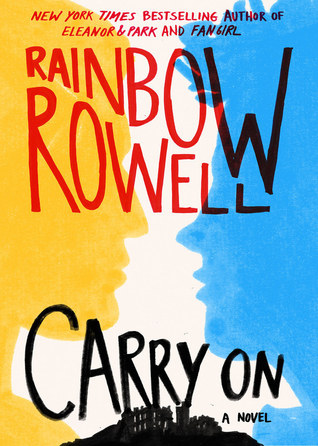 And from fantasy novel we go to fantasy fan fiction, kind of. For those of you who haven't heard of Carry On before, this is the fanfiction that the protagonist from Rainbow Rowell's other book, Fangirl, is writing in the story. I believe this is a retelling/fanfic of Harry Potter.. So that's quite an interesting, unique idea! For those of you who have read both, I have a question: Is it better to read Fangirl before reading Carry On or can I go ahead and start with this one? Book synopsis:
Simon Snow is the worst chosen one who's ever been chosen.
That's what his roommate, Baz, says. And Baz might be evil and a vampire and a complete git, but he's probably right.
Half the time, Simon can't even make his wand work, and the other half, he sets something on fire. His mentor's avoiding him, his girlfriend broke up with him, and there's a magic-eating monster running around wearing Simon's face. Baz would be having a field day with all this, if he were here—it's their last year at the Watford School of Magicks, and Simon's infuriating nemesis didn't even bother to show up.
Staying on the young adult fantasy theme, I also got Winter the last book of the Lunar Chronicles series by Marissa Meyer. Winter is a fairytale retelling of Snow White and continues the story from where Cress left off. Book synopsis:
Princess Winter is admired by the Lunar people for her grace and kindness, and despite the scars that mar her face, her beauty is said to be even more breathtaking than that of her stepmother, Queen Levana.
Winter despises her stepmother, and knows Levana won't approve of her feelings for her childhood friend—the handsome palace guard, Jacin. But Winter isn't as weak as Levana believes her to be and she's been undermining her stepmother's wishes for years. Together with the cyborg mechanic, Cinder, and her allies, Winter might even have the power to launch a revolution and win a war that's been raging for far too long.
Can Cinder, Scarlet, Cress, and Winter defeat Levana and find their happily ever afters?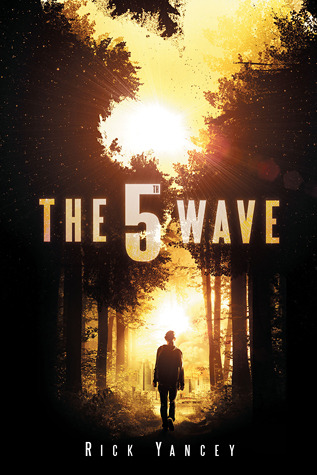 For the BookTube-A-Thon I also bought The 5th Wave and decided to read it and then watch the book to movie adaptation. The movie was terrible and the book was also very disappointing. Here is my review of it: (The 5th Wave by Rick Yancey (Book Review)). So I decided to give up on the series and not go for the second book. Those of you who've read the whole series, do you recommend that I keep going? Does it get better after the 1st book? Book synopsis:
After the 1st wave, only darkness remains. After the 2nd, only the lucky escape. And after the 3rd, only the unlucky survive. After the 4th wave, only one rule applies: trust no one.
Now, it's the dawn of the 5th wave, and on a lonely stretch of highway, Cassie runs from Them. The beings who only look human, who roam the countryside killing anyone they see. Who have scattered Earth's last survivors. To stay alone is to stay alive, Cassie believes, until she meets Evan Walker. Beguiling and mysterious, Evan Walker may be Cassie's only hope for rescuing her brother-or even saving herself. But Cassie must choose: between trust and despair, between defiance and surrender, between life and death. To give up or to get up.
The Unbecoming of Mara Dyer by Michelle Hodkin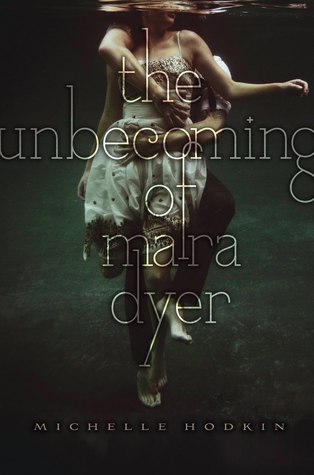 Next up I decided to start a new series and that is the Mara Dyer trilogy. So I picked up the first book, The Unbecoming of Mara Dyer. Book synopsis:
Mara Dyer believes life can't get any stranger than waking up in a hospital with no memory of how she got there.
It can.
She believes there must be more to the accident she can't remember that killed her friends and left her strangely unharmed.
There is.
She doesn't believe that after everything she's been through, she can fall in love.
She's wrong.
BookDepository: The Unbecoming of Mara Dyer
The Evolution of Mara Dyer by Michelle Hodkin
And I also picked up the second book in which Mara Dyer – who apparently is a pokemon – evolves! Anyway, this series has received a lot of praise from the young adult readers and I thought I should give it a try. Moreover, the designs for the covers are very beautiful so these were a little bit of cover buys (shame). Book synopsis:
The truth about Mara Dyer's dangerous and mysterious abilities continues to unravel in the New York Times bestselling sequel to the thrilling The Unbecoming of Mara Dyer. Mara Dyer once believed she could run from her past.She can't. She used to think her problems were all in her head. They aren't. She couldn't imagine that after everything she's been through, the boy she loves would still be keeping secrets. She's wrong. In this gripping sequel to The Unbecoming of Mara Dyer, the truth evolves and choices prove deadly. What will become of Mara Dyer next?
BookDepository: The Evolution of Mara Dyer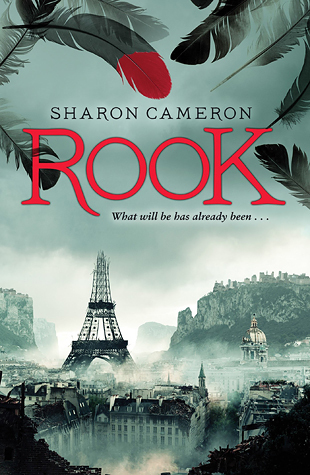 And my last young adult buy of the haul is Rook by Sharon Cameron. This book was published a little more than a year ago I believe but has recently been receiving a lot of attention from many BookTubers so I decided to pick it up and see what this dystopian is all about. Book synopsis:
History has a way of repeating itself. In the Sunken City that was once Paris, all who oppose the new revolution are being put to the blade. Except for those who disappear from their prison cells, a red-tipped rook feather left in their place. Is the mysterious Red Rook a savior of the innocent or a criminal?
Meanwhile, across the sea in the Commonwealth, Sophia Bellamy's arranged marriage to the wealthy René Hasard is the last chance to save her family from ruin. But when the search for the Red Rook comes straight to her doorstep, Sophia discovers that her fiancé is not all he seems. Which is only fair, because neither is she.
As the Red Rook grows bolder and the stakes grow higher, Sophia and René find themselves locked in a tantalizing game of cat and mouse.
The Tales of Beedle the Bard by J. K. Rowling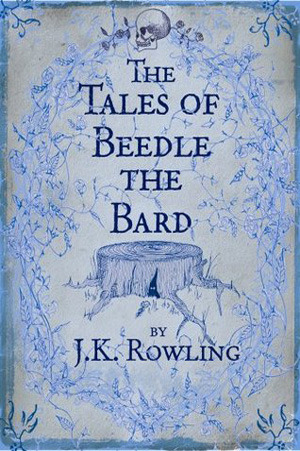 The Tales of Beedle the Bard was a book I decided to buy for the BookTube-A-Thon because it's a book written by one of my favourite authors (which was one of the challenges) and it is also very short. It is a collection of short stories written by Beedle and translated by Hermione Granger with notes from Albus Dumbledore. Book synopsis:
The Tales of Beedle the Bard, a Wizarding classic, first came to Muggle readers' attention in the book known as Harry Potter and the Deathly Hallows. Now, thanks to Hermione Granger's new translation from the ancient runes, we present this stunning edition with an introduction, notes, and illustrations by J. K. Rowling, and extensive commentary by Albus Dumbledore. Never before have Muggles been privy to these richly imaginative tales: "The Wizard and the Hopping Pot," "The Fountain of Fair Fortune," "The Warlock's Hairy Heart," "Babbitty Rabbitty and Her Cackling Stump," and of course, "The Tale of the Three Brothers." But not only are they the equal of fairy tales we now know and love, reading them gives new insight into the world of Harry Potter.
BookDepository: The Tales of Beedle the Bard
Night of Knives by Ian Esslemont
Ian Esslemont and Steven Erikson created together the Malazan world. Both of them have developed two different series taking place in this massive world and Night of Knives is the first book in Ian Esslemont's Malazan Empire series that follows the events of the Malazan Book of the Fallen series by Steven Erikson. Book synopsis:
The small island of Malaz and its city gave the great empire its name, but now it is little more than a sleepy, backwater port. Tonight, however, things are different. Tonight the city is on edge, a hive of hurried, sometimes violent activity; its citizens bustle about, barring doors, shuttering windows, avoiding any stranger's stare. Because tonight there is to be a convergence, the once-in-a-generation appearance of a Shadow Moon – an occasion that threatens the good people of Malaz with demon hounds and other, darker things …
It was also prophesied that this night would witness the return of Emperor Kellanved, and there are those prepared to do anything to prevent this happening. As factions within the greater Empire draw up battle lines over the imperial throne, the Shadow Moon summons a far more ancient and potent presence for an all-out assault upon the island. Witnessing these cataclysmic events are Kiska, a young girl who yearns to flee the constraints of the city, and Temper, a grizzled, battle-weary veteran who seeks simply to escape his past. Each is to play a part in a conflict that will not only determine the fate of Malaz City, but also of the world beyond …
BookDepository: Night of Knives
Infomocracy is a science fiction political thriller that I requested from Tor to review and they were very kind to send over an ARC for me. If you'd like to read my review of this book you can find it here: (Infomocracy by Malka Older (Book Review)). Book synopsis:
It's been twenty years and two election cycles since Information, a powerful search engine monopoly, pioneered the switch from warring nation-states to global micro-democracy. The corporate coalition party Heritage has won the last two elections. With another election on the horizon, the Supermajority is in tight contention, and everything's on the line.
With power comes corruption. For Ken, this is his chance to do right by the idealistic Policy1st party and get a steady job in the big leagues. For Domaine, the election represents another staging ground in his ongoing struggle against the pax democratica. For Mishima, a dangerous Information operative, the whole situation is a puzzle: how do you keep the wheels running on the biggest political experiment of all time, when so many have so much to gain?
The Summer That Melted Everything by Tiffany McDaniel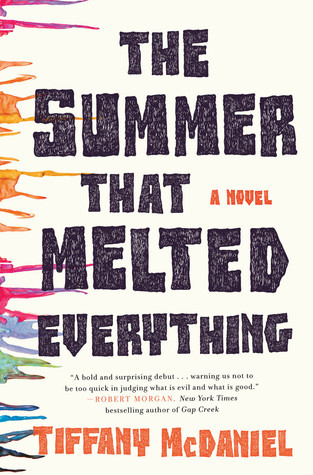 The Summer That Melted Everything is a debut novel that has been receiving great reviews and a lot of praise from many readers. This is a literary fiction dark novel that I received from the author to review. You can find the review here: (The Summer That Melted Everything by Tiffany McDaniel (Book Review)). Book synopsis:
Fielding Bliss has never forgotten the summer of 1984: the year a heat wave scorched Breathed, Ohio. The year he became friends with the devil.
Sal seems to appear out of nowhere – a bruised and tattered thirteen-year-old boy claiming to be the devil himself answering an invitation. Fielding Bliss, the son of a local prosecutor, brings him home where he's welcomed into the Bliss family, assuming he's a runaway from a nearby farm town.
When word spreads that the devil has come to Breathed, not everyone is happy to welcome this self-proclaimed fallen angel. Murmurs follow him and tensions rise, along with the temperatures as an unbearable heat wave rolls into town right along with him. As strange accidents start to occur, riled by the feverish heat, some in the town start to believe that Sal is exactly who he claims to be. While the Bliss family wrestles with their own personal demons, a fanatic drives the town to the brink of a catastrophe that will change this sleepy Ohio backwater forever.
BookDepository: The Summer That Melted Everything
And then after all this I decided to go overboard and buy two novels by Joe Hill. First one I got was The Fireman which came out in May. It is a fairly new publication and I couldn't resist the cover..(shame 2). I have already started reading this book and I am really enjoying it so far (review to come soon). Book synopsis:
No one knows exactly when it began or where it originated. A terrifying new plague is spreading like wildfire across the country, striking cities one by one: Boston, Detroit, Seattle. The doctors call it Draco Incendia Trychophyton. To everyone else it's Dragonscale, a highly contagious, deadly spore that marks its hosts with beautiful black and gold marks across their bodies—before causing them to burst into flames. Millions are infected; blazes erupt everywhere. There is no antidote. No one is safe.
Harper Grayson, a compassionate, dedicated nurse as pragmatic as Mary Poppins, treated hundreds of infected patients before her hospital burned to the ground. Now she's discovered the telltale gold-flecked marks on her skin. When the outbreak first began, she and her husband, Jakob, had made a pact: they would take matters into their own hands if they became infected. To Jakob's dismay, Harper wants to live—at least until the fetus she is carrying comes to term. At the hospital, she witnessed infected mothers give birth to healthy babies and believes hers will be fine too. . . if she can live long enough to deliver the child.
Convinced that his do-gooding wife has made him sick, Jakob becomes unhinged, and eventually abandons her as their placid New England community collapses in terror. The chaos gives rise to ruthless Cremation Squads—armed, self-appointed posses roaming the streets and woods to exterminate those who they believe carry the spore. But Harper isn't as alone as she fears: a mysterious and compelling stranger she briefly met at the hospital, a man in a dirty yellow fire fighter's jacket, carrying a hooked iron bar, straddles the abyss between insanity and death. Known as The Fireman, he strolls the ruins of New Hampshire, a madman afflicted with Dragonscale who has learned to control the fire within himself, using it as a shield to protect the hunted . . . and as a weapon to avenge the wronged.
In the desperate season to come, as the world burns out of control, Harper must learn the Fireman's secrets before her life—and that of her unborn child—goes up in smoke.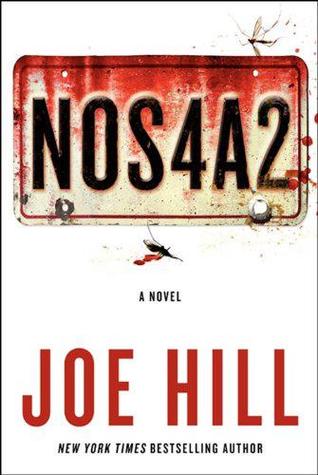 And the second novel that I got by Joe Hill was NOS4A2 which also has a beautiful cover ( I found it in deckle edges edition and I'm very happy). I think I'm going to wait with this one because it's a more Christmasy story and maybe I want to read it closer to December. Book synopsis:
Victoria McQueen has a secret gift for finding things: a misplaced bracelet, a missing photograph, answers to unanswerable questions. On her Raleigh Tuff Burner bike, she makes her way to a rickety covered bridge that, within moments, takes her wherever she needs to go, whether it's across Massachusetts or across the country.
Charles Talent Manx has a way with children. He likes to take them for rides in his 1938 Rolls-Royce Wraith with the NOS4A2 vanity plate. With his old car, he can slip right out of the everyday world, and onto the hidden roads that transport them to an astonishing – and terrifying – playground of amusements he calls "Christmasland."
Then, one day, Vic goes looking for trouble—and finds Manx. That was a lifetime ago. Now Vic, the only kid to ever escape Manx's unmitigated evil, is all grown up and desperate to forget. But Charlie Manx never stopped thinking about Victoria McQueen. He's on the road again and he's picked up a new passenger: Vic's own son.
Trying to take a picture of the books when your dog decides to be fabulous for the camera:
So this is my huge book haul for July. Let me know what you think of the books and the questions I had. Now I also have some news. I was asked via e-mail by a blogging platform called My Trending Stories to write content for them on their website. Does anyone have any information about this that might be useful for me? Do you think it's a good opportunity for the blog to grow? Any advice is much appreciated! 🙂
I'm a BookDepository affiliate. If you want to buy a book online (free worldwide shipping) and you go through my links (above), I'll get a small referral commission. Thank you very much for your support! 🙂