It's this time of the month again for us to check out some of the new book releases for the month of August! 🙂
Fiction
All the Ugly and Wonderful Things by Bryn Greenwood (release date: 9th of August)
To start this month's new releases and suggestions, we have a debut novel that sounds like a very emotional read. Reading from the perspective of an 8-year-old girl we follow Wavy into the unstable and untrustworthy world of drug dealing. The author is actually the daughter of a mostly reformed drug dealer herself which makes this book even more interesting to me. Book synopsis:
As the daughter of a meth dealer, Wavy knows not to trust people, not even her own parents. Struggling to raise her little brother, eight-year-old Wavy is the only responsible "adult" around. She finds peace in the starry Midwestern night sky above the fields behind her house. One night everything changes when she witnesses one of her father's thugs, Kellen, a tattooed ex-con with a heart of gold, wreck his motorcycle. What follows is a powerful and shocking love story between two unlikely people that asks tough questions, reminding us of all the ugly and wonderful things that life has to offer.
BookDepository: All the Ugly and Wonderful Things
The Book That Matters Most by Ann Hood (release date: 9th of August)
For those who love reading books about books here is a contemporary novel from the author of The Knitting Circle. The Book That Matters Most is a story about the healing powers of literature. Book synopsis:
Ava's twenty-five-year marriage has fallen apart, and her two grown children are pursuing their own lives outside of the country. Ava joins a book group, not only for her love of reading but also out of sheer desperation for companionship. The group's goal throughout the year is for each member to present the book that matters most to them. Ava rediscovers a mysterious book from her childhood—one that helped her through the traumas of the untimely deaths of her sister and mother. Alternating with Ava's story is that of her troubled daughter Maggie, who, living in Paris, descends into a destructive relationship with an older man. Ava's mission to find that book and its enigmatic author takes her on a quest that unravels the secrets of her past and offers her and Maggie the chance to remake their lives.
BookDepository: The Book That Matters Most
Behold the Dreamers by Imbolo Mbue (release date: 23rd of August)
Imbolo Mbue is an author from Cameroon and her new novel, Behold the Dreamers, is a story of an immigrant couple arriving in New York looking for a better life. I've never read anything about African culture before but I'm very interested in this book. It sounds very honest and emotional and also discusses immigration which is spiking nowadays. Book synopsis:
Jende Jonga, a Cameroonian immigrant living in Harlem, has come to the United States to provide a better life for himself, his wife, Neni, and their six-year-old son. In the fall of 2007, Jende can hardly believe his luck when he lands a job as a chauffeur for Clark Edwards, a senior executive at Lehman Brothers. Clark demands punctuality, discretion, and loyalty—and Jende is eager to please. Clark's wife, Cindy, even offers Neni temporary work at their summer home in the Hamptons. With these opportunities, Jende and Neni can at last gain a foothold in America and imagine a brighter future.
However, the world of great power and privilege conceals troubling secrets, and soon Jende and Neni notice cracks in their employers' facades.
Then the financial world is rocked by the collapse of Lehman Brothers. Desperate to keep Jende's job, which grows more tenuous by the day, the Jongas try to protect the Edwardses from certain truths, even as their own marriage threatens to fall apart. As all four lives are dramatically upended, Jende and Neni are forced to make an impossible choice.
BookDepository: Behold the Dreamers
Bright, Precious Days by Jay McInerney (release date: 2nd of August)
And here we have the second contemporary fiction novel set in New York (a lot of NY this month!). Book synopsis:
Russell and Corrine Calloway seem to be living the New York dream: book parties one night and high-society charity events the next; jobs they care about (and actually enjoy); twin children, a boy and a girl whose birth was truly miraculous; a loft in TriBeCa and summers in the Hamptons. But all of this comes at a high cost. Russell, an independent publisher, has cultural clout but minimal cash; as he navigates an industry that requires, beyond astute literary taste, constant financial improvisation, he encounters an audacious, expensive and potentially ruinous opportunity. Meanwhile, instead of seeking personal profit in this incredibly wealthy city, Corrine is devoted to feeding its hungry poor, and they soon discover they're being priced out of their now fashionable neighborhood.
Then Corrine's world is turned upside down when the man with whom she'd had an ill-fated affair in the wake of 9/11 suddenly reappears. As the novel unfolds across a period of stupendous change–including Obama's historic election and the global economic collapse he inherited — the Calloways will find themselves and their marriage tested more severely than they ever could have anticipated.
BookDepository: Bright, Precious Days
Non-Fiction
Patient H.M.: A Story of Memory, Madness, and Family Secrets by Luke Dittrich (release date: 9th of August)
This month I also have a non-fiction book suggestion to present! If you are a medical student or a psychology student I'm sure you've already heard of H. M.. He is a legendary patient in the neuropsychological community due to his severe amnesia (and that's why he is known as H. M. – his identity had to be secured because his amnesia allowed malicious people to take advantage of him). What's more though is that H. M. has a very friendly and pleasing personality and many doctors have loved working with him. He has past away in the recent years, but I think this is a book that sounds very interesting and I'd love to read more about H. M. who has inspired a lot of research and doctors all over the world. Book synopsis:
In 1953, a twenty-seven-year-old factory worker named Henry Molaison—who suffered from severe epilepsy—received a radical new version of the then-common lobotomy, targeting the most mysterious structures in the brain. The operation failed to eliminate Henry's seizures, but it did have an unintended effect: Henry was left profoundly amnesic, unable to create long-term memories. Over the next sixty years, Patient H.M., as Henry was known, became the most studied individual in the history of neuroscience, a human guinea pig who would teach us much of what we know about memory today.
Patient H.M. is, at times, a deeply personal journey. Dittrich's grandfather was the brilliant, morally complex surgeon who operated on Molaison—and thousands of other patients. The author's investigation into the dark roots of modern memory science ultimately forces him to confront unsettling secrets in his own family history, and to reveal the tragedy that fueled his grandfather's relentless experimentation—experimentation that would revolutionize our understanding of ourselves.
Dittrich uses the case of Patient H.M. as a starting point for a kaleidoscopic journey, one that moves from the first recorded brain surgeries in ancient Egypt to the cutting-edge laboratories of MIT. He takes readers inside the old asylums and operating theaters where psychosurgeons, as they called themselves, conducted their human experiments, and behind the scenes of a bitter custody battle over the ownership of the most important brain in the world.
Patient H.M. combines the best of biography, memoir, and science journalism to create a haunting, endlessly fascinating story, one that reveals the wondrous and devastating things that can happen when hubris, ambition, and human imperfection collide.
BookDepository: Patient H. M.: A Story of Memory, Madness and Family Secrets
Young Adult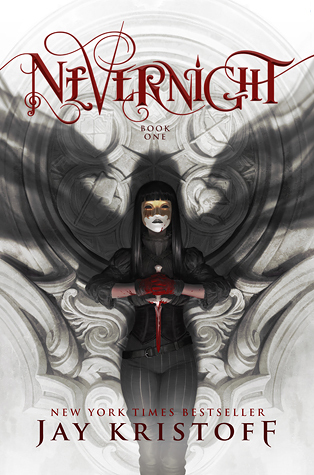 Nevernight by Jay Kristoff (publication date: 9th of August)
The new great novel by Jay Kristoff gaining in popularity by fans of The Illuminae Files and young adult literature in general. This is the first novel in The Nevernight Chronicles fantasy series which promises fun times and a lot of action. Book synopsis:
In a land where three suns almost never set, a fledgling killer joins a school of assassins, seeking vengeance against the powers who destroyed her family.
Daughter of an executed traitor, Mia Corvere is barely able to escape her father's failed rebellion with her life. Alone and friendless, she hides in a city built from the bones of a dead god, hunted by the Senate and her father's former comrades. But her gift for speaking with the shadows leads her to the door of a retired killer, and a future she never imagined.
Now, Mia is apprenticed to the deadliest flock of assassins in the entire Republic—the Red Church. If she bests her fellow students in contests of steel, poison and the subtle arts, she'll be inducted among the Blades of the Lady of Blessed Murder, and one step closer to the vengeance she desires. But a killer is loose within the Church's halls, the bloody secrets of Mia's past return to haunt her, and a plot to bring down the entire congregation is unfolding in the shadows she so loves.
Will she even survive to initiation, let alone have her revenge?
Enter Title Here by Rahul Kanakia (release date: 2nd of August)
Second young adult book of the month is a debut contemporary novel with a bookish themed plot. Book synopsis:
Reshma is a college counselor's dream. She's the top-ranked senior at her ultra-competitive Silicon Valley high school, with a spotless academic record and a long roster of extracurriculars. But there are plenty of perfect students in the country, and if Reshma wants to get into Stanford, and into med school after that, she needs the hook to beat them all.
What's a habitual over-achiever to do? Land herself a literary agent, of course. Which is exactly what Reshma does after agent Linda Montrose spots an article she wrote for Huffington Post. Linda wants to represent Reshma, and, with her new agent's help scoring a book deal, Reshma knows she'll finally have the key to Stanford.
But she's convinced no one would want to read a novel about a study machine like her. To make herself a more relatable protagonist, she must start doing all the regular American girl stuff she normally ignores. For starters, she has to make a friend, then get a boyfriend. And she's already planned the perfect ending: after struggling for three hundred pages with her own perfectionism, Reshma will learn that meaningful relationships can be more important than success—a character arc librarians and critics alike will enjoy.
Of course, even with a mastermind like Reshma in charge, things can't always go as planned. And when the valedictorian spot begins to slip from her grasp, she'll have to decide just how far she'll go for that satisfying ending. (Note: It's pretty far.)
BookDepository: Enter Title Here
The Thousandth Floor by Katharine McGee (Release date: 20th of August)
This debut novel is the first book in The Thousandth Floor series which is in development to becoming a TV show. The plot sounds very intriguing to me; a science fiction story taking place in a huge thousand-story tower in New York 100 years from now. Book synopsis:
New York City as you've never seen it before. A thousand-story tower stretching into the sky. A glittering vision of the future, where anything is possible—if you want it enough.
Welcome to Manhattan, 2118.
A hundred years in the future, New York is a city of innovation and dreams. But people never change: everyone here wants something…and everyone has something to lose.
Leda Cole's flawless exterior belies a secret addiction—to a drug she never should have tried and a boy she never should have touched.
Eris Dodd-Radson's beautiful, carefree life falls to pieces when a heartbreaking betrayal tears her family apart.
Rylin Myers's job on one of the highest floors sweeps her into a world—and a romance—she never imagined…but will her new life cost Rylin her old one?
Watt Bakradi is a tech genius with a secret: he knows everything about everyone. But when he's hired to spy by an upper-floor girl, he finds himself caught up in a complicated web of lies.
And living above everyone else on the thousandth floor is Avery Fuller, the girl genetically designed to be perfect. The girl who seems to have it all—yet is tormented by the one thing she can never have.
BookDepository: The Thousandth Floor
A Week of Mondays by Jessica Brody (release date: 2nd of August)
A Week of Mondays is a young adult contemporary about second chances. Jessica Brody has sold an impressive number of 9 novels in the last 4 years and this is her new title. Book synopsis:
Sixteen-year-old Ellison Sparks is having a serious case of the Mondays. She gets a ticket for running a red light, she manages to take the world's worst school picture, she bombs softball try-outs and her class election speech (note to self: never trust a cheerleader when she swears there are no nuts in her bake-sale banana bread), and to top it all off, Tristan, her gorgeous rocker boyfriend suddenly dumps her. For no good reason!
As far as Mondays go, it doesn't get much worse than this. And Ellie is positive that if she could just do it all over again, she would get it right. So when she wakes up the next morning to find she's reliving the exact same day, she knows what she has to do: stop her boyfriend from breaking up with her. But it seems no matter how many do-overs she gets or how hard Ellie tries to repair her relationship, Tristan always seems bent set on ending it. Will Ellie ever figure out how to fix this broken day? Or will she be stuck in this nightmare of a Monday forever?
BookDepository: A Week of Mondays
Vicarious by Paula Stokes (Release date: 16th of August)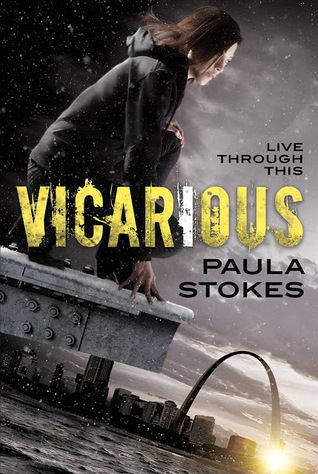 And last but not least on the young adult section for this month is the first book in a science fiction series called Vicarious. This reminds me a lot of the Divergent series (looking over the synopsis). Book synopsis:
Winter Kim and her sister, Rose, have always been inseparable. Together, the two of them survived growing up in a Korean orphanage and being trafficked into the United States.
Now they work as digital stunt girls for Rose's ex-boyfriend, Gideon, engaging in dangerous and enticing activities while recording their neural impulses for his Vicarious Sensory Experiences, or ViSEs. Whether it's bungee jumping, shark diving, or grinding up against celebrities at the city's hottest dance clubs, Gideon can make it happen for you, for a price.
When Rose disappears and a ViSE recording of her murder is delivered to Gideon, Winter won't rest until she finds her sister's killer. But when the clues she uncovers conflict with the neural recordings her sister made, Winter isn't sure what to believe. To find out what happened to Rose, she'll have to untangle what's real from what only seems real, risking her life in the process.
Children's Fiction
The Girl Who Drank the Moon by Kelly Barnhill (Release date: 9th of August)
From the author of The Witch's Boy comes a new coming-of-age story that is addressed to the younger reading population. This book has been getting great reviews on Goodreads and it's a fantasy adventure about dragons that middle graders are sure to love. Book synopsis:
Every year, the people of the Protectorate leave a baby as an offering to the witch who lives in the forest. They hope this sacrifice will keep her from terrorizing their town. But the witch in the forest, Xan, is kind and gentle. She shares her home with a wise Swamp Monster named Glerk and a Perfectly Tiny Dragon, Fyrian. Xan rescues the abandoned children and deliver them to welcoming families on the other side of the forest, nourishing the babies with starlight on the journey. 
One year, Xan accidentally feeds a baby moonlight instead of starlight, filling the ordinary child with extraordinary magic. Xan decides she must raise this enmagicked girl, whom she calls Luna, as her own. To keep young Luna safe from her own unwieldy power, Xan locks her magic deep inside her. When Luna approaches her thirteenth birthday, her magic begins to emerge on schedule–but Xan is far away. Meanwhile, a young man from the Protectorate is determined to free his people by killing the witch. Soon, it is up to Luna to protect those who have protected her–even if it means the end of the loving, safe world she's always known.
BookDepository: The Girl Who Drank the Moon
The Scourge by Jennifer A. Nielsen (Release date: 30th of August)
I  have always been a big fan of books and movies that have to do with deadly viruses and plagues and this children's book is one of them. So, naturally, I had to add it to my want-to-read list. Book synopsis:
As a lethal plague sweeps through the land, Ani Mells is shocked when she is unexpectedly captured by the governor's wardens and forced to submit to a test for the deadly Scourge. She is even more surprised when the test results come back positive, and she is sent to Attic Island, a former prison turned refuge — and quarantine colony — for the ill. The Scourge's victims, Ani now among them, can only expect to live out short, painful lives there. However, Ani quickly discovers that she doesn't know the whole truth about the Scourge or the Colony. She's been caught in a devious plot, and, with the help of her best friend, Weevil, Ani means to uncover just what is actually going on.
But will she and Weevil survive long enough to do so?
Mystery/Thriller
Behind Closed Doors by B. A. Paris (Release date: 9th of August)
An enthralling new psychological thriller, a debut novel for B. A. Paris that was initially released in February and has already been reviewed by many. This sounds like a very engaging suspense story for fans of thriller mysteries. Book synopsis:
Everyone knows a couple like Jack and Grace: he has looks and wealth, she has charm and elegance. You'd like to get to know Grace better. But it's difficult, because you realize Jack and Grace are never apart. Some might call this true love.
Picture this: a dinner party at their perfect home, the conversation and wine flowing. They appear to be in their element while entertaining. And Grace's friends are eager to reciprocate with lunch the following week. Grace wants to go, but knows she never will. Her friends call—so why doesn't Grace ever answer the phone? And how can she cook such elaborate meals but remain so slim?
And why are there bars on one of the bedroom windows?
The perfect marriage? Or the perfect lie?
BookDepository: Behind Closed Doors
Curious Minds by Janet Evanovich and Phoef Sutton (Release date: 16th of August)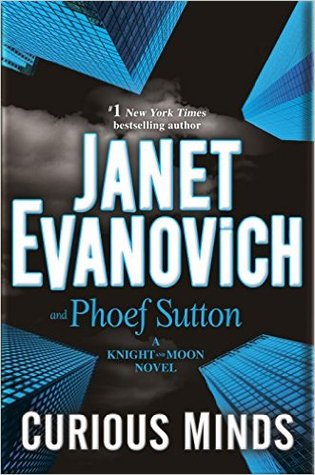 Janet Evanovich is the New York Times best-selling author of the popular Stephanie Plum series and Phoef Sutton is an Emmy-winning writer. Together they have created an exciting new mystery series called Knight and Moon starting with the first book Curious Minds. Book synopsis:
Emerson Knight is introverted, eccentric, and has little to no sense of social etiquette. Good thing he's also brilliant, rich, and (some people might say) handsome, or he'd probably be homeless. Riley Moon has just graduated from Harvard Business and Harvard Law. Her aggressive Texas spitfire attitude has helped her land her dream job as a junior analyst with mega-bank Blane-Grunwald. At least Riley Moon thought it was her dream job, until she is given her first assignment: babysitting Emerson Knight.
What starts off as an inquiry about missing bank funds in the Knight account leads to inquiries about a missing man, missing gold, and a life-and-death race across the country. Through the streets of Washington, D.C., and down into the underground vault of the Federal Reserve in New York City, an evil plan is exposed. A plan so sinister that only a megalomaniac could think it up, and only the unlikely duo of the irrepressibly charming Emerson Knight and the tenacious Riley Moon can stop it.
Nothing Short of Dying by Erik Storey (Release date: 25th of August)
Nothing Short of Dying is the first book in a new mystery series by Erik Storey, the Clyde Barr series. Book synopsis:
Sixteen years. That's how long Clyde Barr has been away from Colorado's thick forests, alpine deserts, and craggy peaks, running from a past filled with haunting memories. But now he's back, having roamed across three continents as a hunter, adventurer, soldier of fortune, and most recently, unjustly imprisoned convict. And once again, his past is reaching out to claim him.
By the light of a flickering campfire, Clyde received a frantic phone call for help from Jen, the youngest of his three older sisters. Then the line goes dead. Clyde doesn't know how much time he has. He doesn't know where Jen is located. He doesn't even know who has her. All he knows is that nothing short of dying will stop him from saving her.
Tagging along with Clyde on this strange, desperate, against-all-odds rescue mission is a young woman named Allie whose motivations for hurtling into harm's way are fascinatingly complex. As the duo races against the clock, it is Allie who gets Clyde to see what he has become and what he can be.
BookDepository: Nothing Short of Dying
Sting by Sandra Brown (Release date: 16th of August)
Sandra Brown is an author with over 70 published novels more than 60 of which were New York Times bestsellers! Her new novel is a romantic suspense thriller. Book synopsis:
When Jordie Bennet and Shaw Kinnard lock eyes across a disreputable backwater bar, something definitely sparks. Shaw gives off a dangerous vibe that makes men wary and inspires women to sit up and take notice. None feel that undercurrent more strongly than savvy businesswoman Jordie, who doesn't belong in a seedy dive on the banks of a bayou. But here she is . . . and Shaw Kinnard is here to kill her.
As Shaw and his partner take aim, Jordie is certain her time has come. But Shaw has other plans and abducts Jordie, hoping to get his hands on the $30 million her brother has stolen and, presumably, hidden. However, Shaw is not the only one looking for the fortune. Her brother's ruthless boss and the FBI are after it as well. Now on the run from the feds and a notorious criminal, Jordie and Shaw must rely on their wits-and each other-to stay alive.
Miles away from civilization and surrounded by swampland, the two play each other against their common enemies. Jordie's only chance of survival is to outwit Shaw, but it soon becomes clear to Shaw that Jordie isn't entirely trustworthy, either. Was she in on her brother's scam, or is she an innocent pawn in a deadly vendetta? And just how valuable is her life to Shaw, her remorseless and manipulative captor? Burning for answers-and for each other-this unlikely pair ultimately make a desperate move that could be their last.
Killfile by Christopher Farnsworth (Release date: 9th of August)
Christopher Farnsworth is the author of The Eternal World and his new book is a science fiction thriller that combines biotechnology with history and adventure. Sounds like a fun read! Book synopsis:
John Smith has a special gift that seems more like a curse: he can access other people's thoughts. He hears the songs stuck in their heads, their most private traumas and fears, the painful memories they can't let go. The CIA honed his skills until he was one of their most powerful operatives, but Smith fled the Agency and now works as a private consultant, trying to keep the dark potentials of his gift in check—and himself out of trouble.
But now Smith is unexpectedly plunged into dangerous waters when his latest client, billionaire software genius Everett Sloan, hires him to investigate a former employee—a tech whiz kid named Eli Preston—and search his thoughts for some very valuable intellectual property he's stolen. Before John can probe Preston's mind, his identity is compromised and he's on a run for his life with Preston's young associate, Kelsey.
Hunted by shadowy enemies with deep resources and unknown motives, John and Kelsey must go off the grid. John knows their only hope for survival is using his powers to their fullest—even if means putting his own sanity at risk.
Romance
It Ends With Us by Colleen Hoover (Release date: 2nd of August)
Colleen Hoover is a very big name in the romantic genre. If you are interested in getting more into romance novels I suggest you look into her works. She mostly writes New Adult novels and her readers can go on and on about how much they love her books. It Ends With Us is her new romantic new adult contemporary novel. Book synopsis:
Sometimes it is the one who loves you who hurts you the most.
Lily hasn't always had it easy, but that's never stopped her from working hard for the life she wants. She's come a long way from the small town in Maine where she grew up—she graduated from college, moved to Boston, and started her own business. So when she feels a spark with a gorgeous neurosurgeon named Ryle Kincaid, everything in Lily's life suddenly seems almost too good to be true.
Ryle is assertive, stubborn, maybe even a little arrogant. He's also sensitive, brilliant, and has a total soft spot for Lily. And the way he looks in scrubs certainly doesn't hurt. Lily can't get him out of her head. But Ryle's complete aversion to relationships is disturbing. Even as Lily finds herself becoming the exception to his "no dating" rule, she can't help but wonder what made him that way in the first place.
As questions about her new relationship overwhelm her, so do thoughts of Atlas Corrigan—her first love and a link to the past she left behind. He was her kindred spirit, her protector. When Atlas suddenly reappears, everything Lily has built with Ryle is threatened.
BookDepository: It Ends With Us
Science Fiction
Behind the Throne by K. B. Wagers (Release date: 2nd of August)
Behind the Throne is the first book in a new science fiction series, The Indranan War. The synopsis is short and mysterious and science fiction/speculative fiction is always on my radar. Book synopsis:
Hail Bristol has made a name for herself in the galaxy for everything except what she was born to do: rule the Indranan Empire.
When she is dragged back to her home planet to take her rightful place as the only remaining heir, she finds that trading her ship for a palace is her most dangerous move yet.
BookDepository: Behind the Throne
Good Morning, Midnight by Lily Brooks-Dalton (Release Date: 9th of August)
Good Morning, Midnight is a literary fiction apocalyptic story that sounds amazing to me. At only 270 pages this book has received great reviews so far and it looks like a must-read novel for science fiction fans. Book synopsis:
Augustine, a brilliant, aging astronomer, is consumed by the stars. For years he has lived in remote outposts, studying the sky for evidence of how the universe began. At his latest posting, in a research center in the Arctic, news of a catastrophic event arrives. The scientists are forced to evacuate, but Augustine stubbornly refuses to abandon his work. Shortly after the others have gone, Augustine discovers a mysterious child, Iris, and realizes the airwaves have gone silent. They are alone.
At the same time, Mission Specialist Sullivan is aboard the Aether on its return flight from Jupiter. The astronauts are the first human beings to delve this deep into space, and Sully has made peace with the sacrifices required of her: a daughter left behind, a marriage ended. So far the journey has been a success, but when Mission Control falls inexplicably silent, Sully and her crew mates are forced to wonder if they will ever get home.
As Augustine and Sully each face an uncertain future against forbidding yet beautiful landscapes, their stories gradually intertwine in a profound and unexpected conclusion. In crystalline prose, Good Morning, Midnight poses the most important questions: What endures at the end of the world? How do we make sense of our lives?
BookDepository: Good Morning, Midnight
The Last Days of New Paris by China Miéville (Release date: 9th of August)
China Miéville describes his genre as "weird fiction". His new novel, The Last Days of New Paris is an alternate history story taking place during and after WWII in France as reimagined by Miéville. Book synopsis:
1941. In the chaos of wartime Marseilles, American engineer—and occult disciple—Jack Parsons stumbles onto a clandestine anti-Nazi group, including Surrealist theorist André Breton. In the strange games of the dissident diplomats, exiled revolutionaries, and avant-garde artists, Parsons finds and channels hope. But what he unwittingly unleashes is the power of dreams and nightmares, changing the war and the world forever.
1950. A lone Surrealist fighter, Thibault, walks a new, hallucinogenic Paris, where Nazis and the Résistance are trapped in unending conflict, and the streets are stalked by living images and texts—and by the forces of Hell. To escape the city, he must join forces with Sam, an American photographer intent on recording the ruins, and make common cause with a powerful, enigmatic figure of chance and rebellion: the Exquisite Corpse.
But Sam is being hunted. And new secrets will emerge that will test all their loyalties—to each other, to Paris old and new, and to reality itself.
BookDepository: The Last Days of New Paris
Unknown by Wendy Higgins (Release date: 16th of August)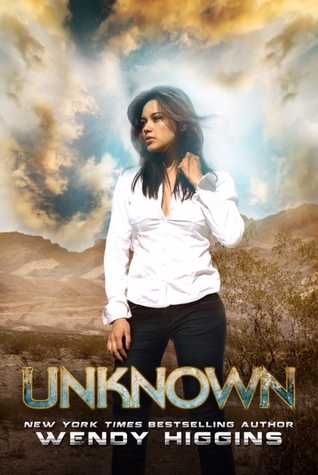 You might know Wendy Higgins from her young adult Sweet Evil trilogy. Now she comes with a new series called the Unknown, an apocalyptic romantic science fiction story. Has anyone read Wendy Higgins before? Do you recommend her? Book synopsis:
Amber Tate believes the worst thing she'll suffer in life is dealing with the unrequited love she feels for her brother's best friend, Rylen Fite. She also believes war is something unfortunate that happens places far, far away from her rural Nevada town. She's wrong on both counts.
When an unknown organization meticulously bombs major cities in the United States and across the globe, a trickle-down effect spreads to remaining towns at an alarming speed—everything from food and water sources to technology and communications are compromised. Without leadership, the nation is split between paralysis and panic, but Amber isn't one to hide or watch helplessly. She's determined to put her nursing skills to use, despite the danger, even if it means working alongside the man she can never have.
Invasive by Chuck Wendig (Release date: 16th of August)
Final book for the science fiction genre we have Invasive, a tech thriller adventure that sounds like a fast-paced, fun read. Book synopsis:
Hannah Stander is a consultant for the FBI—a futurist who helps the Agency with cases that feature demonstrations of bleeding-edge technology. It's her job to help them identify unforeseen threats: hackers, AIs, genetic modification, anything that in the wrong hands could harm the homeland.
Hannah is in an airport, waiting to board a flight home to see her family, when she receives a call from Agent Hollis Copper. "I've got a cabin full of over a thousand dead bodies," he tells her. Whether those bodies are all human, he doesn't say.
What Hannah finds is a horrifying murder that points to the impossible—someone weaponizing the natural world in a most unnatural way. Discovering who—and why—will take her on a terrifying chase from the Arizona deserts to the secret island laboratory of a billionaire inventor/philanthropist. Hannah knows there are a million ways the world can end, but she just might be facing one she could never have predicted—a new threat both ancient and cutting-edge that could wipe humanity off the earth.
Fantasy
A Promise of Fire by Amanda Bouchet (Release date: 2nd of August)
We begin the fantasy section with a new romance series called The Kingmaker Chronicles. This is the author's debut novel and it has received quite a lot of praise and buzz already from the reading community. Book synopsis:
Catalia "Cat" Fisa is a powerful clairvoyant known as the Kingmaker. This smart-mouthed soothsayer has no interest in her powers and would much rather fly under the radar, far from the clutches of her homicidal mother. But when an ambitious warlord captures her, she may not have a choice…
Griffin is intent on bringing peace to his newly conquered realm in the magic-deprived south. When he discovers Cat is the Kingmaker, he abducts her. But Cat will do everything in her power to avoid her dangerous destiny and battle her captor at every turn. Although up for the battle, Griffin would prefer for Cat to help his people willingly, and he's ready to do whatever it takes to coax her…even if that means falling in love with her.
BookDepository: A Promise of Fire
The Gentleman by Forrest Leo (Release date: 16th of August)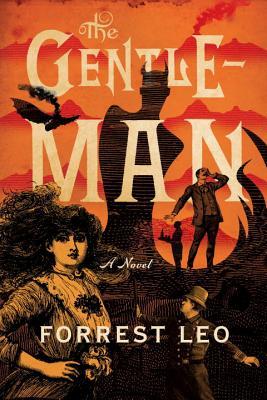 The Gentleman is an action-packed, funny debut novel for fans of the Monty Python's humour. Sounds brilliant! Book synopsis:
When Lionel Savage, a popular poet in Victorian London, learns from his butler that they're broke, he marries the beautiful Vivien Lancaster for her money, only to find that his muse has abandoned him.
Distraught and contemplating suicide, Savage accidentally conjures the Devil — the polite "Gentleman" of the title — who appears at one of the society parties Savage abhors. The two hit it off: the Devil talks about his home, where he employs Dante as a gardener; Savage lends him a volume of Tennyson. But when the party's over and Vivien has disappeared, the poet concludes in horror that he must have inadvertently sold his wife to the dark lord. 
Newly in love with Vivian, Savage plans a rescue mission to Hell that includes Simmons, the butler; Tompkins, the bookseller; Ashley Lancaster, swashbuckling Buddhist; Will Kensington, inventor of a flying machine; and Savage's spirited kid sister, Lizzie, freshly booted from boarding school for a "dalliance." Throughout, his cousin's quibbling footnotes to the text push the story into comedy nirvana.
Lionel and his friends encounter trapdoors, duels, anarchist-fearing bobbies, the social pressure of not knowing enough about art history, and the poisonous wit of his poetical archenemy.
Ghost Talkers by Mary Robinette Kowal (Release date: 16th August)
This new historical fantasy novel by Mary Robinette Kowal reads like a stand-alone but according to the author there are discussions about possibly expanding it into more books. Book synopsis:
Ginger Stuyvesant, an American heiress living in London during World War I, is engaged to Captain Benjamin Hartshorne, an intelligence officer. Ginger is a medium for the Spirit Corps, a special Spiritualist force.
Each soldier heading for the front is conditioned to report to the mediums of the Spirit Corps when they die so the Corps can pass instant information about troop movements to military intelligence.
Ginger and her fellow mediums contribute a great deal to the war efforts, so long as they pass the information through appropriate channels. While Ben is away at the front, Ginger discovers the presence of a traitor. Without the presence of her fiance to validate her findings, the top brass thinks she's just imagining things. Even worse, it is clear that the Spirit Corps is now being directly targeted by the German war effort. Left to her own devices, Ginger has to find out how the Germans are targeting the Spirit Corps and stop them. This is a difficult and dangerous task for a woman of that era, but this time both the spirit and the flesh are willing…
Breath of Earth by Beth Cato (Release date: 23rd of August)
Breath of Earth is a steampunk historical fantasy novel and is the first book in Beth Cato's (author of The Clockwork Dagger) Breath of Earth series. Book synopsis:
In an alternate 1906, the United States and Japan have forged a powerful confederation—the Unified Pacific—in an attempt to dominate the world. Their first target is a vulnerable China. In San Francisco, headstrong Ingrid Carmichael is assisting a group of powerful geomancer Wardens who have no idea of the depth of her power—or that she is the only woman to possess such skills.
When assassins kill the Wardens, Ingrid and her mentor are protected by her incredible magic. But the pair is far from safe. Without its full force of guardian geomancers, the city is on the brink of a cataclysmic earthquake that will expose Earth's powers to masterminds determined to control the energy for their own dark ends. The danger escalates when Chinese refugees, preparing to fight the encroaching American and Japanese, fracture the uneasy alliance between the Pacific allies, transforming the city into a veritable powder keg. And the slightest tremor will set it off. . . .
Forced on the run, Ingrid makes some shocking discoveries about herself. Her powerful magic has grown even more fearsome . . . and she may be the fulcrum on which the balance of world power rests.
BookDepository: Breath of Earth
Historical Fiction
By Gaslight by Steven Price (Release date: 23rd of August)
Now, this is a book I'm extremely excited about. It's big (more than 700 pages long), it's a historical fiction mystery story. I'm very pumped about this. Book synopsis:
A literary tour de force of a detective's ceaseless hunt for an elusive criminal
London, 1885. Three years before the Whitechapel killings, London is a city of fog and darkness. A severed head is dredged from the Thames; ten miles away, a woman's body is discovered on Edgeware Road. The famed American detective William Pinkerton is summoned by Scotland Yard to investigate. The dead woman fits the description of a grifter Pinkerton had been pursuing for a long time–someone he believed would lead him to a man he has been hunting since his father's death.
Edward Shade is an industrialist without a past, a fabled con, a thief of other men's futures–he seems a ghost, a man of smoke. The obsessive hunt for him that began in the last days of the Civil War becomes Pinkerton's inheritance. What follows is an epic journey of secrets, deceit, and betrayals. Above all, it is the story of the most unlikely of bonds: between Pinkerton, the greatest detective of his age, and Shade, the one criminal he cannot outwit.
The One Man by Andrew Gross (Release date: 23rd of August)
The One Man is a historical fiction thriller story about WWII and the holocaust. Full of twists and turns this novel promises to be an emotional read. Book synopsis:
1944. Physics professor Alfred Mendl is separated from his family and sent to the men's camp, where all of his belongings are tossed on a roaring fire. His books, his papers, his life's work. The Nazis have no idea what they have just destroyed. And without that physical record, Alfred is one of only two people in the world with his particular knowledge. Knowledge that could start a war, or end it.Nathan Blum works behind a desk at an intelligence office in Washington, DC, but he longs to contribute to the war effort in a more meaningful way, and he has a particular skill set the U.S. suddenly needs. Nathan is fluent in German and Polish, he is Semitic looking, and he proved his scrappiness at a young age when he escaped from the Polish ghetto. Now, the government wants him to take on the most dangerous assignment of his life: Nathan must sneak into Auschwitz, on a mission to find and escape with one man.
To the Bright Edge of the World by Eowyn Ivey (Release date: 2nd of August)
Eowyn Ivey's new novel is set in Alaska and follows the marriage of two people in the late 19th century. Book synopsis:
Colonel Allen Forrester receives the commission of a lifetime when he is charged to navigate Alaska's hitherto impassable Wolverine River, with only a small group of men. The Wolverine is the key to opening up Alaska and its huge reserves of gold to the outside world, but previous attempts have ended in tragedy.
For Forrester, the decision to accept this mission is even more difficult, as he is only recently married to Sophie, the wife he had perhaps never expected to find. Sophie is pregnant with their first child, and does not relish the prospect of a year in a military barracks while her husband embarks upon the journey of a lifetime. She has genuine cause to worry about her pregnancy, and it is with deep uncertainty about what their future holds that she and her husband part.
BookDepository: To the Bright Edge of the World
The Secret Book of Kings by Yochi Brandes (Release date: 23rd of August)
Yochi Brandes brings a biblical historical fiction of romance, rebellion and intrigue. Book synopsis:
Stories are deadlier than swords. Swords kill only those who stand before them, stories decide who will live and die in generations to come.
Shlom'am, a young man from the tribe of Ephraim, has grown up in the shadow of several secrets. He wonders why his father is deathly afraid of the King's soldiers, and why his mother has lied to him about the identities of those closest to him. Knowing his parents won't divulge more than they have to, Shlom'am sets out on his own to unearth his mysterious past.
At the height of his journey, Shlom'am encounters the Crazed Princess. Princess Michal, daughter of the ill-fated King Saul and discarded wife of the illustrious, dangerous King David, seems doomed by the annals of history; hellbent on seizing the throne, David wiped out her father's line and left her isolated…and plotting. Only Michal knows the shocking circumstances of Shlom'am's birth. Only she can set into motion his destiny to become Jerobaam, the fourth king of Israel.
BookDepository: The Secret Book of Kings
Three Sisters, Three Queens by Phillipa Gregory (Release date: 9th of August)
And finally, this is the second book in The Tudor Court series. I'm not sure about the sequence of these books because it seems like this second novel is coming out now while the rest of the series is already out. Anyone who has already read this? Could you tell me in which order one can read The Tudor Court books? Book synopsis:
As sisters they share an everlasting bond; As queens they can break each other's hearts.
"There is only one bond that I trust: between a woman and her sisters. We never take our eyes off each other. In love and in rivalry, we always think of each other."
When Katherine of Aragon is brought to the Tudor court as a young bride, the oldest princess, Margaret, takes her measure. With one look, each knows the other for a rival, an ally, a pawn, destined—with Margaret's younger sister Mary—to a sisterhood unique in all the world. The three sisters will become the queens of England, Scotland, and France.
United by family loyalties and affections, the three queens find themselves set against each other. Katherine commands an army against Margaret and kills her husband James IV of Scotland. But Margaret's boy becomes heir to the Tudor throne when Katherine loses her son. Mary steals the widowed Margaret's proposed husband, but when Mary is widowed it is her secret marriage for love that is the envy of the others. As they experience betrayals, dangers, loss, and passion, the three sisters find that the only constant in their perilous lives is their special bond, more powerful than any man, even a king.
BookDepository: Three Sisters, Three Queens
So these are all the new books that made it to my want-to-read list from the month of August (wow time flies by fast!). I'm very excited for a couple of these new releases but overall I can't say it is a particularly interesting month. But let me know which books you are most excited about and which ones made it to your list.
I'm a BookDepository affiliate. If you want to buy a book online (free worldwide shipping) and you go through my links (found above) I'll get a small referral commission. Thank you very much for your support!