How is summer over already? September means back to school or back to work for most of us. But September should also be fun and to make this month less stressful and more carefree we can always turn to books. Here are the new book titles coming out during the month of September:
Fiction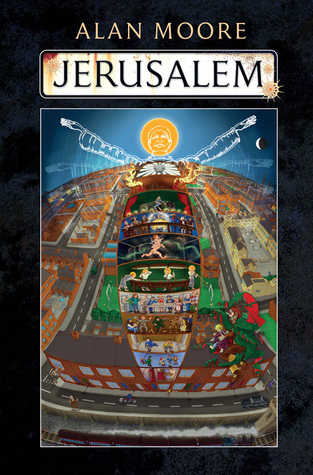 Starting with one of my most anticipated releases of the year, Jerusalem is an epic – in both size and scope – book by an acclaimed graphic novel author with works like V for Vendetta and Watchmen on his record. I am so excited about this intimidating monster of 1184 pages length. Book synopsis:
In the half a square mile of decay and demolition that was England's Saxon capital, eternity is loitering between the firetrap tower blocks. Embedded in the grubby amber of the district's narrative among its saints, kings, prostitutes and derelicts a different kind of human time is happening, a soiled simultaneity that does not differentiate between the petrol-coloured puddles and the fractured dreams of those who navigate them. Fiends last mentioned in the Book of Tobit wait in urine-scented stairwells, the delinquent spectres of unlucky children undermine a century with tunnels, and in upstairs parlours labourers with golden blood reduce fate to a snooker tournament.
Disappeared lanes yield their own voices, built from lost words and forgotten dialect, to speak their broken legends and recount their startling genealogies, family histories of shame and madness and the marvellous. There is a conversation in the thunderstruck dome of St. Paul's cathedral, childbirth on the cobblestones of Lambeth Walk, an estranged couple sitting all night on the cold steps of a Gothic church-front, and an infant choking on a cough drop for eleven chapters. An art exhibition is in preparation, and above the world a naked old man and a beautiful dead baby race along the Attics of the Breath towards the heat death of the universe.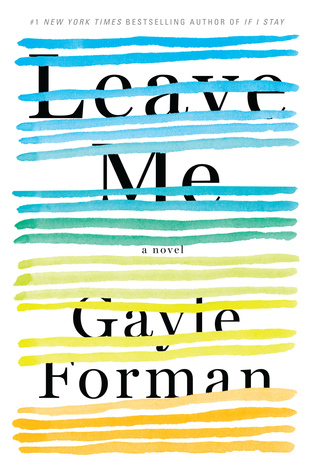 My first experience with Gayle Forman was with her If I Stay duology and while I did enjoy the first book, the second novel was not that great. Leave Me is her first adult novel and I'm definitely curious to see what her new story is about. Book synopsis:
For every woman who has ever fantasized about driving past her exit on the highway instead of going home to make dinner, for every woman who has ever dreamed of boarding a train to a place where no one needs constant attention–meet Maribeth Klein. A harried working mother who's so busy taking care of her husband and twins, she doesn't even realize she's had a heart attack.
Afterward, surprised to discover that her recuperation seems to be an imposition on those who rely on her, Maribeth does the unthinkable: She packs a bag and leaves. But, as is so often the case, once we get to where we're going, we see our lives from a different perspective. Far from the demands of family and career and with the help of liberating new friendships, Maribeth is finally able to own up to secrets she has been keeping from those she loves and from herself.
For readers who enjoy family dramas and books that follow a story through many decades, here is a novel you might want to check out. Coomonwealth has already received many and positive reviews and it sounds like an unforgetable tale. Book synopsis:
One Sunday afternoon in Southern California, Bert Cousins shows up at Franny Keating's christening party uninvited. Before evening falls, he has kissed Franny's mother, Beverly—thus setting in motion the dissolution of their marriages and the joining of two families.
Spanning five decades, Commonwealth explores how this chance encounter reverberates through the lives of the four parents and six children involved. Spending summers together in Virginia, the Keating and Cousins children forge a lasting bond that is based on a shared disillusionment with their parents and the strange and genuine affection that grows up between them.
When, in her twenties, Franny begins an affair with the legendary author Leon Posen and tells him about her family, the story of her siblings is no longer hers to control. Their childhood becomes the basis for his wildly successful book, ultimately forcing them to come to terms with their losses, their guilt, and the deeply loyal connection they feel for one another.
Here I Am by Jonathan Safran Foer
Jonathan Safran Foer, whose novel Extremely Loud and Incredibly Close has been turned into a movie and Everything is Illuminated has received much praise and great reviews, comes out with his new novel which is quite thick in size (500 pages). I just love it when books are long (unpopular opinion, I know). The story takes place over several weeks and follows a family of five in search of the life they want while a massive earthquake causes a stirrup in Middle East. Book synopsis:
In the book of Genesis, when God calls out, "Abraham!" to order him to sacrifice his son Isaac, Abraham responds, "Here I am." Later, when Isaac calls out, "My father!" to ask him why there is no animal to slaughter, Abraham responds, "Here I am."
How do we fulfill our conflicting duties as father, husband, and son; wife and mother; child and adult? Jew and American? How can we claim our own identities when our lives are linked so closely to others'? These are the questions at the heart of Jonathan Safran Foer's first novel in eleven years–a work of extraordinary scope and heartbreaking intimacy.
Highly acclaimed author of Atonement, Ian McEwan is releasing a new novel this September, told from a unique perspective and dealing with murder and deceit. I'm very interested in check out McEwan's novels but for fans of his previous works this is something to look forward to. Book synopsis:
Trudy has betrayed her husband, John. She's still in the marital home a dilapidated, priceless London townhouse but John's not here. Instead, she's with his brother, the profoundly banal Claude, and the two of them have a plan. But there is a witness to their plot: the inquisitive, nine-month old resident of Trudy's womb.
Yound Adult
Three Dark Crowns by Kendare Blake
A very popular new series by the author of Anna Dressed in Black is coming with the first book called Three Dark Crowns. This is a yound adult fantasy story of three sisters fighting to be the queen – which brings to my mind A Game of Thrones. I haven't read anything by Kendare Blake but she is a very versatile writer and so I'm interested in checking out this new Three Dark Crowns series. Book synopsis:
In every generation on the island of Fennbirn, a set of triplets is born: three queens, all equal heirs to the crown and each possessor of a coveted magic. Mirabella is a fierce elemental, able to spark hungry flames or vicious storms at the snap of her fingers. Katharine is a poisoner, one who can ingest the deadliest poisons without so much as a stomachache. Arsinoe, a naturalist, is said to have the ability to bloom the reddest rose and control the fiercest of lions.
But becoming the Queen Crowned isn't solely a matter of royal birth. Each sister has to fight for it. And it's not just a game of win or lose…it's life or death. The night the sisters turn sixteen, the battle begins.
The last queen standing gets the crown.
BookDepository: Three Dark Crowns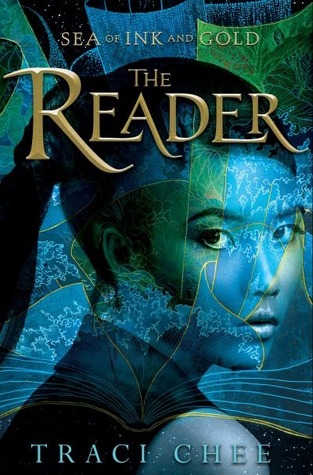 Continuing on with the fantasy series theme for the YA genre, The Reader is Traci Chee's yound adult debut and the first book in the Sea of Ink and Gold trilogy. While the story does sound engaging and interesting this cover…I really don't like it. Book synopsis:
Sefia knows what it means to survive. After her father is brutally murdered, she flees into the wilderness with her aunt Nin, who teaches her to hunt, track, and steal. But when Nin is kidnapped, leaving Sefia completely alone, none of her survival skills can help her discover where Nin's been taken, or if she's even alive. The only clue to both her aunt's disappearance and her father's murder is the odd rectangular object her father left behind, an object she comes to realize is a book—a marvelous item unheard of in her otherwise illiterate society. With the help of this book, and the aid of a mysterious stranger with dark secrets of his own, Sefia sets out to rescue her aunt and find out what really happened the day her father was killed—and punish the people responsible.
A Shadow Bright and Burning by Jessica Cluess
And the last YA fantasy series for the month begins with A Shadow Bright and Burning and is called the Kingdom of Fire series. Book synopsis:
I am Henrietta Howel.
The first female sorcerer in hundreds of years.
The prophesied one.
Or am I?
Henrietta Howel can burst into flames.
Forced to reveal her power to save a friend, she's shocked when instead of being executed, she's invited to train as one of Her Majesty's royal sorcerers.
Thrust into the glamour of Victorian London, Henrietta is declared the chosen one, the girl who will defeat the Ancients, bloodthirsty demons terrorizing humanity. She also meets her fellow sorcerer trainees, handsome young men eager to test her power and her heart. One will challenge her. One will fight for her. One will betray her.
But Henrietta Howel is not the chosen one.
As she plays a dangerous game of deception, she discovers that the sorcerers have their own secrets to protect. With battle looming, what does it mean to not be the one? And how much will she risk to save the city—and the one she loves?
BookDepository: A Shadow Bright and Burning
The Female of the Species by Mindy McGinnis
With a quirky title and a mystery/thriller story, Mindy McGinnis, the author of the apocalyptic novel Not A Drop to Drink, is seeing to the release of her new contemporary novel. Book synopsis:
Alex Craft knows how to kill someone. And she doesn't feel bad about it. When her older sister, Anna, was murdered three years ago and the killer walked free, Alex uncaged the language she knows best. The language of violence.
While her crime goes unpunished, Alex knows she can't be trusted among other people, even in her small hometown. She relegates herself to the shadows, a girl who goes unseen in plain sight, unremarkable in the high school hallways.
But Jack Fisher sees her. He's the guy all other guys want to be: the star athlete gunning for valedictorian with the prom queen on his arm. Guilt over the role he played the night Anna's body was discovered hasn't let him forget Alex over the years, and now her green eyes amid a constellation of freckles have his attention. He doesn't want to only see Alex Craft; he wants to know her.
So does Peekay, the preacher's kid, a girl whose identity is entangled with her dad's job, though that does not stop her from knowing the taste of beer or missing the touch of her ex-boyfriend. When Peekay and Alex start working together at the animal shelter, a friendship forms and Alex's protective nature extends to more than just the dogs and cats they care for.
Circumstances bring Alex, Jack, and Peekay together as their senior year unfolds. While partying one night, Alex's darker nature breaks out, setting the teens on a collision course that will change their lives forever.
BookDepository: The Female of the Species
Children's Fiction
The Secret Keepers by Trenton Lee Stewart
For this month's children fiction releases I thought it would be interesting to present Trenton Lee Stewart's new book. The Mysterious Benedict Society series of the same author became very popular and now fans of Stewart can check out his new middle grade stand alone. Book synopsis:
Eleven-year-old Reuben spends his days exploring, hiding, and practicing parkour among the abandoned buildings of the Lower Downs as a way to escape the rough times that have befallen him and his mom–but his discovery of an extraordinary antique pocket watch changes everything. When Reuben finds that the watch has the power to turn him invisible, he's propelled on the adventure of a lifetime.
Now Reuben is being pursued by a group of dangerous men called the Directions, and someone–or something–ominously called The Smoke. They all want the watch, and with the help of new friends, it's up to Reuben to unravel the mysteries surrounding it and protect the city from evil.
BookDepository: The Secret Keepers
History & Biography
Eleanor and Hick: The Love Affair That Shaped a First Lady by Susan Quinn
This September, an interesting book suggestion/new release is the biography of Eleanor Roosevelt chronicalling her relationship with Lorena Hickok that lasted for more than three decades and affected both women tremendously. Book synopsis:
In 1932, as her husband assumed the presidency, Eleanor Roosevelt entered the claustrophobic, duty-bound existence of the First Lady with dread. By that time, she had put her deep disappointment in her marriage behind her and developed an independent life—now threatened by the public role she would be forced to play. A lifeline came to her in the form of a feisty campaign reporter for the Associated Press: Lorena Hickok. Over the next thirty years, until Eleanor's death, the two women carried on an extraordinary relationship: They were, at different points, lovers, confidantes, professional advisors, and caring friends. 
They couldn't have been more different. Eleanor had been raised in one of the nation's most powerful political families and was introduced to society as a debutante before marrying her distant cousin, Franklin. Hick, as she was known, had grown up poor in rural South Dakota and worked as a servant girl after she escaped an abusive home, eventually becoming one of the most respected reporters at the AP. Her admiration drew the buttoned-up Eleanor out of her shell, and the two quickly fell in love. For the next thirteen years, Hick had her own room at the White House, next door to the First Lady. 
These fiercely compassionate women inspired each other to right the wrongs of the turbulent era in which they lived. During the Depression, Hick reported from the nation's poorest areas for the WPA, and Eleanor used these reports to lobby her husband for New Deal programs. Hick encouraged Eleanor to turn their frequent letters into her popular and long-lasting syndicated column "My Day," and to befriend the female journalists who became her champions. When Eleanor's tenure as First Lady ended with FDR's death, Hick pushed her to continue to use her popularity for good—advice Eleanor took by leading the UN's postwar Human Rights Commission. At every turn, the bond these women shared was grounded in their determination to better their troubled world.
BookDepository: Eleanor and Hick: The Love Affair That Shaped a First Lady
Mystery/Thriller
Only Daughter by Anna Snoekstra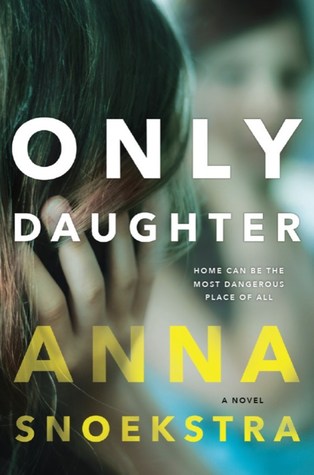 Of course it's always a perfect time for a good psychological thriller and this mystery novel has received great reviews so far. Plus it's quite short (288 pages) and so I assume fast-paced. Book synopsis:
In 2003, sixteen-year-old Rebecca Winter disappeared.  
She'd been enjoying her teenage summer break: working at a fast-food restaurant, crushing on an older boy and shoplifting with her best friend. Mysteriously ominous things began to happen—blood in the bed, periods of blackouts, a feeling of being watched—though Bec remained oblivious of what was to come.  
Eleven years later she is replaced. 
A young woman, desperate after being arrested, claims to be the decade-missing Bec.  
Soon the imposter is living Bec's life. Sleeping in her bed. Hugging her mother and father. Learning her best friends' names. Playing with her twin brothers. 
But Bec's welcoming family and enthusiastic friends are not quite as they seem. As the imposter dodges the detective investigating her case, she begins to delve into the life of the real Bec Winter—and soon realizes that whoever took Bec is still at large, and that she is in imminent danger.
The Vanishing Year by Kate Moretti
And another case of the past coming to haunt the future by revealing long hidden secrets and exposing individuals. Book synopsis:
Zoe Whittaker is living a charmed life. She is the beautiful young wife to handsome, charming Wall Street tycoon Henry Whittaker. She is a member of Manhattan's social elite. She is on the board of one of the city's most prestigious philanthropic organizations. She has a perfect Tribeca penthouse in the city and a gorgeous lake house in the country. The finest wine, the most up-to-date fashion, and the most luxurious vacations are all at her fingertips.
What no one knows is that five years ago, Zoe's life was in danger. Back then, Zoe wasn't Zoe at all. Now her secrets are coming back to haunt her.
As the past and present collide, Zoe must decide who she can trust before she—whoever she is—vanishes completely.
BookDepository: The Vanishing Year
Whispers Beyond the Veil by Jessica Estevao
And finally a new historical fiction, mystery series begins with the first book Whispers Beyond the Veil. The series is called A Change of Fortune Mystery and the protagonist is a female psychic. Book synopsis:
Canada, 1898. The only life Ruby Proulx has ever known is that of a nomad, traveling across the country with her snake-oil salesman father. She dreams of taking root somewhere, someday, but, until she can, she makes her way by reading tarot cards. Yet she never imagined her own life would take such a turn…
After one of her father's medical "miracles" goes deadly wrong, Ruby evades authorities by hiding in the seaside resort town of Old Orchard, Maine, where her estranged Aunt Honoria owns the Hotel Belden, a unique residence that caters to Spiritualists—a place where Ruby should be safe as long as she can keep her dark secret hidden.
But Ruby's plan begins to crumble after a psychic investigator checks into the hotel and senses Ruby is hiding more than she's letting on. Now Ruby must do what she can to escape both his attention and Aunt Honoria's insistence that she has a true gift, before she loses her precious new home and family forever…
BookDepository: Whispers Beyond the Veil
Science Fiction
Ninth City Burning by J. Patrick Black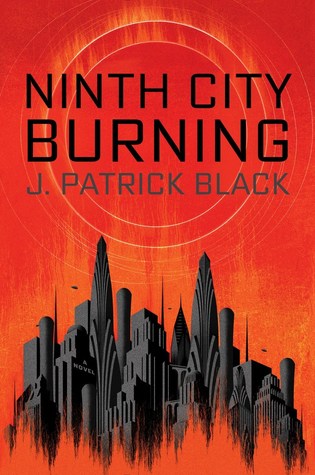 And we slowly arrive down to my personally favourite section of the new releases, starting off with a very exciting new debut. This is a science fiction story of the war between humans and aliens and the threat to humanity and civilisation. Book synopsis:
We never saw them coming. 
Entire cities disappeared in the blink of an eye, leaving nothing but dust and rubble. When an alien race came to make Earth theirs, they brought with them a weapon we had no way to fight, a universe-altering force known as thelemity. It seemed nothing could stop it—until we discovered we could wield the power too.
Five hundred years later, the Earth is locked in a grinding war of attrition. The talented few capable of bending thelemity to their will are trained in elite military academies, destined for the front lines. Those who refused to support the war have been exiled to the wilds of a ruined Earth.
But the enemy's tactics are changing, and Earth's defenders are about to discover this centuries-old war has only just begun. As a terrible new onslaught looms, heroes will rise from unlikely quarters, and fight back.
BookDepository: Ninth City Burning
From one of the masters of science fiction literature we have a new space opera adventure set in the distant future in our solar system. There are space pirates, buried treasure and gravely dangerous weapons. Sounds epic, I want it! Book synopsis:
The galaxy has seen great empires rise and fall. Planets have shattered and been remade. Amongst the ruins of alien civilisations, building our own from the rubble, humanity still thrives.
And there are vast fortunes to be made, if you know where to find them …
Captain Rackamore and his crew do. It's their business to find the tiny, enigmatic worlds which have been hidden away, booby-trapped, surrounded with layers of protection – and to crack them open for the ancient relics and barely-remembered technologies inside. But while they ply their risky trade with integrity, not everyone is so scrupulous.
Adrana and Fura Ness are the newest members of Rackamore's crew, signed on to save their family from bankruptcy. Only Rackamore has enemies, and there might be more waiting for them in space than adventure and fortune: the fabled and feared Bosa Sennen in particular.
While I'm not very familiar with novellas and so far haven't read one to blow my mind and get me into reading more of them, this one sounds quite intriguing. The synopsis is vague and mysterious and has me hooked. Book synopsis:
X doesn't have a name. He thought he had one—or many—but that might be the result of the failing memories of the personalities imprinted within him. Or maybe he really is called X.
He's also not as human as he believes himself to be.
But when he discovers the existence of another—above ground, outside the protection of the Warren—X must learn what it means to be human, or face the destruction of their two species.
The Gradual by Christopher Priest
The acclaimed author of The Prestige, Christopher Priest is releasing his new science fiction novel in September discussing creativity, living under war and the nature of time. Sounds great! Book synopsis:
Alesandro grows up in Glaud, a fascist state constantly at war with a faceless opponent. His brother is sent off to war; his family is destroyed by grief. Occasionally he catches glimpses of islands in the far distance from the shore, and they feed into the music he composes—music for which he is feted. His search from his brother brings him into contact with the military leadership and suddenly he is a fugitive on the run—he seeks refuge on the islands and his endless travels take him through places and time, bringing him answers where he could not have foreseen them.
Fantasy
The Queen of Blood by Sarah Beth Durst
A rapidly gaining in popularity new series begins with The Queen of Blood. The Queens of Renthia is a young adult epic fantasy series filled with political games, a magical system and of course, adventure. Book synopsis:
An idealistic young student and a banished warrior become allies in a battle to save their realm in this first book of a mesmerizing epic fantasy series, filled with political intrigue, violent magic, malevolent spirits, and thrilling adventure
Everything has a spirit: the willow tree with leaves that kiss the pond, the stream that feeds the river, the wind that exhales fresh snow . . .
But the spirits that reside within this land want to rid it of all humans. One woman stands between these malevolent spirits and the end of humankind: the queen. She alone has the magical power to prevent the spirits from destroying every man, woman, and child. But queens are still just human, and no matter how strong or good, the threat of danger always looms.
With the position so precarious, young women are chosen to train as heirs. Daleina, a seemingly quiet academy student, is under no illusions as to her claim to the throne, but simply wants to right the wrongs that have befallen the land. Ven, a disgraced champion, has spent his exile secretly fighting against the growing number of spirit attacks. Joining forces, these daring partners embark on a treacherous quest to find the source of the spirits' restlessness—a journey that will test their courage and trust, and force them to stand against both enemies and friends to save their land . . . before it's bathed in blood.
BookDepository: The Queen of Blood
The Family Plot by Cherie Priest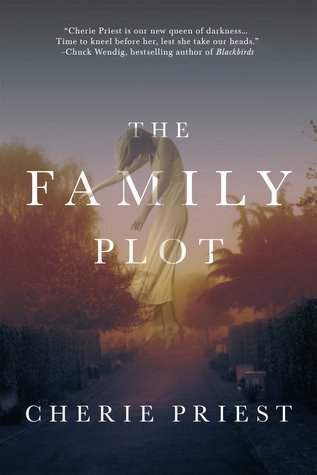 Cherie Priest is the highly acclaimed author of The Clockwork Century series, a Hugo and Nebula nominee and a Locus award winner. Her new novel, The Family Plot is the author's take on the haunted house book. Book synopsis:
Chuck Dutton built Music City Salvage with patience and expertise, stripping historic properties and reselling their bones. Inventory is running low, so he's thrilled when Augusta Withrow appears in his office offering salvage rights to her entire property. This could be a gold mine, so he assigns his daughter Dahlia to personally oversee the project.
The crew finds a handful of surprises right away. Firstly, the place is in unexpectedly good shape. And then there's the cemetery, about thirty fallen and overgrown graves dating to the early 1900s, Augusta insists that the cemetery is just a fake, a Halloween prank, so the city gives the go-ahead, the bulldozer revs up, and it turns up human remains. Augusta says she doesn't know whose body it is or how many others might be present and refuses to answer any more questions. Then she stops answering the phone.
But Dahlia's concerns about the corpse and Augusta's disappearance are overshadowed when she begins to realize that she and her crew are not alone, and they're not welcome at the Withrow estate. They have no idea how much danger they're in, but they're starting to get an idea. On the crew's third night in the house, a storm shuts down the only road to the property. The power goes out. Cell signals are iffy. There's nowhere to go and no one Dahlia can call for help, even if anyone would believe that she and her crew are being stalked by a murderous phantom. Something at the Withrow mansion is angry and lost, and this is its last chance to raise hell before the house is gone forever. And it seems to be seeking permanent company.
BookDepository: The Family Plot
Historical Fiction
A Gentleman in Moscow by Amor Towles
Amor Towles has proven his talent in bringing the 1930s back to life with his debut novel Rules of Civility. His new historical fiction has received great ratings from numerous reviewers so far on Goodreads and it definitely has me interested in being one of them. Book synopsis:
A Gentleman in Moscow immerses us in another elegantly drawn era with the story of Count Alexander Rostov. When, in 1922, he is deemed an unrepentant aristocrat by a Bolshevik tribunal, the count is sentenced to house arrest in the Metropol, a grand hotel across the street from the Kremlin. Rostov, an indomitable man of erudition and wit, has never worked a day in his life, and must now live in an attic room while some of the most tumultuous decades in Russian history are unfolding outside the hotel's doors. Unexpectedly, his reduced circumstances provide him a doorway into a much larger world of emotional discovery.
BookDepository: A Gentlemean in Moscow
I've already been introduced to Emma Donoghue's writing by reading both Room and The Sealed Letter (Book Review) by her, so I'm very excited for her new historical fiction novel, The Wonder. To be honest, although i have definitely enjoyed her works so far, she still hasn't blown me away. But of course I want to get my hands on The Wonder as soon as possible. Plus, one very exciting fact is that this novel is taking place in Ireland and promises to be a heartbreaking story. Book synopsis:
Tourists flock to the cabin of eleven-year-old Anna O'Donnell, who believes herself to be living off manna from heaven, and a journalist is sent to cover the sensation. Lib Wright, a veteran of Florence Nightingale's Crimean campaign, is hired to keep watch over the girl.
Orphans of the Carnival by Carol Birch
Carol Birch has been shortlisted for the Man Booker award with her novel Jamrach's Menagerie. Her new novel is taking place in the 19th century. Book synopsis:
A life in the spotlight will keep anyone hidden.
Julia Pastrana is the singing and dancing marvel from Mexico, heralded on tours across nineteenth-century Europe as much for her talent as for her rather unusual appearance. Yet few can see past the thick hair that covers her: she is both the fascinating toast of a Governor's ball and the shunned, revolting, unnatural beast, to be hidden from children and pregnant women.
But what is her wonderful and terrible link to Rose, collector of lost treasures in an attic room in modern-day south London? In this haunting tale of identity, love and independence, these two lives will connect in unforgettable ways.
BookDepository: Orphans of the Carnival
Fates and Traitors by Jennifer Chiaverini
This novel by the NY Times best selling author, Jennifer Chiaverini is a historical fiction following the notorious John Wilkes Booth and his four confidantes. Book synopsis:
The world would not look upon his like again. John Wilkes Booth—driven son of an acclaimed British stage actor and a Covent Garden flower girl, whose misguided quest to avenge the vanquished Confederacy led him to commit one of the most notorious acts in the annals of America—has been the subject of scholarship, speculation, and even obsession.
Though in his plot to assassinate President Abraham Lincoln Booth did not act alone—"I am determined to be a villain," he tragically prophesized on the occasion of his acclaimed 1862 New York City debut in the role of Richard III—he is often portrayed as a shadowy figure, devoid of human connection. Yet four women were integral in the life of this unquiet American: Mary Ann, the mother he revered above all but country; his sister and confidante, Asia; Lucy Lambert Hale, the senator's daughter who loved him; and the Confederate widow Mary Surratt, to whom he entrusted the secrets of his vengeful wrath.
BookDepository: Fates and Traitors
The Spawning Grounds by Gail Anderson-Dargatz
The long-awaited new novel by the two-time Giller-shortlisted author is full of the qualities Gail Anderson-Dargatz's fans love: it's an intimate family saga rooted in the Thompson-Shuswap region of British Columbia, and saturated with the history of the place. Book synopsis:
A bold new story that bridges Native and white cultures across a bend in a river where the salmon run. On one side of the river is a ranch once owned by Eugene Robertson, who came in the gold rush around 1860, and stayed on as a homesteader. On the other side is a Shuswap community that has its own tangled history with the river–and the whites. At the heart of the novel are Hannah and Brandon Robertson, teenagers who have been raised by their grandfather after they lost their mother. As the novel opens, the river is dying, its flow reduced to a trickle, and Hannah is carrying salmon past the choke point to the spawning grounds while her childhood best friend, Alex, leads a Native protest against the development further threatening the river. When drowning nearly claims the lives of both Hannah's grandfather and her little brother, their world is thrown into chaos. Hannah, Alex, and most especially Brandon come to doubt their own reality as they are pulled deep into Brandon's numinous visions, which summon the myths of Shuswap culture and tragic family stories of the past.
BookDepository: The Spawning Grounds
Graphic Novels & Comics
Not Your Sidekick by C. B. Lee
Finally, one interesting new graphic novel that comes out in September is Not Your Sidekick. This is an LGBT young adult story that mixes contemporary and superheroes! Book synopsis:
Welcome to Andover… where superpowers are common, but internships are complicated. Just ask high school nobody, Jessica Tran. Despite her heroic lineage, Jess is resigned to a life without superpowers and is merely looking to beef-up her college applications when she stumbles upon the perfect (paid!) internship—only it turns out to be for the town's most heinous supervillain. On the upside, she gets to work with her longtime secret crush, Abby, who Jess thinks may have a secret of her own. Then there's the budding attraction to her fellow intern, the mysterious "M," who never seems to be in the same place as Abby. But what starts as a fun way to spite her superhero parents takes a sudden and dangerous turn when she uncovers a plot larger than heroes and villains altogether.
BookDepository: Not Your Sidekick
So these are all my suggestions for the new September releases. I hope you have found a few new additions to your to-read list, I know I definitely have.
Have a productive and wonderful beginning of the school year! 🙂
I'm a BookDepository affiliate. If you want to buy a book online (free worldwide shipping) and you go through my links (found above) I'll get a small referral commission. Thank you very much for your support!