Hello friends, happy October!
While we may have a new exciting month ahead of us, this has not been such an interesting release time for me. With a couple of appealing new book coming out in various genres, this is mainly a month with great Middle Grade books and a big adult fiction name, Jodi Picoult, coming out with a new title.
Fiction
Small Great Things by Jodi Picoult
Jodi Picoult is a very popular author of adult fiction with numerous books in her record. One of her most famous stories, My Sisters Keeper, was turned into the heart-breaking movie with the same title. In my mind, she is the female version of Nicolas Sparks. Even though I have two of her books sitting on my bookshelf I still haven't read anything from her. Her newest release has already been reviewed and loved by hundreds of readers. Book synopsis:
Ruth Jefferson is a labor and delivery nurse at a Connecticut hospital with more than twenty years' experience. During her shift, Ruth begins a routine checkup on a newborn, only to be told a few minutes later that she's been reassigned to another patient. The parents are white supremacists and don't want Ruth, who is African American, to touch their child. The hospital complies with their request, but the next day, the baby goes into cardiac distress while Ruth is alone in the nursery. Does she obey orders or does she intervene?
Ruth hesitates before performing CPR and, as a result, is charged with a serious crime. Kennedy McQuarrie, a white public defender, takes her case but gives unexpected advice: Kennedy insists that mentioning race in the courtroom is not a winning strategy. Conflicted by Kennedy's counsel, Ruth tries to keep life as normal as possible for her family—especially her teenage son—as the case becomes a media sensation. As the trial moves forward, Ruth and Kennedy must gain each other's trust, and come to see that what they've been taught their whole lives about others—and themselves—might be wrong.
BookDepository: Small Great Things
The Wangs vs. the World by  Jade Chang
Although initially I wasn't too sold on the premise of this story as it doesn't really sound like something I would normally pick up, something made me reconsider and actually add it to my want-to-read list. And that something was this "list" right here:
One of Entertainment Weekly's Most Anticipated Titles of 2016
A Fall 2016 Barnes & Noble Discover Pick
A Publishers Lunch Fall 16 Buzz Book
A The Millions Most Anticipated Book
One of Library Journal's "Five Big Debuts" for Fall 16
I guess this is going to be a big new debut! Book synopsis:
Charles Wang is mad at America. A brash, lovable immigrant businessman who built a cosmetics empire and made a fortune, he's just been ruined by the financial crisis. Now all Charles wants is to get his kids safely stowed away so that he can go to China and attempt to reclaim his family's ancestral lands—and his pride.
Charles pulls Andrew, his aspiring comedian son, and Grace, his style-obsessed daughter, out of schools he can no longer afford. Together with their stepmother, Barbra, they embark on a cross-country road trip from their foreclosed Bel-Air home to the upstate New York hideout of the eldest daughter, disgraced art world it-girl Saina. But with his son waylaid by a temptress in New Orleans, his wife ready to defect for a set of 1,000-thread-count sheets, and an epic smash-up in North Carolina, Charles may have to choose between the old world and the new, between keeping his family intact and finally fulfilling his dream of starting anew in China.
BookDepository: The Wangs vs. the World
Young Adult
Holding Up the Universe by Jennifer Niven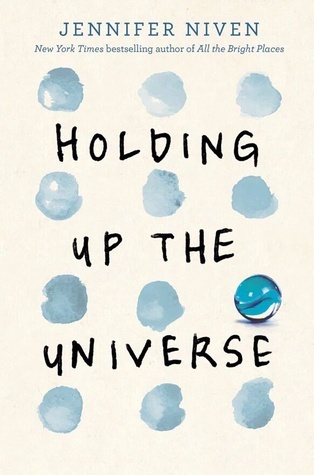 Here we have a new release from the author of All the Bright Places. You would think, "Great, I've heard/read so much about All the Bright Places so this book should be an instant addition to my TBR". Well, what is really interesting about this one is the synopsis and the huge amount of controversy and negativity it has created throughout Goodreads. Of course, now I have to see what this whole fuzz is all about! Brace yourselves – Book synopsis:
Everyone thinks they know Libby Strout, the girl once dubbed "America's Fattest Teen." But no one's taken the time to look past her weight to get to know who she really is. Following her mom's death, she's been picking up the pieces in the privacy of her home, dealing with her heartbroken father and her own grief. Now, Libby's ready: for high school, for new friends, for love, and for EVERY POSSIBILITY LIFE HAS TO OFFER. In that moment, I know the part I want to play here at MVB High. I want to be the girl who can do anything. 
Everyone thinks they know Jack Masselin, too. Yes, he's got swagger, but he's also mastered the impossible art of giving people what they want, of fitting in. What no one knows is that Jack has a newly acquired secret: he can't recognize faces. Even his own brothers are strangers to him. He's the guy who can re-engineer and rebuild anything in new and bad-ass ways, but he can't understand what's going on with the inner workings of his brain. So he tells himself to play it cool: Be charming. Be hilarious. Don't get too close to anyone. 
Until he meets Libby. When the two get tangled up in a cruel high school game—which lands them in group counseling and community service—Libby and Jack are both pissed, and then surprised. Because the more time they spend together, the less alone they feel. . . . Because sometimes when you meet someone, it changes the world, theirs and yours.
BookDepository: Holding Up the Universe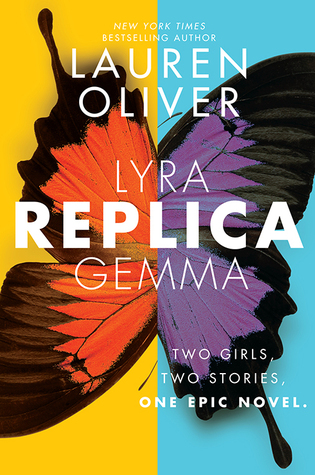 This is the new release by Lauren Oliver, author of the Delirium trilogy and other YA titles. I'm sure most YA readers have heard about Replica already due to its great marketing campaign that started very early on before its official release. Replica is told from two different perspectives of two girls, Gemma and Lyra, and you can begin reading the story from either chapter you chose to. I believe half the books begin with the story of Gemma and the rest with the story of Lyra and apparently the first perspective you chose or happen to read from offers a different reading experience. Sounds like an interesting concept. Book synopsis:
Gemma has been in and out of hospitals since she was born. 'A sickly child', her lonely life to date has revolved around her home, school and one best friend, Alice. But when she discovers her father's connection to the top secret Haven research facility, currently hitting the headlines and under siege by religious fanatics, Gemma decides to leave the sanctuary she's always known to find the institute and determine what is going on there and why her father's name seems inextricably linked to it.
Amidst the frenzy outside the institute's walls, Lyra – or number 24 as she is known as at Haven – and a fellow experimental subject known only as 72, manage to escape. Encountering a world they never knew existed outside the walls of their secluded upbringing , they meet Gemma and, as they try to understand Haven's purpose together, they uncover some earth-shattering secrets that will change the lives of both girls forever…
Everyone We've Been by Sarah Everett
I have a soft spot for long books that are 400 pages and more, like this one. Adam Silvera twitted that this is something between 500 Days of Summer and Eternal Sunshine of the Spotless Mind. I still have my doubts about it but I thought it was worth checking it out. Book synopsis:
Addison Sullivan has been in an accident. In its aftermath, she has memory lapses and starts talking to a boy that no one else can see. It gets so bad that she's worried she's going crazy.
Addie takes drastic measures to fill in the blanks and visits a shadowy medical facility that promises to "help with your memory." But at the clinic, Addie unwittingly discovers it is not her first visit. And when she presses, she finds out that she had certain memories erased. She had a boy erased.
But why? Who was that boy, and what happened that was too devastating to live with? And even if she gets the answers she's looking for, will she ever be able to feel like a whole person again?
BookDepository: Everyone We've Been
Children's Books
If the Magic Fits by Susan Maupin Schmid and Lissy Marlin
This month we have a few interesting new middle grade releases beginning with If the Magic Fits, the first book in the 100 Dresses series. This book sounds like a whimsical, charming story that would definitely to middle grade readers. Book synopsis:
Inside an enchanted castle, there's a closet—a closet with one hundred dresses that nobody ever wears. Dresses like those need a good trying-on, and Darling Dimple is just the girl to do it. When she tries on Dress Number Eleven, something unbelievable happens. She transforms into the castle's Head Scrubber! It turns out that each dress can disguise her as someone else. And Darling is about to have an adventure that calls for a disguise or two…or a hundred.
BookDepository: If the Magic Fits
When the Sea Turned to Silver by Grace Lin
Another very interesting and fast-paced story comes from the Newbery Honor winner. This book is inspired by Chinese folklore and is illustrated in full-colour which is a wonderful feature for both younger and older readers. Book synopsis:
Pinmei's gentle, loving grandmother always has the most exciting tales for her granddaughter and the other villagers. However, the peace is shattered one night when soldiers of the Emperor arrive and kidnap the storyteller.
Everyone knows that the Emperor wants something called the Luminous Stone That Lights the Night. Determined to have her grandmother returned, Pinmei embarks on a journey to find the Luminous Stone alongside her friend Yishan, a mysterious boy who seems to have his own secrets to hide. Together, the two must face obstacles usually found only in legends to find the Luminous Stone and save Pinmei's grandmother–before it's too late.
BookDepository: When the Sea Turned to Silver
Foxheart by  Claire Legrand and  Jaime Zollars
And the last middle grade adventure I thought was very exciting involves a young thief and her doggie companion (who doesn't love stories with dog companions?) who is desperate to find a powerful witch and learn her magic. Book synopsis:
Orphan. Thief. Witch.
Twelve-year-old Quicksilver dreams of becoming the greatest thief in the Star Lands. With her faithful dog and partner-in-crime Fox, she's well on her way—even if that constantly lands them both in trouble. It's a lonesome life, sleeping on rooftops and stealing food for dinner, but Quicksilver doesn't mind. When you're alone, no one can hurt you. Or abandon you.
But the seemingly peaceful Star Lands are full of danger. Witches still exist—although the powerful Wolf King and his seven wolves have been hunting them for years. Thankfully, his bloody work is almost complete. Soon the Star Lands will be safe, free of the witches and their dark magic.
Then one day a strange old woman and her scruffy dog arrive in Quicksilver's town and perform extraordinary magic. Real magic—forbidden and dangerous. Magic Quicksilver is desperate to learn. With magic like that, she could steal anything her heart desires. She could even find her parents.
But the old woman is not what she seems, and soon Quicksilver has to decide—will she stay at home and remain a thief? Or will she embark upon the adventure of a lifetime and become a legend?
Mystery/Thriller
Fractured by Catherine McKenzie
The first, new psychological thriller in this month's list is Fractured focusing on a neighbourhood and the tension resulting from a stalker harassing the main character of the novel and her relations with her family and friends. Book synopsis:
Welcome, neighbor!
Julie Prentice and her family move across the country to the idyllic Mount Adams district of Cincinnati, hoping to evade the stalker who's been terrorizing them ever since the publication of her bestselling novel, The Murder Game. Since Julie doesn't know anyone in her new town, when she meets her neighbor John Dunbar, their instant connection brings measured hope for a new beginning. But she never imagines that a simple, benign conversation with him could set her life spinning so far off course.
We know where you live.…
After a series of misunderstandings, Julie and her family become the target of increasingly unsettling harassment. Has Julie's stalker found her, or are her neighbors out to get her, too? As tension in the neighborhood rises, new friends turn into enemies, and the results are deadly.
Tell the Truth, Shame the Devil by Melina Marchetta
A lot of readers know this Aussie author from her young adult, fantasy trilogy, The Lumatere Chronicles beginning with Finnikin of the Rock a book that received multiple awards and vast recognition. Her new novel is a crime thriller story. Book synopsis:
Bashir "Bish" Ortley is a London desk cop. Almost over it. Still not dealing with the death of his son years ago, as well as the break-up of his marriage.
Across the channel, a summer bus tour, carrying a group of English teenagers is subject to a deadly bomb attack, killing four of the passengers and injuring a handful of others. Bish's daughter is one of those on board.
The suspect is 17 year old Violette LeBrac whose grandfather was responsible for a bombing that claimed the lives of dozens of people fourteen years ago; and whose mother, Noor, has been serving a life sentence for the part she was supposed to have played in the attack.
As Bish is dragged into the search for the missing Violette, he finds himself reluctantly working with Noor LeBrac and her younger brother, Jimmy Sarraf.
And the more he delves into the lives of the family he helped put away, the more Bish realizes that they may have got it wrong all those years ago, and that truth wears many colours. Especially when it comes to the teenagers on board the recent bus bombing. Including his daughter.
Tell the truth. Shame the devil. Bish can't get Violette LeBrac's words out of his head. But what he may get is some sort of peace with his own past as the worlds of those involved in two bombings, years apart, collide into the journey of his life.
BookDepository: Tell the Truth, Shame the Devil
Science Fiction
Fans of Connie Willis will probably say that this romantic comedy-science fiction mix is not something they would expect to read by her, But fans of Connie Willis will also have enough faith in her talent to want to get their hands in her new novel right away. Book synopsis:
In the not-too-distant future, a simple outpatient procedure to increase empathy between romantic partners has become all the rage. And Briddey Flannigan is delighted when her boyfriend, Trent, suggests undergoing the operation prior to a marriage proposal to enjoy better emotional connection and a perfect relationship with complete communication and understanding. But things don't quite work out as planned, and Briddey finds herself connected to someone else entirely in a way far beyond what she signed up for.
It is almost more than she can handle especially when the stress of managing her all-too-eager-to-communicate-at-all-times family is already burdening her brain. But that's only the beginning. As things go from bad to worse, she begins to see the dark side of too much information, and to realize that love and communication are far more complicated than she ever imagined.
A Closed and Common Orbit by Becky Chambers
A Closed and Common Orbit is the sequel to the debut novel of Becky Chambers that has both a gorgeous and a hideous old-fashioned sci-fi cover, The Long Way to a Small Angry Planet. This second book is a stand-alone (I'm not sure how this can be but I take their word for it) and is directed towards fans of science fiction and specifically Firefly. Book synopsis:
Lovelace was once merely a ship's artificial intelligence. When she wakes up in an new body, following a total system shut-down and reboot, she has no memory of what came before. As Lovelace learns to negotiate the universe and discover who she is, she makes friends with Pepper, an excitable engineer, who's determined to help her learn and grow.
Together, Pepper and Lovey will discover that no matter how vast space is, two people can fill it together.
The Long Way to a Small, Angry Planet introduced readers to the incredible world of Rosemary Harper, a young woman with a restless soul and secrets to keep. When she joined the crew of the Wayfarer, an intergalactic ship, she got more than she bargained for – and learned to live with, and love, her rag-tag collection of crewmates.
BookDepository: A Closed and Common Orbit
Daughter of Eden by Chris Beckett
Daughter of Eden is the third book in the Dark Eden science fiction series. Unfortunately, if the cover remains as it is right now on Goodreads, we are looking at a cover change people. And the original covers were so much more beautiful..Anyway! book synopsis:
Angie Redlantern is the first to spot the boats – five abreast with men in metal masks and spears standing proud, ready for the fight to come. As the people of New Earth declare war on the people of Mainground, a dangerous era has dawned for Eden. After generations of division and disagreement, the two populations of Eden have finally broken their tentative peace, giving way to bloodshed and slaughter. Angie must flee with her family across the pitch black of Snowy Dark to the place where it all started, the stone circle where the people from Earth first landed, where the story of Gela – the mother of them all – began.
It is there that Angie witnesses the most extraordinary event, one that will change the history of Eden forever. It will alter their future and re-shape their past. It is both a beginning and an ending.
It is the true story of Eden.
BookDepository: Daughter of Eden
Fantasy
As an acclaimed artist, Brom has crafted an illustrated tale about a young man who descends into Purgatory to save his wife and unborn child. This novel belongs to the horror fantasy genre, with demons, ancient gods and madness being the protagonistic elements in the story. It kind of reminds me a little of Abarat by Clive Barker. Book synopsis:
Fresh out of jail and eager to start a new life, Chet Moran and his pregnant wife, Trish, leave town to begin again. But an ancient evil is looming, and what seems like a safe haven may not be all it appears . . .
Snared and murdered by a vile, arcane horror, Chet quickly learns that pain and death are not unique to the living. Now the lives and very souls of his wife and unborn child are at stake. To save them, he must journey into the bowels of purgatory in search of a sacred key promised to restore the natural order of life and death. Alone, confused, and damned, Chet steels himself against the unfathomable terrors awaiting him as he descends into death's stygian blackness.
Dracula vs. Hitler by Patrick Sheane Duncan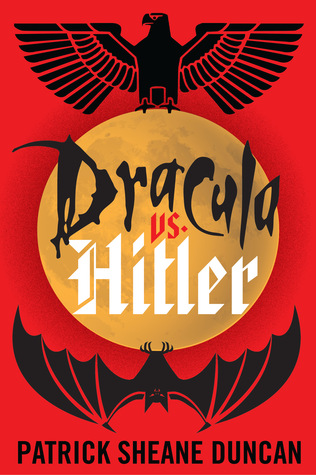 So, this one sounds like an interesting concept. It could turn out a fun, alternate history-fantasy novel or it could make too many people roll their eyes with despair. Either way, I thought it was worth checking out. Book synopsis:
Ravaged by the Nazi Secret Service during World War II, Romanian resistance forces turn to one of their leaders, Professor Van Helsing for any way out. To fight these monstrous forces, Van Helsing raises a legendary monster from centuries of slumber… Prince Dracula himself.
Once he was the ruler of Transylvania. Prince Vlad Dracul, is, above all else, a patriot. He proves more than willing to once again drive out his country's invaders. Upshot: No one minds if he drinks all the German blood he desires.
In Berlin, when Hitler hears about the many defeats his forces are suffering at the hands of an apparent true vampire, he is seduced by the possibility of becoming immortal. Thus two forces are set upon a collision course, the ultimate confrontation: Superpower against superpower.
BookDepository: Dracula vs. Hitler
A Taste of Honey by Kai Ashante Wilson
One of the new Tor.com releases for October is this beautiful LGBT, fantasy novella following a man who is in love with a soldier amidst chaos and turbulent times. I have received this book for review and I'll be posting it around the release date. Book synopsis:
Long after the Towers left the world but before the dragons came to Daluça, the emperor brought his delegation of gods and diplomats to Olorum. As the royalty negotiates over trade routes and public services, the divinity seeks arcane assistance among the local gods.
Aqib bgm Sadiqi, fourth-cousin to the royal family and son of the Master of Beasts, has more mortal and pressing concerns. His heart has been captured for the first time by a handsome Daluçan soldier named Lucrio. in defiance of Saintly Canon, gossiping servants, and the furious disapproval of his father and brother, Aqib finds himself swept up in a whirlwind romance. But neither Aqib nor Lucrio know whether their love can survive all the hardships the world has to throw at them.
BookDepository: A Taste of Honey
Historical Fiction
Crossing the Horizon by Laurie Notaro
A story inspired by real life events and people, this novel explores the aviation history through research and photographs. Crossing the Horizon is a book about three aviatrixes racing to be the first female pilot to ever cross the Atlantic ocean. Book synopsis:
Ten thousand feet in the sky, flipping and twirling through the air, aviatrixes from London to Paris to New York—fueled by determination and courage—have their eyes on the century's biggest prize. The year is 1927, and Amelia Earhart has not yet made her record-breaking cross-Atlantic flight. Who will follow in Charles Lindbergh's footsteps and make her own history?
Three women's names are splashed daily across the front page: Elsie Mackay, daughter of an Earl, is the first Englishwoman to get her pilot's license. Mabel Boll, a glamorous society darling and former cigar girl, is ardent to make the historic flight. Beauty pageant contestant Ruth Elder uses her winnings for flying lessons and becomes the preeminent American girl of the sky.
BookDepository: Crossing the Horizon
And last but not least for this month's new releases we have a historical fiction Western by the best-selling author of Forest Gump! Now, I haven't read any Westerns in my reading life so far and this one sounds very exciting: gunfights, daring escapes and an unforgettable bullfight. Sounds like a great time. Book synopsis:
Long fascinated with the Mexican Revolution and the vicious border wars of the early twentieth century, Winston Groom brings to life a much-forgotten period of history in this sprawling saga of heroism, injustice, and love. An episodic novel set in six parts, El Paso pits the legendary Pancho Villa, a much-feared outlaw and revolutionary, against a thrill-seeking railroad tycoon known as the Colonel, whose fading fortune is tied up in a colossal ranch in Chihuahua, Mexico. But when Villa kidnaps the Colonel's grandchildren in the midst of a cattle drive, and absconds into the Sierra Madre, the aging New England patriarch and his adopted son head to El Paso, hoping to find a group of cowboys brave enough to hunt the Generalissimo down.
So, these are all the new books of October and as I said, this hasn't been such a wonderfully exciting book month for me compared to previous ones. But I'm still looking forward to a few of the new releases I presented above and I think fans of Children's books will be happy to check out the awesome new titles of October.
I'm a BookDepository affiliate. If you want to buy a book online (free worldwide shipping) and you go through my links (found above) I'll get a small referral commission. Thank you very much for your support!