The temperature in Groningen is slowly dropping and our dog walks are now taking place somewhere between 5 and 10 degrees Celsius. My courses are progressing in more dynamic rhythms and I have been in a great mood for science fiction and fantasy stories this month. And as usual, I bought some new books!
When the Heavens Fall by Marc Turner
Marc Turner's debut novel, When the Heavens Fall, is marketed towards fans of Steven Erikson which makes it something that I'm most likely going to love. It's quite a chunky read with a beautiful cover and it sounded like a fun, sword and sorcery adventure. As I said, I have been in a big fantasy kick lately so I decided to go for it. I am currently reading this one and so far it's very enjoyable and not at all overwhelming as Mr. Erikson's Malazan books. Book synopsis:
If you pick a fight with Shroud, the Lord of the Dead, you had better make sure you end up on the winning side, else death will mark only the beginning of your suffering.
A book that gives its wielder power over the dead has been stolen from a fellowship of mages that has kept the powerful relic dormant for centuries. The thief, a crafty, power-hungry necromancer, intends to use the Book of Lost Souls to resurrect an ancient race and challenge Shroud for dominion of the underworld. Shroud counters by sending his most formidable servants to seize the artifact at all cost.
However, the god is not the only one interested in the Book, and a host of other forces converge, drawn by the powerful magic that has been unleashed. Among them is a reluctant Guardian who is commissioned by the Emperor to find the stolen Book, a troubled prince who battles enemies both personal and political, and a young girl of great power, whose past uniquely prepares her for an encounter with Shroud. The greatest threat to each of their quests lies not in the horror of an undead army but in the risk of betrayal from those closest to them. Each of their decisions comes at a personal cost and will not only affect them, but also determine the fate of their entire empire.
BookDepository: When the Heavens Fall
And, as you can probably guess, I also got the second book in The Chronicles of the Exile series, Dragon Hunters. For those interested in this series or already invested in it, the third book, Red Tide, is coming out this month. Book synopsis:
Once a year on Dragon Day the fabled Dragon Gate is raised to let a sea dragon pass from the Southern Wastes into the Sabian Sea. There, it will be hunted by the Storm Lords, a fellowship of powerful water-mages who rule an empire called the Storm Isles. Alas, this year someone forgot to tell the dragon which is the hunter and which the hunted.
Emira Imerle Polivar is coming to the end of her tenure as leader of the Storm Lords. She has no intention of standing down graciously. She instructs an order of priests called the Chameleons to infiltrate a citadel housing the mechanism that controls the Dragon Gate to prevent the gate from being lowered after it has been raised on Dragon Day. Imerle hopes the dozens of dragons thus unleashed on the Sabian Sea will eliminate her rivals while she launches an attack on the Storm Lord capital, Olaire, to secure her grip on power.
But Imerle is not the only one intent on destroying the Storm Lord dynasty. As the Storm Lords assemble in Olaire in answer to a mysterious summons, they become the targets of assassins working for an unknown enemy. When Imerle initiates her coup, that enemy makes use of the chaos created to show its hand.
BookDepository: Dragon Hunters
The Dinosaur Lords by Victor Milán
To satisfy my Fantasy thirst I also decided to explore another relatively new series, The Dinosaur Lords, which has been blurped by George R. R. Martin. I bought this hardcover from the BookOutlet for quite cheap I might say and it is beautiful! With the dynamic illustrations and the earthly colours and the deckle edges..Stunning! Book synopsis:
A world made by the Eight Creators on which to play out their games of passion and power, Paradise is a sprawling, diverse, often brutal place. Men and women live on Paradise as do dogs, cats, ferrets, goats, and horses. But dinosaurs predominate: wildlife, monsters, beasts of burden – and of war. Colossal planteaters like Brachiosaurus; terrifying meateaters like Allosaurus and the most feared of all, Tyrannosaurus rex. Giant lizards swim warm seas. Birds (some with teeth) share the sky with flying reptiles that range in size from batsized insectivores to majestic and deadly Dragons.
Thus we are plunged into Victor Milán's splendidly weird world of The Dinosaur Lords, a place that for all purposes mirrors 14th century Europe with its dynastic rivalries, religious wars, and byzantine politics…and the weapons of choice are dinosaurs. Where we have vast armies of dinosaur-mounted knights engaged in battle. And during the course of one of these epic battles, the enigmatic mercenary Dinosaur Lord Karyl Bogomirsky is defeated through betrayal and left for dead. He wakes, naked, wounded, partially amnesiac – and hunted. And embarks upon a journey that will shake his world.
BookDepository: The Dinosaur Lords
The Dinosaur Knights by Victor Milán
And yes, I also purchased the second novel in the series because this story sounds awesome: dinosaurs, knights, swords..But, although these books sound fantastic to me, they haven't actually received very favouring reviews on Goodreads, so I'm interested to check out why this is so. Book synopsis:
Paradise is a sprawling, diverse, often cruel world. There are humans on Paradise but dinosaurs predominate: wildlife, monsters, beasts of burden, and of war. Armored knights ride dinosaurs to battle legions of war-trained Triceratops and their upstart peasant crews.
Karyl Bogomirsky is one such knight who has chosen to rally those who seek a way from the path of war and madness. The fact that the Empire has announced a religious crusade against this peaceful kingdom, the people who just wish to live in peace anathema, and they all are to be converted or destroyed doesn't help him one bit.
Things really turn to mud when the dreaded Grey Angels, fabled ancient weapons of the Gods who created Paradise in the first place come on the scene after almost a millennia. Everyone thought that they were fables used to scare children. They are very much real.
And they have come to rid the world of sin…including all the humans who manifest those vices.
BookDepository: The Dinosaur Knights
During the end of September my father came to visit me in Groningen and of course he wasn't allowed to leave without buying me the mandatory book! So we went to the bookstore and while he was out having a smoke I picked from the shelves a modern classic by George Orwell. I think he was pleased with my choice! I also got it in the beautiful Penguin Modern Classics annotated edition that I've decided to start collecting. Book synopsis:
Hidden away in the Record Department of the sprawling Ministry of Truth, Winston Smith skilfully rewrites the past to suit the needs of the Party. Yet he inwardly rebels against the totalitarian world he lives in, which demands absolute obedience and controls him through the all-seeing telescreens and the watchful eye of Big Brother, symbolic head of the Party. In his longing for truth and liberty, Smith begins a secret love affair with a fellow-worker Julia, but soon discovers the true price of freedom is betrayal.
BookDepository: 1984: The Annotated Edition
And speaking of classics, Penguin Modern Classics and a great science fiction kick, I also decided to pick up a famous novel by Kurt Vonnegut. My collection is slowly growing! I've heard great things about Cat's Cradle and although it's not Vonnegut's most famous work, I think it's one of his most loved novels. Book synopsis:
Dr Felix Hoenikker, one of the founding 'fathers' of the atomic bomb, has left a deadly legacy to humanity. For he is the inventor of ice-nine, a lethal chemical capable of freezing the entire planet. Writer Jonah's search for his whereabouts leads him to Hoenikker's three eccentric children, to an island republic in the Caribbean where the absurd religion of Bokononism is practised, to love and to insanity. Told with deadpan humour and bitter irony, Kurt Vonnegut's cult tale of global destruction is a frightening and funny satire on the end of the world and the madness of mankind.
Radiance by Catherynne M. Valente
I've never read anything by Catherynne M. Valente even though everyone seems to really enjoy her books and especially love her writing style so I thought I should try her science fiction, steampunk novel, Radiance. Book synopsis:
Severin Unck's father is a famous director of Gothic romances in an alternate 1986 in which talking movies are still a daring innovation due to the patent-hoarding Edison family. Rebelling against her father's films of passion, intrigue, and spirits from beyond, Severin starts making documentaries, traveling through space and investigating the levitator cults of Neptune and the lawless saloons of Mars. For this is not our solar system, but one drawn from classic science fiction in which all the planets are inhabited and we travel through space on beautiful rockets. Severin is a realist in a fantastic universe.
But her latest film, which investigates the disappearance of a diving colony on a watery Venus populated by island-sized alien creatures, will be her last. Though her crew limps home to earth and her story is preserved by the colony's last survivor, Severin will never return.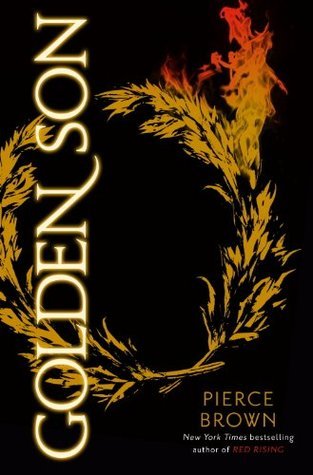 I've included a mini synopsis for this one since I haven't read the first book in the Red Rising series yet but I'm very eager to get into it soon. This series is very popular among fans of The Hunger Games and Ender's Game and it sounds like something I would enjoy too. Book synopsis:
Golden Son continues the stunning saga of Darrow, a rebel forged by tragedy, battling to lead his oppressed people to freedom from the overlords of a brutal elitist future built on lies. Now fully embedded among the Gold ruling class, Darrow continues his work to bring down Society from within.
And finally for the last two books I have two epic novels both in size and conception. First one is this massive tome by Neal Stephenson which was nominated for the Goodreads Choice Awards of 2015 in Science Fiction and also for the Hugo Award of 2016. I'm so excited to get to this book when I have a little more time on my schedule soon. Book synopsis:
What would happen if the world were ending?
A catastrophic event renders the earth a ticking time bomb. In a feverish race against the inevitable, nations around the globe band together to devise an ambitious plan to ensure the survival of humanity far beyond our atmosphere, in outer space.
But the complexities and unpredictability of human nature coupled with unforeseen challenges and dangers threaten the intrepid pioneers, until only a handful of survivors remain . . .
Five thousand years later, their progeny—seven distinct races now three billion strong—embark on yet another audacious journey into the unknown . . . to an alien world utterly transformed by cataclysm and time: Earth.
And last but definitely not least, I had to get this massive, epic tale from the creator of Watchmen and V for Vendetta, Alan Moore. Oh man..this is a huge book! I am a little intimidated but this is also one of my most anticipated books of the year so I'm really eager to pick this up very soon. Book synopsis:
In the epic novel Jerusalem, Alan Moore channels both the ecstatic visions of William Blake and the theoretical physics of Albert Einstein through the hardscrabble streets and alleys of his hometown of Northampton, UK. In the half a square mile of decay and demolition that was England's Saxon capital, eternity is loitering between the firetrap housing projects. Embedded in the grubby amber of the district's narrative among its saints, kings, prostitutes, and derelicts, a different kind of human time is happening, a soiled simultaneity that does not differentiate between the petrol-colored puddles and the fractured dreams of those who navigate them.
Employing, a kaleidoscope of literary forms and styles that ranges from brutal social realism to extravagant children's fantasy, from the modern stage drama to the extremes of science fiction, Jerusalem's dizzyingly rich cast of characters includes the living, the dead, the celestial, and the infernal in an intricately woven tapestry that presents a vision of an absolute and timeless human reality in all of its exquisite, comical, and heartbreaking splendor.
In these pages lurk demons from the second-century Book of Tobit and angels with golden blood who reduce fate to a snooker tournament. Vagrants, prostitutes, and ghosts rub shoulders with Oliver Cromwell, Samuel Beckett, James Joyce's tragic daughter Lucia, and Buffalo Bill, among many others. There is a conversation in the thunderstruck dome of St. Paul's Cathedral, childbirth on the cobblestones of Lambeth Walk, an estranged couple sitting all night on the cold steps of a Gothic church front, and an infant choking on a cough drop for eleven chapters. An art exhibition is in preparation, and above the world a naked old man and a beautiful dead baby race along the Attics of the Breath toward the heat death of the universe.
An opulent mythology for those without a pot to piss in, through the labyrinthine streets and pages of Jerusalem tread ghosts that sing of wealth, poverty, and our threadbare millennium. They discuss English as a visionary language from John Bunyan to James Joyce, hold forth on the illusion of mortality post-Einstein, and insist upon the meanest slum as Blake's eternal holy city.
So here are all the books in all their beauty and glory:
Let me know what books you bought in October so far, I'm very interested to see more book haul posts and what other readers have bought this month!
I'm a BookDepository affiliate. If you want to buy a book online (free worldwide shipping) and you go through my links (above), I'll get a small referral commission. Thank you very much for your support!