Welcome, to the last book haul of the year! We made it, already, to the last month of 2016 and while one would expect that a birthday book haul would include a massive collection of new books, I am proud to say that this month I got a pretty decent stack.
Swimming Lessons by Claire Fuller
The first book I got was not for my birthday, but is one I requested from Penguin UK to review here on the blog (Thank you Penguin UK!). I'm really excited to have received the newest mystery novel Claire Fuller wrote because I really enjoyed her debut, Our Endless Numbered Days (click on the name to read my review). And since I had such a great time reading her debut I had to ask for an ARC of Swimming Lessons which is coming out on the 26th of January! Book synopsis:
Ingrid Coleman writes letters to her husband, Gil, about the truth of their marriage, but instead of giving them to him, she hides them in the thousands of books he has collected over the years. When Ingrid has written her final letter she disappears from a Dorset beach, leaving behind her beautiful but dilapidated house by the sea, her husband, and her two daughters, Flora and Nan.
Twelve years later, Gil thinks he sees Ingrid from a bookshop window, but he's getting older and this unlikely sighting is chalked up to senility. Flora, who has never believed her mother drowned, returns home to care for her father and to try to finally discover what happened to Ingrid. But what Flora doesn't realize is that the answers to her questions are hidden in the books that surround her. Scandalous and whip-smart, Swimming Lessons holds the Coleman family up to the light, exposing the mysterious truths of a passionate and troubled marriage.
BookDepository: Swimming Lessons
Toll the Hounds by Steven Erikson
I also bought for myself the 8th book in the massive Malazan Book of the Fallen series which…I have stopped (or rather pause) reading since back in book 4. But this is one series that always comes to my mind when I feel like grabbing and reading some good fantasy books. So I feel intimidated and inspired by it at the same time. Book synopsis:
In Darujhistan, the city of blue fire, it is said that love and death shall arrive dancing. It is summer and the heat is oppressive, but for the small round man in the faded red waistcoat, discomfiture is not just because of the sun. All is not well. Dire portents plague his nights and haunt the city streets like fiends of shadow. Assassins skulk in alleyways, but the quarry has turned and the hunters become the hunted. Hidden hands pluck the strings of tyranny like a fell chorus. While the bards sing their tragic tales, somewhere in the distance can be heard the baying of Hounds…And in the distant city of Black Coral, where rules Anomander Rake, Son of Darkness, ancient crimes awaken, intent on revenge. It seems Love and Death are indeed about to arrive…hand in hand, dancing. A thrilling, harrowing novel of war, intrigue and dark, uncontrollable magic, Toll the Hounds is the new chapter in Erikson's monumental series – epic fantasy at its most imaginative and storytelling at its most exciting.
BookDepository: Toll the Hounds
The Blade Itself by Joe Abercrombie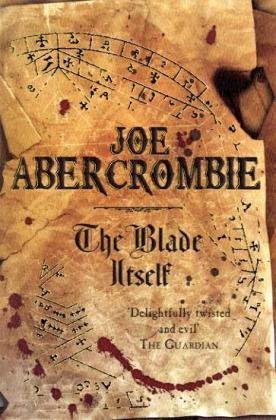 I have decided to start The First Law series by Abercrombie this year and I was very happy to receive the first book as a birthday present from my partner. Everyone that reads fantasy, highly recommends Abercrombie's work and I will finally have the chance to pick it up, although not very soon. I think I will get to it somewhere in Spring though. Book synopsis:
Logen Ninefingers, infamous barbarian, has finally run out of luck. Caught in one feud too many, he's on the verge of becoming a dead barbarian – leaving nothing behind him but bad songs, dead friends, and a lot of happy enemies.
Nobleman Captain Jezal dan Luthar, dashing officer, and paragon of selfishness, has nothing more dangerous in mind than fleecing his friends at cards and dreaming of glory in the fencing circle. But war is brewing, and on the battlefields of the frozen North they fight by altogether bloodier rules.
Inquisitor Glokta, cripple turned torturer, would like nothing better than to see Jezal come home in a box. But then Glokta hates everyone: cutting treason out of the Union one confession at a time leaves little room for friendship. His latest trail of corpses may lead him right to the rotten heart of government, if he can stay alive long enough to follow it.
Enter the wizard, Bayaz. A bald old man with a terrible temper and a pathetic assistant, he could be the First of the Magi, he could be a spectacular fraud, but whatever he is, he's about to make the lives of Logen, Jezal, and Glokta a whole lot more difficult.
Murderous conspiracies rise to the surface, old scores are ready to be settled, and the line between hero and villain is sharp enough to draw blood.
BookDepository: The Blade Itself
The Little Friend by Donna Tartt
I am planning on starting this book very fast, in about two weeks time so my review will be going up in the beginning/middle of January. Donna Tartt's Goldfinch (click on the name for the review) got a 4 star rating from me so I am really excited to have a look at her older works. Book synopsis:
Twelve-year-old Harriet is doing her best to grow up, which is not easy as her mother is permanently on medication, her father has silently moved to another city, and her serene sister rarely notices anything. All of them are still suffering from the shocking and mysterious death of her brother Robin twelve years earlier, and it seems to Harriet that the family may never recover. So, inspired by Captain Scott, Houdini, and Robert Louis Stevenson, she sets out with her only friend Hely to find Robin's murderer and punish him. But what starts out as a child's game soon becomes a dark and dangerous journey into the menacing underworld of a small Mississippi town.
BookDepository: The Little Friend
Fantastic Beasts and Where to Find Them by J.K. Rowling
To me, you can't go wrong reading J. K. Rowling's books during Christmas time – or any other time really. This is her screenwriting debut and I am very happy to have this on my bookshelves, ready to be read hopefully before the end of the year…maybe. Book synopsis:
When Magizoologist Newt Scamander arrives in New York, he intends his stay to be just a brief stopover. However, when his magical case is misplaced and some of Newt's fantastic beasts escape, it spells trouble for everyone…
BookDepository: Fantastic Beasts and Where to Find Them
The Emperor's Blades by Brian Staveley
The Chronicle of the Unhewn Throne is the first series I am planning to begin in 2017 because starting the year with a fantasy year promises a good reading year (year, year, year)! This is Staveley's debut novel and he has since moved on to begin a new fantasy series with dragons. He has received great reviews from the reading community and I'm very interested to see what he is all about. Book synopsis:
The circle is closing. The stakes are high. And old truths will live again . . .
The Emperor has been murdered, leaving the Annurian Empire in turmoil. Now his progeny must bury their grief and prepare to unmask a conspiracy.
His son Valyn, training for the empire's deadliest fighting force, hears the news an ocean away. He expected a challenge, but after several 'accidents' and a dying soldier's warning, he realizes his life is also in danger. Yet before Valyn can take action, he must survive the mercenaries' brutal final initiation.
Meanwhile, the Emperor's daughter, Minister Adare, hunts her father's murderer in the capital itself. Court politics can be fatal, but she needs justice. And Kaden, heir to an empire, studies in a remote monastery. Here, the Blank God's disciples teach their harsh ways – which Kaden must master to unlock their ancient powers. When an imperial delegation arrives, he's learnt enough to perceive evil intent. But will this keep him alive, as long-hidden powers make their move?
BookDepository: The Emperor's Blades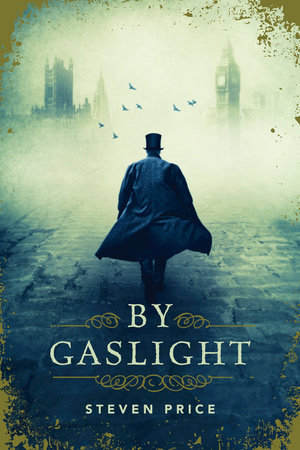 And last but not least, I also got a big historical fiction from my brother as a birthday present. I've been eyeing this one for a while because I love big books and By Gaslight sounds like an ambient historical mystery that is exactly the kind of novel I would enjoy. Book synopsis:
London, 1885. In a city of fog and darkness, the notorious thief Edward Shade exists only as a ghost, a fabled con, a thief of other men's futures — a man of smoke. William Pinkerton is already famous, the son of a brutal detective, when he descends into the underworld of Victorian London in pursuit of a new lead. His father died without ever tracing Shade; William, still reeling from his loss, is determined to drag the thief out of the shadows. Adam Foole is a gentleman without a past, haunted by a love affair ten years gone. When he receives a letter from his lost beloved, he returns to London in search of her; what he learns of her fate, and its connection to the man known as Shade, will force him to confront a grief he thought long-buried. What follows is a fog-enshrouded hunt through sewers, opium dens, drawing rooms, and seance halls. Above all, it is the story of the most unlikely of bonds: between William Pinkerton, the greatest detective of his age, and Adam Foole, the one man who may hold the key to finding Edward Shade.
So these are all the new books I got. If you've read Fantastic Beasts let me know what you thought of it. The new Harry Potter novels seem to attract rather differing opinions, so I'm wondering what people from my generation of the first Harry Potter books think about them.
I'm a BookDepository affiliate. If you want to buy a book online (free worldwide shipping) and you go through my links (above), I'll get a small referral commission. Thank you very much for your support!