I was just about to start writing this post when I realised that I did not make a January Book Haul post. As a result, this is going to be a rather massive, collective book haul for the months of January and February. Let's jump right in:
During the last days of each month, I always like to check out the new book releases on Goodreads. You can imagine my excitement when I stumbled upon 4 3 2 1. This novel sounds exactly like something I'd really enjoy. It's a massive literary fiction, epic story and luckily I am a patient book buyer so I found it on pre-order from Amazon for quite cheap. So, of course, I got it. Book synopsis:
Nearly two weeks early, on March 3, 1947, in the maternity ward of Beth Israel Hospital in Newark, New Jersey, Archibald Isaac Ferguson, the one and only child of Rose and Stanley Ferguson, is born. From that single beginning, Ferguson's life will take four simultaneous and independent fictional paths. Four identical Fergusons made of the same DNA, four boys who are the same boy, go on to lead four parallel and entirely different lives. Family fortunes diverge. Athletic skills and sex lives and friendships and intellectual passions contrast. Each Ferguson falls under the spell of the magnificent Amy Schneiderman, yet each Amy and each Ferguson have a relationship like no other. Meanwhile, readers will take in each Ferguson's pleasures and ache from each Ferguson's pains, as the mortal plot of each Ferguson's life rushes on.
The Providence of Fire by Brian Staveley
In January, I finished The Emperor's Blades which is the first book in the Chronicle of the Unhewn Throne trilogy. It was a quite mediocre fantasy story with many flaws but excibiting some potential in storytelling (my book review of The Emperor's Blades). I hate giving up on series without trying so I also bought the second one which I'm reading right now. I can't say I'm having too much fun with it but it's alright. Book synopsis:
The conspiracy to destroy the ruling family of the Annurian Empire is far from over.
Having learned the identity of her father's assassin, Adare flees the Dawn Palace in search of allies to challenge the coup against her family. Few trust her, but when she is believed to be touched by Intarra, patron goddess of the empire, the people rally to help her retake the capital city. As armies prepare to clash, the threat of invasion from barbarian hordes compels the rival forces to unite against their common enemy.
Unknown to Adare, her brother Valyn, renegade member of the empire's most elite fighting force, has allied with the invading nomads. The terrible choices each of them has made may make war between them inevitable.
Between Valyn and Adare is their brother Kaden, rightful heir to the Unhewn Throne, who has infiltrated the Annurian capital with the help of two strange companions. The knowledge they possess of the secret history that shapes these events could save Annur or destroy it.
BookDepository: The Providence of Fire
The Luminaries by Eleanor Catton
I also bought and finished the Man Booker winner of 2013, The Luminaries. This is a historical mystery taking place in New Zealand in 1866. Eleanor Catton shows great talent in writing with the appropriate style to portray this era and provides a story with a complex plot and multiple characters each with their own agenda. Book synopsis:
It is 1866, and young Walter Moody has come to make his fortune upon the New Zealand goldfields. On the stormy night of his arrival, he stumbles across a tense gathering of twelve local men who have met in secret to discuss a series of unexplained events: A wealthy man has vanished, a prostitute has tried to end her life, and an enormous fortune has been discovered in the home of a luckless drunk. Moody is soon drawn into the mystery: a network of fates and fortunes that is as complex and exquisitely ornate as the night sky. Richly evoking a mid-nineteenth-century world of shipping, banking, and gold rush boom and bust, The Luminaries is a brilliantly constructed, fiendishly clever ghost story and a gripping page-turner.
BookDepository: The Luminaries
I was planning on beginning three different trilogies in January, one of them being Parasitology by Mira Grant. Parasite is the first book in the series so I bought it and read half-way through until, finally, I gave up. The plot was just not doing it for me, it was way too simplistic and stereotypical of basically every virus movie that exists. The characters were completely lacking in interest and overall it was just a disappointing book. So, Parasite became my first DNF of the year and will be unhauled at some point in the future! Book synopsis:
A decade in the future, humanity thrives in the absence of sickness and disease.
We owe our good health to a humble parasite – a genetically engineered tapeworm developed by the pioneering SymboGen Corporation. When implanted, the tapeworm protects us from illness, boosts our immune system – even secretes designer drugs. It's been successful beyond the scientists' wildest dreams. Now, years on, almost every human being has a SymboGen tapeworm living within them.
But these parasites are getting restless. They want their own lives…and will do anything to get them.
January was also a classics month, a month in which I have to read a classic. I've made this little challenge for myself because otherwise I would never read any of the classics that I want to read. Not because I don't like reading them, but because they unfortunately fall into the category of "Oh, yeah, I should read that. Well, maybe later.."But, no. This month I kept my word to myself and finished Lolita, a classic novel I really enjoyed! Book synopsis:
Humbert Humbert – scholar, aesthete and romantic – has fallen completely and utterly in love with Lolita Haze, his landlady's gum-snapping, silky skinned twelve-year-old daughter. Reluctantly agreeing to marry Mrs Haze just to be close to Lolita, Humbert suffers greatly in the pursuit of romance; but when Lo herself starts looking for attention elsewhere, he will carry her off on a desperate cross-country misadventure, all in the name of Love. Hilarious, flamboyant, heart-breaking and full of ingenious word play, Lolita is an immaculate, unforgettable masterpiece of obsession, delusion and lust.
After my disappointing pick for January – I mean Parasite – I thought that it would be a nice idea to continue with the horror and disease-spreading theme, and pick up Infected. Scott Sigler is a podcast phenomenon, according to Goodreads, and I was happy to find the audiobook of Infected read by the author for free. After I listened to 10 chapters, however, I realised that I did not like the narration at all. Moreover, the copy that I bough "like new" online from a thrift store, was quite battered. I am one of those people that need a new-looking book to hold when reading! Overall, I wasn't feeling the reading experience and so I decided to stop reading it for now in hopes of picking it up again in the future. Book synopsis:
Across America a mysterious disease is turning ordinary people into raving, paranoid murderers who inflict brutal horrors on strangers, themselves, and even their own families.
Working under the government's shroud of secrecy, CIA operative Dew Phillips crisscrosses the country trying in vain to capture a live victim. With only decomposing corpses for clues, CDC epidemiologist Margaret Montoya races to analyze the science behind this deadly contagion. She discovers that these killers all have one thing in common – they've been contaminated by a bioengineered parasite, shaped by a complexity far beyond the limits of known science.
Meanwhile Perry Dawsey – a hulking former football star now resigned to life as a cubicle-bound desk jockey – awakens one morning to find several mysterious welts growing on his body. Soon Perry finds himself acting and thinking strangely, hearing voices . . . he is infected.
The fate of the human race may well depend on the bloody war Perry must wage with his own body, because the parasites want something from him, something that goes beyond mere murder.
Under the Dome by  Stephen King
As I've said before, my relationship with Stephen King's novels is not the best. But I have a thing for books turned into movies or series and this one specifically sounded really interesting to me. Moreover, it's a massive book, and I love reading huge stories. The premise of this novel sounds really intriguing but because it's a Stephen King, I am a little worried. Book synopsis:
On an entirely normal, beautiful fall day in Chester's Mill, Maine, the town is inexplicably and suddenly sealed off from the rest of the world by an invisible force field. Planes crash into it and fall from the sky in flaming wreckage, a gardener's hand is severed as "the dome" comes down on it, people running errands in the neighboring town are divided from their families, and cars explode on impact. No one can fathom what this barrier is, where it came from, and when — or if — it will go away.Dale Barbara, Iraq vet and now a short-order cook, finds himself teamed with a few intrepid citizens — town newspaper owner Julia Shumway, a physician's assistant at the hospital, a select-woman, and three brave kids. Against them stands Big Jim Rennie, a politician who will stop at nothing — even murder — to hold the reins of power, and his son, who is keeping a horrible secret in a dark pantry. But their main adversary is the Dome itself. Because time isn't just short. It's running out.
BookDepository: Under the Dome
I'm also very much into a fantasy standalone mood and I decided to pick up an author that not only is respected and praised by many many readers but one that I personally have been meaning to read for almost two years now. This one has great reviews on Goodreads so I bought it. Book synopsis:
Eight of the nine provinces of the Peninsula of the Palm, on a world with two moons, have fallen to the warrior sorcerers Brandin of Ygrath and Alberico of Barbadior.
Brandin's younger son is slain in a battle with the principality of Tigana, which the grief-stricken sorcerer then destroys. After sweeping down and destroying the remnants of their army, burning their books and destroying their architecture and statuary, he makes it so that no one not born in that province can even hear its name.
Years later, a small band of survivors, led by Alessan, last prince of Tigana's royal house, wages psychological warfare, planting seeds for the overthrow of the two tyrants. At the center of these activities are Devin, a gifted young singer; Catriana, a young woman pursued by suspicions of her family's guilt; and Duke Sandre d'Astibar, a wily resistance leader thought dead.
Meanwhile, at Brandin's court, Dianora, his favorite concubine and–unknown to anyone, another survivor of Tigana–struggles between her growing love for the often gentle tyrant and her desire for vengeance. Gradually the scene is set for both conquerors to destroy each other and free a land.
The Dark Forest by  Liu Cixin translated by Joel Martinsen
This year I decided to pick up more science fiction works and the first one was The Three-Body Problem, a famous and much-loved novel by a brilliant Chinese author. After reading the first novel in the Remembrance of Earth's Past trilogy, I had to buy the second installment and continue on with this imaginative story. Two things have changed in this second book: the translator and the narrator of the audiobook. I'm excited to see what the future holds for humanity! Book synopsis:
In The Dark Forest, Earth is reeling from the revelation of a coming alien invasion — four centuries in the future. The aliens' human collaborators have been defeated but the presence of the sophons, the subatomic particles that allow Trisolaris instant access to all human information, means that Earth's defense plans are exposed to the enemy. Only the human mind remains a secret.
This is the motivation for the Wallfacer Project, a daring plan that grants four men enormous resources to design secret strategies hidden through deceit and misdirection from Earth and Trisolaris alike. Three of the Wallfacers are influential statesmen and scientists but the fourth is a total unknown. Luo Ji, an unambitious Chinese astronomer and sociologist, is baffled by his new status. All he knows is that he's the one Wallfacer that Trisolaris wants dead.
BookDepository: The Dark Forest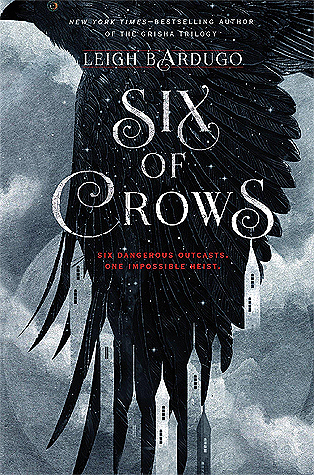 And the last book I picked up in February is…a YA title. Even though YA literature has failed me multiple times in the past, after attempting both Parasite and Infected, I decided to actually go for a YA duology that actually claims to be (and rightly so!) YA. Since I'm trying to include diverse genres this year I decided that a YA duology that I've been meaning to check out for some time would not be a bad idea. Plus, after so many huge books I'd like a small break with something easy and fast. Book synopsis:
Ketterdam: a bustling hub of international trade where anything can be had for the right price—and no one knows that better than criminal prodigy Kaz Brekker. Kaz is offered a chance at a deadly heist that could make him rich beyond his wildest dreams. But he can't pull it off alone…
A convict with a thirst for revenge
A sharpshooter who can't walk away from a wager
A runaway with a privileged past
A spy known as the Wraith
A Heartrender using her magic to survive the slums
A thief with a gift for unlikely escapes
Kaz's crew are the only ones who might stand between the world and destruction—if they don't kill each other first.
I'm a BookDepository affiliate. If you want to buy a book online (free worldwide shipping) and you go through my links (above), I'll get a small referral commission. Thank you very much for your support!