Although the reading plans I'm making every month seem to fail in the end, I still find it fun to create a schedule of what I'd like to read and review during a month, even if it doesn't end up becoming reality. So, here is my February wrap up and March TBR.
In February, I finished three out of the four planned books I had in mind which unfortunately has set me back for my reading challenge of 2017. You can find reviews for all the books I read in February below:
The Luminaries by Eleanor Catton (Book Review)
The Providence of Fire by Brian Staveley (Book Review)
Under the Dome by Stephen King (Book Review)
Read in February
DNF – Did Not Finish
In my previous monthly reads post I talked about the Parasitology which I decided to give up on. Instead, I picked up Infected by Scott Sigler which became the second novel I DNF this year. I guess I was just not in the mood for a disease-spreading story or maybe I just don't like infectious diseases book as much as movies. Infected was too stereotypical for me, without bringing anything new to the table. I was just not feeling it, although it read much better than Parasite by Mire Grant. With two given up novels on my record for the year, I am officially one book behind schedule and so I need to pick a novel from the ones in my library to make up for it! Exciting but frustrating. I'd hate to lose my own challenge for the second time in a row!
Currently Reading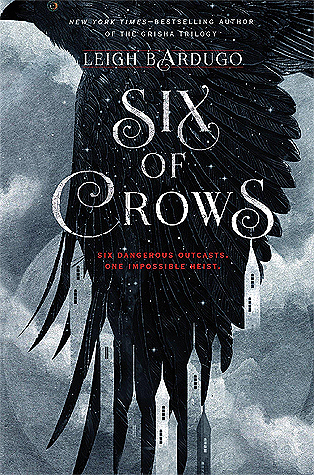 As I said, I am a bit behind on my reading schedule and right now I am trying to catch up with the series that I'm supposed to be finishing soon. This means, I am currently reading The Dark Forest by Cixin Liu which is the second novel in the Remembrance of Earth's Past science fiction trilogy, a fascinating series that deals with the extraterrestrial danger approaching Earth. I also decided to switch off to a young adult duology, namely Six of Crows. Even though many of the YA books I pick up lately are utter disappointments, a fact for which I blame mostly the marketing strategists and the publishers, I am hoping that Six of Crows will be one of the few exceptions! Also, in the last day of February, after spending many days with Steven King and his Dome, I will be finally picking up Mr Guy Gavriel Kay in hopes of discovering a new favourite author in the standalone fantasy novel Tigana.
To Be Read in March
The Last Mortal Bond by Brian Staveley
In March I am planning on finishing this very mediocre debut trilogy by Brian Staveley. This was a trilogy that I was very excited about because of the promising story but also the gorgeous covers and, sadly, I can't say it lived up to my expectations at all. At the same time though, I feel this sense of obligation to finish the trilogy and read the last book since I've read and reviewed both of the previous ones. After I finish it though, I have a really exciting fantasy series I'm going to be starting soon! Book review:
The climactic third and final novel in the Chronicle of the Unhewn Throne
The trilogy that began with The Emperor's Blades and continued in The Providence of Fire reaches its epic conclusion, as war engulfs the Annurian Empire.
The ancient csestriim are back to finish their purge of humanity; armies march against the capital; leaches, solitary beings who draw power from the natural world to fuel their extraordinary abilities, maneuver on all sides to affect the outcome of the war; and capricious gods walk the earth in human guise with agendas of their own.
But the three imperial siblings at the heart of it all–Valyn, Adare, and Kaden–come to understand that even if they survive the holocaust unleashed on their world, there may be no reconciling their conflicting visions of the future.
BookDepository: The Last Mortal Bond
Death's End by  Liu Cixin translated by  Ken Liu
This month I will also be finishing the fantastic science fiction trilogy I began back in January with The Three-Body Problem. Liu Cixin's writing style may be unfamiliar to my Western-shaped standards, but his story is so interesting and imaginative that I have to see what will happen in the end! Book synopsis:
Now this epic trilogy concludes with Death's End. Half a century after the Doomsday Battle, the uneasy balance of Dark Forest Deterrence keeps the Trisolaran invaders at bay. Earth enjoys unprecedented prosperity due to the infusion of Trisolaran knowledge. With human science advancing daily and the Trisolarans adopting Earth culture, it seems that the two civilizations will soon be able to co-exist peacefully as equals without the terrible threat of mutually assured annihilation. But the peace has also made humanity complacent.
Cheng Xin, an aerospace engineer from the early 21st century, awakens from hibernation in this new age. She brings with her knowledge of a long-forgotten program dating from the beginning of the Trisolar Crisis and her very presence may upset the delicate balance between two worlds. Will humanity reach for the stars or die in its cradle?
Crooked Kingdom by Leigh Bardugo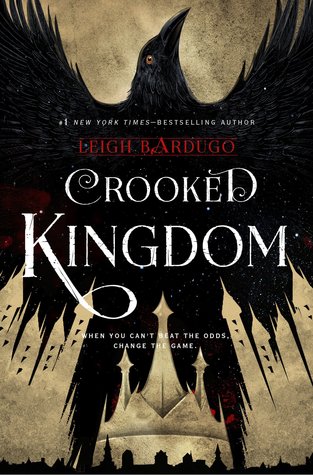 Also, since I started the Six of Crows duology, I am planning on picking up the second book that came out fairly recently, Crooked Kingdom. I'd like to start the second novel at the end of March though, so I don't think I will be finishing it before April comes. Also, I don't know much about the story yet – I'm about 150 pages in the first book – but the writing style is…not what I had expected for a YA novel. In a good way! Book synopsis:
Kaz Brekker and his crew have just pulled off a heist so daring even they didn't think they'd survive. But instead of divvying up a fat reward, they're right back to fighting for their lives. Double-crossed and left crippled by the kidnapping of a valuable team member, the crew is low on resources, allies, and hope. As powerful forces from around the world descend on Ketterdam to root out the secrets of the dangerous drug known as jurda parem, old rivals and new enemies emerge to challenge Kaz's cunning and test the team's fragile loyalties. A war will be waged on the city's dark and twisting streets―a battle for revenge and redemption that will decide the fate of magic in the Grisha world.
BookDepository: Crooked Kingdom
I am also planning on picking up a graphic novel this month which is definitely going to help me catch up faster on the books that I'm behind since it's a fast read. I've heard so many great things about The Sculptor and I am really interested to see what the story is but also to be reading my first graphic novel of 2017. Book synopsis:
David Smith is giving his life for his art—literally. Thanks to a deal with Death, the young sculptor gets his childhood wish: to sculpt anything he can imagine with his bare hands. But now that he only has 200 days to live, deciding  what  to create is harder than he thought, and discovering the love of his life at the 11th hour isn't making it any easier! 
This is a story of desire taken to the edge of reason and beyond; of the frantic, clumsy dance steps of young love; and a gorgeous, street-level portrait of the world's greatest city. It's about the small, warm, human moments of everyday life…and the great surging forces that lie just under the surface. Scott McCloud wrote the book on how comics work; now he vaults into great fiction with a breathtaking, funny, and unforgettable new work.
The Danish Girl by David Ebershoff
And my final pick for March is a book in the LGBTQ+ fiction category, specifically a novel about a transgender woman. I am always very happy to read LGBTQ+ fiction and since The Danish Girl was translated into the big screen recently I've been dying to watch the movie. But first, of course, I have to read the book! Book synopsis:
It starts with a question, a simple favour asked by a wife of her husband while both are painting in their studio, setting off a transformation neither can anticipate. Uniting fact and fiction into an original romantic vision, The Danish Girl eloquently portrays the unique intimacy that defines every marriage and the remarkable story of Lili Elbe, a pioneer in transgender history, and the woman torn between loyalty to her marriage and her own ambitions and desires.
The Danish Girl is an evocative and deeply moving novel about one of the most passionate and unusual love stories of the 20th century.
BookDepository: The Danish Girl
I'm a BookDepository affiliate. If you want to buy a book online (free worldwide shipping) and you go through my links (above), I'll get a small referral commission. Thank you very much for your support!