Dear reader, I have a problem. My book buying has been out of control lately. This months excuse were the Bailey's longlist for Women's Fiction and the fact that I found many titles on Amazon for very cheap. There is only shame and joy for the having a lot of books delivered to my door. Here they all are:
I'm going to start this book haul with a book I was supposed to haul last month but it literally arrived on the day the post went up so it automatically got transferred to April and that is Marisha Pessl's second novel, Night Film. Unfortunately, this is also a book I will probably be unhauling soon because it fell completely flat and I just didn't really enjoy it. I made it about 400 pages in before I said to myself that a thriller is supposed to be thrilling. I simply didn't care about the characters or the story. The protagonist was a 40-year-old man who acted like a 20-year-old guy. The story was way too repetitive and so the element of excitement and enthrallment was completely missing and I just decided I have better things to do and better books to read than this one. I guess I could have endured it untill the end if it wasn't a thriller but I couldn't be bothered anymore. According to the reviews, readers are divided between her debut novel and her second novel. Apparently, either they enjoy the first one and hate the second one or the other way around. Have you read Pessl's first novel? Should I also give it a try? Book synopsis:
Everybody has a Cordova story. Cult horror director Stanislas Cordova hasn't been seen in public since 1977. To his fans he is an enigma. To journalist Scott McGrath he is the enemy. To Ashley he was a father.
On a damp October night the body of young, beautiful Ashley Cordova is found in an abandoned warehouse in lower Manhattan. Her suicide appears to be the latest tragedy to hit a severely cursed dynasty.
For McGrath, another death connected to the legendary director seems more than a coincidence. Driven by revenge, curiosity and a need for the truth, he finds himself pulled into a hypnotic, disorientating world, where almost everyone seems afraid.
The last time McGrath got close to exposing Cordova, he lost his marriage and his career. This time he could lose his grip on reality.
And now let's start with the Bailey's nominees I went crazy and bought. First of all, I found The Mare from a thrift shop on Amazon for very cheap in a hardcover edition and I thought, why not? I'll tell you now why not. The Mare seems to be a novel that a lot of people did not enjoy reading at all. It's been called a huge disappointment and that it did not belong to be in the longlist (it didn't make it into the shortlist, I found out after I bought it). But hell, why not give it a try. Book synopsis:
Velveteen Vargas is eleven years old, a Fresh Air Fund kid from Brooklyn. Her host family is a couple in upstate New York: Ginger, a failed artist on the fringe of Alcoholics Anonymous, and Paul, an academic who wonders what it will mean to "make a difference" in such a contrived situation. The Mare illuminates the couple's changing relationship with Velvet over the course of several years, as well as Velvet's powerful encounter with the horses at the stable down the road, as Gaitskill weaves together Velvet's vital inner-city community and the privileged country world of Ginger and Paul.
The second novel that I bought because of the longlist of the Bailey's Awards was this science fiction novel about feminism that actually made it into the shortlist. For this reason it's also the one prioritised in my reading queue and I'm currently reading. I hope to be done with it by the time this post is uploaded. The reviews for this one seem to be much more positive than The Mare but we shall see how it will do. Book synopsis:
In The Power the world is a recognisable place: there's a rich Nigerian kid who larks around the family pool; a foster girl whose religious parents hide their true nature; a local American politician; a tough London girl from a tricky family. But something vital has changed, causing their lives to converge with devastating effect. Teenage girls now have immense physical power – they can cause agonising pain and even death. And, with this small twist of nature, the world changes utterly.
The Essex Serpent by Sarah Perry
After the longlist for the Bailey's was announced I played a little guessing game of which four novels to buy first and I was quite sure The Essex Serpent would make it to the shortlist. Unfortunately it did not. Still, it is a book I've been seeing a lot at my local bookstore and every time I think the cover looks intriguing but I never went for it until now. Book synopsis:
Set in Victorian London and an Essex village in the 1890's, and enlivened by the debates on scientific and medical discovery which defined the era, The Essex Serpent has at its heart the story of two extraordinary people who fall for each other, but not in the usual way.
They are Cora Seaborne and Will Ransome. Cora is a well-to-do London widow who moves to the Essex parish of Aldwinter, and Will is the local vicar. They meet as their village is engulfed by rumours that the mythical Essex Serpent, once said to roam the marshes claiming human lives, has returned. Cora, a keen amateur naturalist is enthralled, convinced the beast may be a real undiscovered species. But Will sees his parishioners' agitation as a moral panic, a deviation from true faith. Although they can agree on absolutely nothing, as the seasons turn around them in this quiet corner of England, they find themselves inexorably drawn together and torn apart.
Told with exquisite grace and intelligence, this novel is most of all a celebration of love, and the many different guises it can take.
BookDepository: The Essex Serpent
And the last Bailey's longlisted novel I bought this month was the historical crime mystery, Little Deaths. You can see that I was not very lucky with my guesses on which novels will be longlisted – I got one out of four. This is quite a short read, but it doesn't seem to have pleased a lot of readers judging from the average Goodreads rating. They were all on sale on BookDepository, okay? Book synopsis:
It's 1965 in a tight-knit working-class neighborhood in Queens, New York, and Ruth Malone—a single mother who works long hours as a cocktail waitress—wakes to discover her two small children, Frankie Jr. and Cindy, have gone missing. Later that day, Cindy's body is found in a derelict lot a half mile from her home, strangled. Ten days later, Frankie Jr.'s decomposing body is found. Immediately, all fingers point to Ruth.
As police investigate the murders, the detritus of Ruth's life is exposed. Seen through the eyes of the cops, the empty bourbon bottles and provocative clothing which litter her apartment, the piles of letters from countless men and Ruth's little black book of phone numbers, make her a drunk, a loose woman—and therefore a bad mother. The lead detective, a strict Catholic who believes women belong in the home, leaps to the obvious conclusion: facing divorce and a custody battle, Malone took her children's lives.
Pete Wonicke is a rookie tabloid reporter who finagles an assignment to cover the murders. Determined to make his name in the paper, he begins digging into the case. Pete's interest in the story develops into an obsession with Ruth, and he comes to believe there's something more to the woman whom prosecutors, the press, and the public have painted as a promiscuous femme fatale. Did Ruth Malone violently kill her own children, is she a victim of circumstance—or is there something more sinister at play?
The First Fifteen Lives of Harry August by Claire North
Moving on, I have another book that I am probably going to unhaul and that is a trade paperback of The First Fifteen Lives of Harry August. This month I was in the mood for some easy adult science fiction and this book has been on my radar for a long time. But apparently I was too late to the game because I couldn't find the hardcover anywhere. I always prefer hardcovers because the last longer and they are not damaged (at least mine) when I read them as is the case with the paperbacks. Well, on Friday I was randomly checking to see if I would find a good condition second-hand hardcover on Amazon and I saw one for 8.50 euros and I snatched it. It hasn't arrived yet but depending on the condition it will come in, I'll decide which one to keep. Book synopsis:
No matter what he does or the decisions he makes, when death comes, Harry always returns to where he began, a child with all the knowledge of a life he has already lived a dozen times before. Nothing ever changes.
Until now.
As Harry nears the end of his eleventh life, a little girl appears at his bedside. 'I nearly missed you, Doctor August,' she says. 'I need to send a message.'
This is the story of what Harry does next, and what he did before, and how he tries to save a past he cannot change and a future he cannot allow.
BookDepository: The First Fifteen Lives of Harry August
What is the definition of insanity? Doing the same thing over and over expecting different results? Well, in this April book haul I have not one, but two Stephen King books. There are simply no words to describe what is wrong with me and why I can't just give up on him. This first one here is supposed to be different, at least in my head, because it's the first in a trilogy. And I've never read a series by Stephen King. Also I bought the hardcover for super cheap so…I don't know what to say, there are no excuses. Book buying insanity. Book synopsis:
In the frigid pre-dawn hours, in a distressed Midwestern city, hundreds of desperate unemployed folks are lined up for a spot at a job fair. Without warning, a lone driver plows through the crowd in a stolen Mercedes, running over the innocent, backing up, and charging again. Eight people are killed; fifteen are wounded. The killer escapes.
In another part of town, months later, a retired cop named Bill Hodges is still haunted by the unsolved crime. When he gets a crazed letter from someone who self-identifies as the "perk" and threatens an even more diabolical attack, Hodges wakes up from his depressed and vacant retirement, hell-bent on preventing another tragedy.
Brady Hartfield lives with his alcoholic mother in the house where he was born. He loved the feel of death under the wheels of the Mercedes, and he wants that rush again.
Only Bill Hodges, with a couple of highly unlikely allies, can apprehend the killer before he strikes again. And they have no time to lose, because Brady's next mission, if it succeeds, will kill or maim thousands.
Mr. Mercedes is a war between good and evil, from the master of suspense whose insight into the mind of this obsessed, insane killer is chilling and unforgettable.
Next, I have a young adult fantasy novel. Now, I'm always very skeptical about young adult books because I am rarely pleased with the result but I have thought to myself that there are, for sure, many many YA titles out there that I just haven't discovered yet. Gems like Philip Pullman's His Dark Materials trilogy are waiting to be discovered. So, I thought to resort to an author that has received a lot of praise for a YA title that won the Nebula and was nominated for the Hugo, and here it is. Book synopsis:
Agnieszka loves her valley home, her quiet village, the forests and the bright shining river. But the corrupted Wood stands on the border, full of malevolent power, and its shadow lies over her life. Her people rely on the cold, driven wizard known only as the Dragon to keep its powers at bay. But he demands a terrible price for his help: one young woman handed over to serve him for ten years, a fate almost as terrible as falling to the Wood. The next choosing is fast approaching, and Agnieszka is afraid. She knows – everyone knows – that the Dragon will take Kasia: beautiful, graceful, brave Kasia, all the things Agnieszka isn't, and her dearest friend in the world. And there is no way to save her. But Agnieszka fears the wrong things. For when the Dragon comes, it is not Kasia he will choose.
We Are the Ants by Shaun David Hutchinson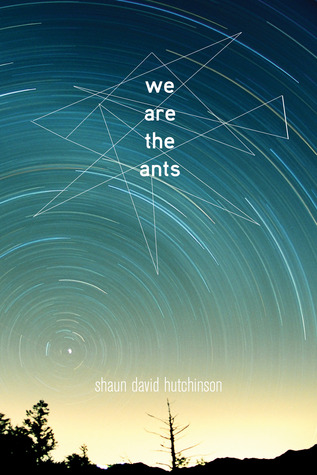 Continuing on the YA route Uprooted set us on, I also bought a young adult science fiction novel with a gay protagonist if I am not mistaken. Why do they make YA covers so freaking beautiful? I hope the story will match the cover. Book synopsis:
There are a few things Henry Denton knows, and a few things he doesn't.
Henry knows that his mom is struggling to keep the family together, and coping by chain-smoking cigarettes. He knows that his older brother is a college dropout with a pregnant girlfriend. He knows that he is slowly losing his grandmother to Alzheimer's. And he knows that his boyfriend committed suicide last year.
What Henry doesn't know is why the aliens chose to abduct him when he was thirteen, and he doesn't know why they continue to steal him from his bed and take him aboard their ship. He doesn't know why the world is going to end or why the aliens have offered him the opportunity to avert the impending disaster by pressing a big red button.
But they have. And they've only given him 144 days to make up his mind.
The question is whether Henry thinks the world is worth saving. That is, until he meets Diego Vega, an artist with a secret past who forces Henry to question his beliefs, his place in the universe, and whether any of it really matters. But before Henry can save the world, he's got to figure out how to save himself, and the aliens haven't given him a button for that.
BookDepository: We Are the Ants
The Spectacular Now by Tim Tharp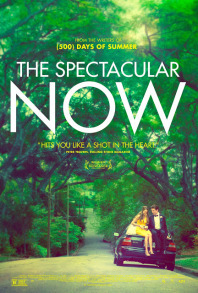 And my last young adult pick for the month is a contemporary, so yes, I will attempt all three big subgenres of YA fiction in search of a gem. This is a National Book Award finalist and was also turned into a movie so I'm interested to see if I will enjoy it or if it's going to be proven yet another disappointment. Book synopsis:
In the last months of high school, charismatic eighteen-year-old Sutter Keely lives in the present, staying drunk or high most of the time, but that could change when starts working to boost the self-confidence of a classmate, Aimee.
BookDepository: The Spectacular Now
And the last book I have – finally we made it to the end of this massive book haul – is one I am so very excited about, The Passage. I've been looking forward to a great horror apocalyptic story and I really don't want to be disappointed with it. We'll see though. Book synopsis:
An epic and gripping tale of catastrophe and survival, The Passage is the story of Amy—abandoned by her mother at the age of six, pursued and then imprisoned by the shadowy figures behind a government experiment of apocalyptic proportions. But Special Agent Brad Wolgast, the lawman sent to track her down, is disarmed by the curiously quiet girl and risks everything to save her. As the experiment goes nightmarishly wrong, Wolgast secures her escape—but he can't stop society's collapse. And as Amy walks alone, across miles and decades, into a future dark with violence and despair, she is filled with the mysterious and terrifying knowledge that only she has the power to save the ruined world.
And these are all the eleven books I got this month. This whole ordeal ended with me banning myself from buying any more books, even though I did, they just didn't make it into the mail yet! I will get better at buying less books, I will. 'Till next time.
I'm a BookDepository affiliate. If you want to buy a book online (free worldwide shipping) and you go through my links (above), I'll get a small referral commission. Thank you very much for your support!