Realistically speaking, I am betting my money on catching up with my ever-growing  TBR pile in the summer. I visited Greece for a few days in April and I thought I was going to be able to marathon-read some of my books. Little did I know I was going to be running around and having a fun time all day which didn't allow me to spend some time with my books. I am beating around the bush here, I did not read much in April, there!
Guys, in April I only finished two small-to-medium-sized books. I will be adding the links to the reviews here when they are ready.
Read in April
Currently Reading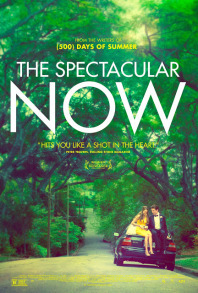 Yes, you are seeing correctly, I am still struggling through Death's End! Well, "struggling" is not the right word because the novel is utterly enjoyable and fascinating but I used it here in the sense that I am still trying to finish it. Also, I am officially 9 books behind "schedule"! So, now I really need to pick up the speed and start reading more than two books per month, seriously. I also picked up The Spectacular Now by Tim Tharp which is was turned into a movie in 2003 before turning YA books into movies was cool. I am more than halfway through this one but it's so angsty and tiring and I cannot empathise with Sutter at all so it's been a difficult read to get through, unfortunately.
To Be Read in May
The Spectacular Now by Tim Tharp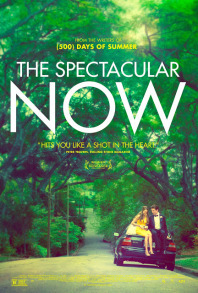 Even though I was supposed to pick up this book in May, because of the fact that I've been too slow a reader lately and I needed something fast and easy I started reading The Spectacular Now in April. I didn't manage to finish it but, oh well. Book synopsis:
Sutter Keely, He's the guy you want at your party. He'll get everyone dancing. He' ll get everyone in your parents' pool. Okay, so he's not exactly a shining academic star. He has no plans for college and will probably end up folding men's shirts for a living. But there are plenty of ladies in town, and with the help of Dean Martin and Seagram's V.O., life's pretty fabuloso, actually.
Until the morning he wakes up on a random front lawn, and he meets Aimee. Aimee's clueless. Aimee is a social disaster. Aimee needs help, and it's up to the Sutterman to show Aimee a splendiferous time and then let her go
forth and prosper. But Aimee's not like other girls, and before long he's in way over his head. For the first time in his life, he has the power to make a difference in someone else's life—or ruin it forever.
BookDepository: The Spectacular Now
We Are the Ants by Shaun David Hutchinson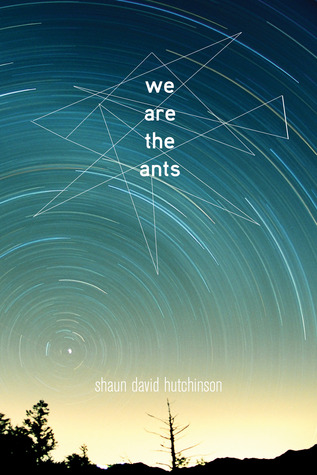 I cannot say I was satisfied with choosing The Spectacular Now as a YA contemporary read but I still want to continue on looking for good young adult books. This time I will turn to a science fiction story with a gay protagonist and I'm hoping to like this one as much as I like the beautiful cover. Book synopsis:
There are a few things Henry Denton knows, and a few things he doesn't.
Henry knows that his mom is struggling to keep the family together, and coping by chain-smoking cigarettes. He knows that his older brother is a college dropout with a pregnant girlfriend. He knows that he is slowly losing his grandmother to Alzheimer's. And he knows that his boyfriend committed suicide last year.
What Henry doesn't know is why the aliens chose to abduct him when he was thirteen, and he doesn't know why they continue to steal him from his bed and take him aboard their ship. He doesn't know why the world is going to end or why the aliens have offered him the opportunity to avert the impending disaster by pressing a big red button.
But they have. And they've only given him 144 days to make up his mind.
The question is whether Henry thinks the world is worth saving. That is, until he meets Diego Vega, an artist with a secret past who forces Henry to question his beliefs, his place in the universe, and whether any of it really matters. But before Henry can save the world, he's got to figure out how to save himself, and the aliens haven't given him a button for that.
BookDepository: We Are the Ants
Before They Are Hanged by Joe Abercrombie
Now, shamefully, I haven't even started the First Law series yet but that doesn't stop me from planning on picking the second book in the series this month too after I complete the first one. I'm looking forward to a great fantasy series that will get me hooked and I can't wait to pick The Blade Itself the latest tomorrow! Book synopsis:
How do you defend a city surrounded by enemies and riddled with traitors, when your allies can by no means be trusted, and your predecessor vanished without a trace? It's enough to make a torturer want to run – if he could even walk without a stick – and Inquisitor Glokta needs to find answers before the Gurkish army comes knocking at the gates.
Northmen have spilled over the border of Angland and are spreading fire and death across the frozen country. Crown Prince Ladisla is poised to drive them back and win undying glory. There is only one problem: he commands the worst-armed, worst-trained, worst-led army in the world.
And Bayaz, the First of the Magi, is leading a party of bold adventurers on a mission through the ruins of the past. The most hated woman in the South, most feared man in the North, and most selfish boy in the Union make a strange alliance, if only they didn't hate each other so much, potentially deadly ones.
Ancient secrets will be uncovered. Bloody battles will be won and lost. Bitter enemies will be forgiven – but not before they are hanged.
BookDepository: Before They Are Hanged
The Bone Clocks by David Mitchell
Stirring clear, finally, of YA fiction I will be heading on to a more adult novel within the fantasy realm. I've heard so many praises for David Mitchell's work and since I'm always a sucker for Man Booker nominees and winners I decided to begin the Mitchell project with The Bone Clocks. Book synopsis:
One drowsy summer's day in 1984, teenage runaway Holly Sykes encounters a strange woman who offers a small kindness in exchange for 'asylum'. Decades will pass before Holly understands exactly what sort of asylum the woman was seeking…
The Bone Clocks follows the twists and turns of Holly's life from a scarred adolescence in Gravesend to old age on Ireland's Atlantic coast as Europe's oil supply dries up – a life not so far out of the ordinary, yet punctuated by flashes of precognition, visits from people who emerge from thin air and brief lapses in the laws of reality. For Holly Sykes – daughter, sister, mother, guardian – is also an unwitting player in a murderous feud played out in the shadows and margins of our world, and may prove to be its decisive weapon.
BookDepository: The Bone Clocks
Finders Keepers by Stephen King
The plan for May is that I'm also going to dive into the second installment in the Bill Hodges trilogy by Stephen King. This one is tricky because not only have I never really enjoyed King's books but I've also yet to read Mr. Mercedes. This means that I might be DNFing this one if it doesn't appropriately draw me in. But, we shall see. Book synopsis:
"Wake up, genius." So begins King's instantly riveting story about a vengeful reader. The genius is John Rothstein, an iconic author who created a famous character, Jimmy Gold, but who hasn't published a book for decades. Morris Bellamy is livid, not just because Rothstein has stopped providing books, but because the nonconformist Jimmy Gold has sold out for a career in advertising. Morris kills Rothstein and empties his safe of cash, yes, but the real treasure is a trove of notebooks containing at least one more Gold novel.
Morris hides the money and the notebooks, and then he is locked away for another crime. Decades later, a boy named Pete Saubers finds the treasure, and now it is Pete and his family that Bill Hodges, Holly Gibney, and Jerome Robinson must rescue from the ever-more deranged and vengeful Morris when he's released from prison after thirty-five years.
BookDepository: Finders Keepers
The Man in the High Castle by Philip K. Dick
And finally, my last read of the month has to be a classic. I've decided to read at least three classics per year and May is the time I will attempt my second classic of 2017 following January's Lolita. The Man in the High Castle is a Hugo Award winner from a massive author in the science fiction/speculative fiction genre. This  book has also been recently released as a TV show which I am excited to watch. Book synopsis:
It's America in 1962. Slavery is legal once again. The few Jews who still survive hide under assumed names. In San Francisco, the I Ching is as common as the Yellow Pages. All because some twenty years earlier the United States lost a war—and is now occupied by Nazi Germany and Japan. This harrowing, Hugo Award-winning novel is the work that established Philip K. Dick as an innovator in science fiction while breaking the barrier between science fiction and the serious novel of ideas. In it Dick offers a haunting vision of history as a nightmare from which it may just be possible to wake.
BookDepository: The Man in the High Castle
Basically, in May I will be trying to catch up with my reading as much as possible! But I'm very eager to get to all of these books on my pile. 🙂
I'm a BookDepository affiliate. If you want to buy a book online (free worldwide shipping) and you go through my links (above), I'll get a small referral commission. Thank you very much for your support!