It is not without a great deal of pride that I am presenting this rather small – for me – book haul this month. It is the first time in a month of 2017, in which I am not expecting any mail from the nice orange lady (she wears orange, I call her orange lady, I am a simple person) who religiously knocks on my window – since she has decided to doorbell doesn't work – every week to present me with packages I never seem to tire of . In fact there rarely seems to be a week during which I am not looking forward to seeing this orange lady and her beautiful packages of joy and yet, here it is. The few books I purchased this month made their way into my hands and here they all are:
It by Stephen King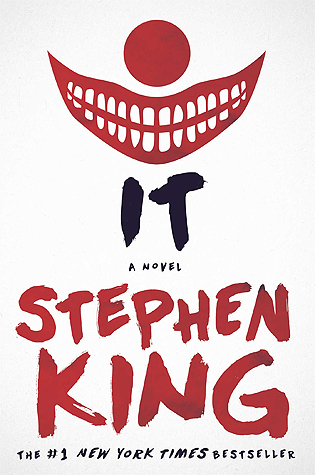 This year has been the year I read and get disappointed by the master of horror, Mr Stephen King. Yet I keep buying his books. We all have problems. It seems that a general consensus exist to suggest that this is King's best novel. It is only fair of me to give him one last chance when he is at his strongest game. If It disappoints there will be no more King for me. Book synopsis:
Welcome to Derry, Maine. It's a small city, a place as hauntingly familiar as your own hometown. Only in Derry the haunting is real.
They were seven teenagers when they first stumbled upon the horror. Now they are grown-up men and women who have gone out into the big world to gain success and happiness. But the promise they made twenty-eight years ago calls them reunite in the same place where, as teenagers, they battled an evil creature that preyed on the city's children. Now, children are being murdered again and their repressed memories of that terrifying summer return as they prepare to once again battle the monster lurking in Derry's sewers.
The First Fifteen Lives of Harry August by Claire North
If you followed my last book haul post you probably saw that I already hauled this book. Little did I know that a few days later I would have found it in a hardcover edition that I really wanted and in great second-hand condition. So I am hauling it again. Book synopsis:
No matter what he does or the decisions he makes, when death comes, Harry always returns to where he began, a child with all the knowledge of a life he has already lived a dozen times before. Nothing ever changes.
Until now.
As Harry nears the end of his eleventh life, a little girl appears at his bedside. 'I nearly missed you, Doctor August,' she says. 'I need to send a message.'
This is the story of what Harry does next, and what he did before, and how he tries to save a past he cannot change and a future he cannot allow.
BookDepository: The First Fifteen Lives of Harry August
Before They Are Hanged by Joe Abercrombie
So in the beginning of the month I picked up Before They Are Hanged and oh I am so glad I did! Not only is this the best debut novel I've read so far, but it is also funny and delightful and offers such a great time. This series features a small cast of main characters from different aspects of life, from the Emperor's Inquisitor to a northern savage and from a noble and vain young man to a fierce lady warrior. There is politics, a certain medium to low level of magic and great humour. Book synopsis:
How do you defend a city surrounded by enemies and riddled with traitors, when your allies can by no means be trusted, and your predecessor vanished without a trace? It's enough to make a torturer want to run – if he could even walk without a stick – and Inquisitor Glokta needs to find answers before the Gurkish army comes knocking at the gates.
Northmen have spilled over the border of Angland and are spreading fire and death across the frozen country. Crown Prince Ladisla is poised to drive them back and win undying glory. There is only one problem: he commands the worst-armed, worst-trained, worst-led army in the world.
And Bayaz, the First of the Magi, is leading a party of bold adventurers on a mission through the ruins of the past. The most hated woman in the South, most feared man in the North, and most selfish boy in the Union make a strange alliance, if only they didn't hate each other so much, potentially deadly ones.
Ancient secrets will be uncovered. Bloody battles will be won and lost. Bitter enemies will be forgiven – but not before they are hanged.
BookDepository: Before They Are Hanged
The Bone Clocks by David Mitchell
I've said before that I'm a sucker for the Man Booker Prize especially with fat literary fiction novels that have been nominated or won. David Mitchell is an author I've been meaning to read for a long time and I decide to pick up The Bone Clocks for my first introduction to his work. Book synopsis:
One drowsy summer's day in 1984, teenage runaway Holly Sykes encounters a strange woman who offers a small kindness in exchange for 'asylum'. Decades will pass before Holly understands exactly what sort of asylum the woman was seeking…
The Bone Clocks follows the twists and turns of Holly's life from a scarred adolescence in Gravesend to old age on Ireland's Atlantic coast as Europe's oil supply dries up – a life not so far out of the ordinary, yet punctuated by flashes of precognition, visits from people who emerge from thin air and brief lapses in the laws of reality. For Holly Sykes – daughter, sister, mother, guardian – is also an unwitting player in a murderous feud played out in the shadows and margins of our world, and may prove to be its decisive weapon.
BookDepository: The Bone Clocks
The Underground Railroad by Colson Whitehead
Every month I'm trying to purchase at least one fresh new release that I think I will really enjoy which is quite a difficult challenge for me because there are not many subjectively good reviews out yet that early on and also I always avoid reading synopses. I've been spoiled way too many times for that. It just so happens though that in May, being as I am a very picky reader, I couldn't find a book that really piqued my interest. I then decided to turn to my favourite literary award that always gets it right with me, the Pulitzer. And just in time since the winner was very recently announced. I think The Underground Railroad is going to be one of my picks for the summertime BookTubeAThon. Book synopsis:
Cora is a slave on a cotton plantation in Georgia. Life is hellish for all the slaves but especially bad for Cora; an outcast even among her fellow Africans, she is coming into womanhood – where even greater pain awaits. When Caesar, a recent arrival from Virginia, tells her about the Underground Railroad, they decide to take a terrifying risk and escape. Matters do not go as planned and, though they manage to find a station and head north, they are being hunted.
In Whitehead's ingenious conception, the Underground Railroad is no mere metaphor – engineers and conductors operate a secret network of tracks and tunnels beneath the Southern soil. Cora and Caesar's first stop is South Carolina, in a city that initially seems like a haven – but the city's placid surface masks an insidious scheme designed for its black denizens. Even worse: Ridgeway, the relentless slave catcher, is close on their heels. Forced to flee again, Cora embarks on a harrowing flight, state by state, seeking true freedom.
BookDepository: The Underground Railroad
The Book of Joan by Lidia Yuknavitch
I also received in the mail this pre-order I had made back in March for this dystopian story that is small, sounds awesome and will – again – make a perfect read for the summertime BookTubeAThon. Book synopsis:
In the near future, world wars have transformed the earth into a battleground. Fleeing the unending violence and the planet's now-radioactive surface, humans have regrouped to a mysterious platform known as CIEL, hovering over their erstwhile home. The changed world has turned evolution on its head: the surviving humans have become sexless, hairless pale-white creatures floating in isolation, inscribing stories upon their skin.
Out of the ranks of the endless wars rises Jean de Men, a charismatic and bloodthirsty cult leader who turns CIEL into a quasi-corporate police state. A group of rebels unite to dismantle his iron rule—galvanized by the heroic song of Joan, a child-warrior who possesses a mysterious force that lives within her and communes with the earth. When de Men and his armies turn Joan into a martyr, the consequences are astonishing. And no one—not the rebels, Jean de Men, or even Joan herself—can foresee the way her story and unique gift will forge the destiny of an entire world for generations.
BookDepository: The Book of Joan
The Man in the High Castle by Philip K. Dick
And finally – yes only seven books this time – I have a science fiction classic by the master of speculative tales, Phillip K. Dick. I remember when I was younger, around 18, and walked into a bookstore in Greece and I asked for some help in picking a book. I told the guy I read science fiction and fantasy and he introduced me to a translation of The Man in the High Castle. At the time I wasn't in the mood for such an alternate history book and so I passed the suggestion. Here I am now at 24 giving it a chance. Book synopsis:
It's America in 1962. Slavery is legal once again. The few Jews who still survive hide under assumed names. In San Francisco, the I Ching is as common as the Yellow Pages. All because some twenty years earlier the United States lost a war—and is now occupied by Nazi Germany and Japan. This harrowing, Hugo Award-winning novel is the work that established Philip K. Dick as an innovator in science fiction while breaking the barrier between science fiction and the serious novel of ideas. In it Dick offers a haunting vision of history as a nightmare from which it may just be possible to wake.
BookDepository: The Man in the High Castle
And these are all the books I bought in May and since you stayed until here, I will come clean with the real reason why I was such a good book buyer and didn't go completely crazy again with purchasing stories in pages. It's because of the Man Booker Prize of this year which is coming out soon. I am preparing to dive head on into all of the books and try to buy and read all of them, make predictions and have fun nerding out before the longlist is out. There!
I'm a BookDepository affiliate. If you want to buy a book online (free worldwide shipping) and you go through my links (above), I'll get a small referral commission. Thank you very much for your support!