It is time, once again, for my most anticipated readathon of the year: The BookTube-A-Thon!
Our lovely host, Ariel Bissett, has announced the 7 challenges of this summer's BookTube-A-Thon and, thankfully, this year I have a chance at all of them. My BookTube-A-Thon run will take place in Greece this year and one potential problem that comes with travelling is which books you are going to bring along. A thing I've learned from my previous attempts at the BookTube-A-Thon is that I am a slow reader and I get easily distracted with Twitter. So this year I wanted to play it safe and I picked 7 books that are small and easy to read, potentially even manageable in one day!
If you haven't seen the Reading Challenges video yet, you can find it here:
So, here is my 2017 BookTube-A-Thon TBR according to the challenges:
Challenge #1: Read a book with a person on the cover
The Price of Salt, or Carol by  Patricia Highsmith
For this challenge I picked a book with a hideous cover but, hopefully, a great story. The Price of Salt came out in the cinema last year and everyone has been telling me to watch it but first I have to read the book of course. So, I went on Amazon and I was looking for a nice cover and I bought this edition which turned out to be horrible up close. The picture is extremely pixellated and the quality is as if a printed page from the 90's. The margins on the top and bottom are just huge spaces of empty white and even the print inside looks like a badly put-together paperback. Still, it completes the challenge so here it is. Book synopsis:
Therese is just an ordinary sales assistant working in a New York department store when a beautiful, alluring woman in her thirties walks up to her counter. Standing there, Therese is wholly unprepared for the first shock of love. Therese is an awkward nineteen-year-old with a job she hates and a boyfriend she doesn't love; Carol is a sophisticated, bored suburban housewife in the throes of a divorce and a custody battle for her only daughter. As Therese becomes irresistibly drawn into Carol's world, she soon realizes how much they both stand to lose…First published pseudonymously in 1952 as The Price of Salt, Carol is a hauntingly atmospheric love story set against the backdrop of fifties' New York. 
BookDepository: The Price of Salt
Challenge #2: Read a hyped book
A Monster Calls by Patrick Ness, Jim Kay (Illustrator), Siobhan Dowd (Conception)
There is no doubt about it, A Monster Calls is one of those books that everyone on BookTube has been raving about. It also fits the purpose of the challenge perfectly because, even though I've been hearing about this book for such a long time, because of its hype I haven't felt the need to pick it up. But here it is! Finally on my immediate TBR list, about to be read. Hopefully, the hype will have done justice to it. Book synopsis:
The monster showed up after midnight. As they do.
But it isn't the monster Conor's been expecting. He's been expecting the one from his nightmare, the one he's had nearly every night since his mother started her treatments, the one with the darkness and the wind and the screaming…
This monster is something different, though. Something ancient, something wild. And it wants the most dangerous thing of all from Conor.
It wants the truth.
BookDepository: A Monster Calls
Challenge #3: Finish a book in one day
Let's be honest here, this challenge screams for a graphic novel. Even though my strategy is to read at least one book per day if I am to make it to 7 books in a week, this one is a no brainer. For me to definitely finish a book in one day it has to be a graphic novel, and for this I have Nimona. Book synopsis:
Nemeses! Dragons! Science! Symbolism! All these and more await in this brilliantly subversive, sharply irreverent epic from Noelle Stevenson. Featuring an exclusive epilogue not seen in the web comic, along with bonus conceptual sketches and revised pages throughout, this gorgeous full-color graphic novel is perfect for the legions of fans of the web comic and is sure to win Noelle many new ones.
Nimona is an impulsive young shapeshifter with a knack for villainy. Lord Ballister Blackheart is a villain with a vendetta. As sidekick and supervillain, Nimona and Lord Blackheart are about to wreak some serious havoc. Their mission: prove to the kingdom that Sir Ambrosius Goldenloin and his buddies at the Institution of Law Enforcement and Heroics aren't the heroes everyone thinks they are.
But as small acts of mischief escalate into a vicious battle, Lord Blackheart realizes that Nimona's powers are as murky and mysterious as her past. And her unpredictable wild side might be more dangerous than he is willing to admit. 
Challenge #4: Read about a character that is very different from you
Another no brainer here, Animal Farm is a book about animals. I am a human, we are different species, so there! I've never read anything by George Orwell before (I know, shame!) and I thought that it would be great to have this tiny book on my BookTubeAThon TBR so I can finish it quickly and feel accomplished. Smart cookie! Book synopsis:
It is the history of a revolution that went wrong – and of the excellent excuses that were forthcoming at every step for the perversion of the original doctrine,' wrote Orwell for the first edition of Animal Farm in 1945. Orwell wrote the novel at the end of 1943, but it almost remained unpublished. Its savage attack on Stalin, at that time Britain's ally, led to the book being refused by publisher after publisher. Orwell's simple, tragic fable, telling what happens when the animals drive out Mr Jones and attempt to run the farm themselves, has since become a world famous classic.
Challenge #5: Finish a book completely outdoors
The Book of Joan by Lidia Yuknavitch
I chose this book for my exclusively outdoors reading because I usually prefer to listen to audiobooks while reading along. That's because I usually get distracted very easily. But for this one I thought I would not go for the audiobook so I don't have to worry about bringing any devices with me to be able to read it. I will just sit on my balcony, listen to the cicadas in the trees, spy on the people who bring their dogs to the park across the street and read my book in the hot summer heat of Greece. Book synopsis:
In the near future, world wars have transformed the earth into a battleground. Fleeing the unending violence and the planet's now-radioactive surface, humans have regrouped to a mysterious platform known as CIEL, hovering over their erstwhile home. The changed world has turned evolution on its head: the surviving humans have become sexless, hairless pale-white creatures floating in isolation, inscribing stories upon their skin.
Out of the ranks of the endless wars rises Jean de Men, a charismatic and bloodthirsty cult leader who turns CIEL into a quasi-corporate police state. A group of rebels unite to dismantle his iron rule—galvanized by the heroic song of Joan, a child-warrior who possesses a mysterious force that lives within her and communes with the earth. When de Men and his armies turn Joan into a martyr, the consequences are astonishing. And no one—not the rebels, Jean de Men, or even Joan herself—can foresee the way her story and unique gift will forge the destiny of an entire world for generations.
BookDepository: The Book of Joan
Challenge #6: Read a book you got because of the cover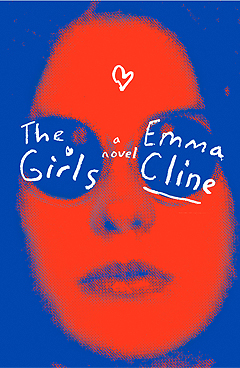 Damn cover buys! That's an easy one for me, I often get distracted by books that have an appealing cover even though the reviews might suggest that the inside doesn't match the outside. Well, this is certainly the case with The Girls which has been superhyped and, weirdly enough, received many negative reviews. But, look at this cover. I love its retro vibe of the 60s-70s era, the colours, the sunglasses, even the title is appealing. From what I've heard it's at least a very summery read so this is the book that completes the sixth challenge. Book synopsis:
Northern California, during the violent end of the 1960s. At the start of summer, a lonely and thoughtful teenager, Evie Boyd, sees a group of girls in the park, and is immediately caught by their freedom, their careless dress, their dangerous aura of abandon. Soon, Evie is in thrall to Suzanne, a mesmerizing older girl, and is drawn into the circle of a soon-to-be infamous cult and the man who is its charismatic leader. Hidden in the hills, their sprawling ranch is eerie and run down, but to Evie, it is exotic, thrilling, charged—a place where she feels desperate to be accepted. As she spends more time away from her mother and the rhythms of her daily life, and as her obsession with Suzanne intensifies, Evie does not realize she is coming closer and closer to unthinkable violence, and to that moment in a girl's life when everything can go horribly wrong.
Challenge #7: Read seven books
The Man in the High Castle by Philip K. Dick
And finally, the official BookTubeAThon challenge of completing seven books in seven days will be fulfilled with another penguin modern classic, The Man in the High Castle, a speculative fiction novel by one of the fathers of science fiction alternate history books. I've been meaning to read this book for a long time and here is my chance. Hopefully, I will make it all the way to this last one before the readathon ends! Book synopsis:
It's America in 1962. Slavery is legal once again. The few Jews who still survive hide under assumed names. In San Francisco, the I Ching is as common as the Yellow Pages. All because some twenty years earlier the United States lost a war—and is now occupied by Nazi Germany and Japan. This harrowing, Hugo Award-winning novel is the work that established Philip K. Dick as an innovator in science fiction while breaking the barrier between science fiction and the serious novel of ideas. In it Dick offers a haunting vision of history as a nightmare from which it may just be possible to wake.
BookDepository: The Man in the High Castle
So these are my reading goals and challenges for this summer BookTubeAThon. Are you participating this year? And what are you reading for the challenges? Don't hesitate to leave links on the comments of your BookTubeAThon TBRs.
I'm a BookDepository affiliate. If you want to buy a book online (free worldwide shipping) and you go through my links (above), I'll get a small referral commission. Thank you very much for your support!🙂
ooks