Since my return to the city of Groningen daily life has attacked me with tasks and mini chores that need to be completed before the beginning of the academy year, much like an animal would prepare for hibernation, and I cannot shake the feeling for a few weeks now that the dreadful Autumn is almost here. One good thing about a new season though, among others, are the new book releases which we've all been impatiently waiting for.
So, I went through some catalogues from the publishers and found six new titles coming out this Autumn that I am most excited about and made a list. Here they are:
Provenance by Ann Leckie (Release date: 26th of October)
To be perfectly honest I haven't read the multiple-award winning Imperial Radch trilogy by Ann Leckie yet. The main reason behind this unforgivable delinquency is that I really hate waiting for books to come out – I'm sure many people can relate to that. When a new trilogy or series comes out that I am very confident I will highly enjoy, I wait. I patiently wait until the last books is out and then allow myself to get lost in the story. I am pleased to say that Ancillary Justice is, as we speak, on its way to my mail box and I am really excited to get my hands on it and devour it. In the meantime though, I also preordered this SF beauty here, Provenance. This is Ann Leckie's new standalone novel and it sounds wonderful. No waiting there, I went ahead and got it. Book synopsis:
A power-driven young woman has just one chance to secure the status she craves and regain priceless lost artefacts prized by her people. She must free their thief from a prison planet from which no one has ever returned.
Ingray and her charge will return to their home world to find their planet in political turmoil, at the heart of an escalating interstellar conflict. Together, they must make a new plan to salvage Ingray's future, her family, and her world, before they are lost to her for good. 
Retrograde by  Peter Cawdron (Release date: 12th of September)
This science fiction novel by Peter Cawdron is actually a re-release as it has been picked up by Houghton Mifflin Harcourt, polished, gone under a title change and will be available in hardcover (that is very similar to Andy Weir's) from mid September. The story follows a group of scientists under the surface of Mars. One can only imagine after The Martian how strong the relationships between these people from different nations are, and Peter Cawdron explores what happens when catastrophe hits the Earth. This might sound like a lot of storytelling but the book itself is only 250 pages long. If you are interested to know more, I have received an unsolicited ARC by the publisher for this one and will be reviewing it for the release date. Book synopsis:
Mankind has long dreamed of reaching out to live on other planets, and with the establishment of the Mars Endeavour colony, that dream has become reality. The fledgling colony consists of 120 scientists, astronauts, medical staff, and engineers. Buried deep underground, they're protected from the harsh radiation that sterilizes the surface of the planet. The colony is prepared for every eventuality except one—what happens when disaster strikes Earth?
Artemis by Andy Weir (Release date: 14th of November)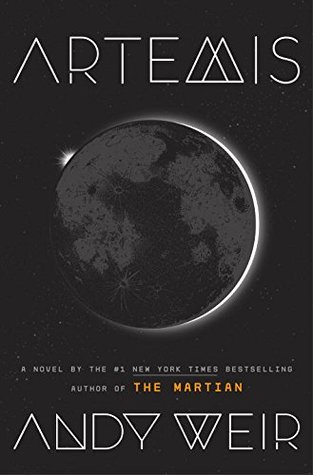 And speaking of Andy Weir how can I not mention Artemis, his upcoming SF novel about a criminal named Jazz living in a city on the moon, so a little closer than Mars this time. If we know one thing about Andy Weir is that he can write a funny and highly entertaining story and I hope he delivers in his new novel what his readers want to see. Book synopsis:
Jazz Bashara is a criminal.
Well, sort of. Life on Artemis, the first and only city on the moon, is tough if you're not a rich tourist or an eccentric billionaire. So smuggling in the occasional harmless bit of contraband barely counts, right? Not when you've got debts to pay and your job as a porter barely covers the rent.
Everything changes when Jazz sees the chance to commit the perfect crime, with a reward too lucrative to turn down. But pulling off the impossible is just the start of her problems, as she learns that she's stepped square into a conspiracy for control of Artemis itself—and that now, her only chance at survival lies in a gambit even riskier than the first. 
La Belle Sauvage by Philip Pullman (Release date: 19th of October)
Do I really need to say more other than: There is a new Philip Pullman novel coming out! Guys, if you loved His Dark Materials as much as I did when I was a young reader you are probably shitting yourselves to know that there is going to be a series of prequels for Philip Pullman's famous and loves trilogy that follows Lyra Belacqua. I will have to do a re-read of His Dark Materials in preparation for this one but I cannot wait for it. Book synopsis:
Eleven-year-old Malcolm Polstead and his dæmon, Asta, live with his parents at the Trout Inn near Oxford. Across the River Thames (which Malcolm navigates often using his beloved canoe, a boat by the name of La Belle Sauvage) is the Godstow Priory where the nuns live. Malcolm learns they have a guest with them, a baby by the name of Lyra Belacqua . . .
BookDepository: La Belle Sauvage
The Man in the Tree by Sage Walker (Release date: 12th of September)
Tor has a talent of making brilliant eye-catching, beautiful covers for novels and The Man in the Tree is one that got my attention for the impressive-looking cover and kept it for what sounds to be a promising hard SF thriller in space. As with most thriller novels I don't want to know much about it before reading it so I purposely didn't research more about this title but I am very eagerly looking forward to its release. Book synopsis:
Rapid-fire storytelling from start to finish! Greg Bear
Humanity s last hope of survival lies in space but will a random death doom the venture?
Our planet is dying and the world s remaining nations have pooled their resources to build a seed ship that will carry colonists on a multi-generational journey to a distant planet.
Everything is set for a bright adventure and then someone is found hanging dead just weeks before the launch. Fear and paranoia spread as the death begins to look more and more like a murder. The authorities want the case settled quickly and quietly so as not to cause panic and to prevent a murderer from sabotaging the entire mission.
BookDepository: The Man in the Tree
The World of Tomorrow by  Brendan Mathews (Release date: 5th of September)
And finally I'm coming off the SFF train to show a historical fiction book which sounds exactly right up my alley. I am currently reading and massively enjoying 4 3 2 1 by Paul Auster and, after reading some reviews about The World of Tomorrow I thought they sound quite similar. I especially liked a review of someone who didn't finish the book because of how complicated it was and how many characters were in. I thought, that's exactly what I like. A complicated historical fiction novel about the lives of three brothers and the people around them, yes please. Book synopsis:
June 1939. Francis Dempsey and his shell-shocked brother Michael are on an ocean liner from Ireland bound for their brother Martin's home in New York City, having stolen a small fortune from the IRA. During the week that follows, the lives of these three brothers collide spectacularly with big-band jazz musicians, a talented but fragile heiress, a Jewish street photographer facing a return to Nazi-occupied Prague, a vengeful mob boss, and the ghosts of their own family's revolutionary past. 
When Tom Cronin, an erstwhile assassin forced into one last job, tracks the brothers down, their lives begin to fracture. Francis must surrender to blackmail, or have his family suffer fatal consequences. Michael, wandering alone, turns to Lilly Bloch, a heartsick artist, to recover his lost memory. And Martin and his wife, Rosemary, try to salvage their marriage and, ultimately, the lives of the other Dempseys.
BookDepository: The World of Tomorrow
These are all the books I am looking forward to this Autumn, quite a heavily science fiction dominated list but I can't resist good SF stories. What are you most looking forward to the next three months?
I'm a BookDepository affiliate. If you want to buy a book online (free worldwide shipping) and you go through my links (above), I'll get a small referral commission. Thank you very much for your support!🙂