Hello lovely book people!
I was catching up on my YouTube subscriptions a couple of days ago and stumbled upon this new tag by Ariel Bissett: The End of the Year Book Tag. Ariel has created this tag in preparation for winter and the end of the year, which feels suddenly very close, and I thought it would be a lot of fun to answer her questions myself. So, here I go:
Question #1: Are there any books you started this year that you need to finish?
I have started many books this year without finishing them but the only book I really want to push through and complete is Jonathan Strange and Mr Norrell by Susanna Clarke. Well, I do (want to finish it) but also don't. The thing that happened with this book is that I carried it all the way to Greece when I went there in the summer, which is no small things if you see the size of this thing, with the hope to finish it there – so I wouldn't have to carry it back. I started reading it feverishly for the 24in48 readathon and got myself halfway through in a matter of a few days. But because of the nature of the readathon, I noticed I wasn't paying as much attention to it as I should have, and I am sure I have forgotten important parts of it. Still, because it is so big I feel very disheartened to leave it for now and read it again from the beginning maybe next year. I also feel pressure to pick it up soon before the majority of the story slips out of my mind. But the thing is also, that I am so behind on my reading goal for this year that devoting myself to this book will lead to a shameful result of "books I read in 2017". What should I do?
BookDepository: Jonathan Strange and Mr Norrell
Question #2: Do you have an autumnal book to transition into the end of the year?
Why, yes, in fact I do. One of the books from the Man Booker shortlist is practically the perfect book for this season. Of course, I am talking about Autumn by Ali Smith. Everyone has been saying wonderful things about this one and I think it is a strong contestant to actually win the Man Booker this year (the three strongest books of the shortlist in my opinion are Lincoln in the Bardo by  George Saunders, Exit West by Mohsin Hamid and Autumn). Not only is it a seasonally relevant book but also a politically relevant one – it is the first Brexit novel. I need to get to it soon.
Question #3: Is there a new release you are still waiting for?
There is one new release I am very eagerly looking forward to and that is Barbary Station by R.E. Stearns. I have already preordered this book so I am basically waiting here for the release, all excited. This is a science fiction story set in space where two ladies who are engineers become pirates and hijack a colony ship, wanting to join a pirate crew at an abandoned station in deep space called Barbary station. When they get to the colony ship however, they run into trouble. This story sounds amazing: a deep space adventure with lesbian pirates fighting the stations control AI that has gone crazy. It looks like Barbary Station will be the first book in a series and it definitely promises to be an exciting debut.
BookDepository: Barbary Station
Question #4: What

are three books you want to read before the end of the year?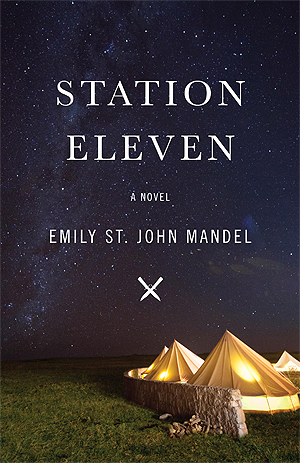 There are more than three books I want to get to before the end of the year, so I narrowed it down to three that I have decided to finish no matter what (almost). The first one is Station Eleven by Emily St. John Mandel and the reasoning is that if I don't pick up and finish this book soon, I will inadvertently be spoiled. I have avoided reading the synopsis and reviews of this book like crazy. I do not want to hear or know anything about it before I dive into the story because it has so much potential to be amazing – and equal potential, if not more, to disappoint me. But everyone is talking about or has read Station Eleven so I need to get to it very soon.
The second book I really want to read before 2018 comes is a classic by Philip K. Dick called The Man in the High Castle. The reason why it is on my "must-read" list is that I have an unofficial agreement with myself to read at least four classics each year. The way I understand classics is that you need to be in the right frame of mind to dive into their world, you need to want to do it and to also feel like doing it. At the same time, it seems to me that classics become more enjoyable the more times you read them. I have then decided that, although I am not yet in the right mindset to devote my reading to classics, I should still "train" myself by reading four of them each year. That way I have some classics to actually revisit when the time is right. This year I have read only two classics so far and, honestly, I don't think I will make it to four. But I can at least make it to three!
Finally, the last book I really want to finish this year is the second book from the Man Booker shortlist that I haven't got to yet, Lincoln in the Bardo by George Saunders. I have heard nothing but raving reviews about this one and it has made me very excited to pick it up. I have also challenged myself to at least read the whole Man Booker shortlist, so it has to be read this year, there is no way around it.
BookDepository: Station Eleven
BookDepository: The Man In the High Castle
BookDepository: Lincoln in the Bardo
Question #5: Is there a book you think could still shock you and become your favourite book of the year?
I think so. Well, I think it could be any book really, but if I had to guess which it would be, I'd say that Ancillary Justice by Ann Leckie has a pretty good chance. Everything about this book has set it up for success with me, and I am a very picky reader. It has won both the Nebula and the Hugo awards along with the Locus and the Arthur C. Clarke and a bunch of other wins and nominations. I read a few pages from it already and I was very quickly drawn to the story, so I am hoping this will be the novel to get a 4.5 star rating from me this year. At the same time, I am very skeptical. It is often the case that when many people rave about a book which has won award after award I end up expecting from it things that it doesn't deliver. I hope this is not the case with Ann Leckie.
BookDepository: Ancillary Justice
Question #6: Have you already started making reading plans for 2018?
Oh, yes! I was very amused to see this last question. I thought, well, it seems I am not the only crazy, over-enthusiastic and organising reader here. I not only have started making reading plans for 2018, I have completed them. I have decided on some reading challenges and projects that I want to accomplish ( more on this later) and in fact I have made a list of 80% of the books I want to read in 2018. It is a huge list but it is doable. It contains the exact dates I want to pick up and finish each book by and it is made for me to push myself to read more and to read books I might not have picked up had I not challenged myself to do it. At the end of the year I am planning on a post to talk about these challenges and book projects more in-depth.
So, this has been The End of the Year Book Tag created by Ariel Bissett. It was fun to sit down and think about the short-term reading goals I have until the end of 2017! Maybe you liked Ariel's tag and you'd like to join in and answer the questions on your blog? If you do, feel free to link your post here so I won't miss it. 🙂
I'm a BookDepository affiliate. If you want to buy a book online (free worldwide shipping) and you go through my links (above), I'll get a small referral commission. Thank you very much for your support!🙂