Hello book people!
Today, I am posting a long overdue update of what I read in October, what I am currently reading and which books I want to finish by the end of November.
This past October I finished four books, even though I was planning on reading much more than that. Due to circumstances like university exams but also due to the fact that I didn't feel like reading some of the books I had picked, I ended up with the following books under my "read" list:
Read in October
Annihilation by Jeff Vandermeer
The Girl With All the Gifts by M. R. Carey (to be reviewed soon)
Currently Reading
What I'm currently reading is an interesting mixture of genres. I am slowly making my way through a non-fiction, psychology book that I am going to review for Mindwise, my university's blog. The book is called Behave: The Biology of Humans at Our Best and Worst by the biologist/neurologist Robert M. Sapolsky, and it is a basic but precise narration of what goes on in the brain before a behaviour occurs at the individual and, at large, at the social context. He starts from the neuron and go off to include the effect of genes and even the influence of our ancestors before Homo sapiens sapiens. Sapolsky writes a very dense book that is simultaneously fun, informative and extremely fascinating.
I am also currently reading the science fiction phenomenon Ancillary Justice by non other than Ann Leckie. In this book, we follow Breq. What is interested about Breq is that she is not human. She is the AI of what used to be the Justice of Toren, a massive starship of the Radch, the empire that ruled the galaxy. Now, she is forced to live inside a frail human body, and her quest is to take revenge for the treachery that ripped her previously glorious life apart. Honestly, Ancillary Justice takes a while to get used to. Leckie throws the reader into a vast new world where spaceships have conscience and the galaxy hosts multiple species of life, humans among them. But, I hear that after you get past the bumpy beginning the book takes off from there, and it is really worth it. I think I am finally getting to the good stuff now.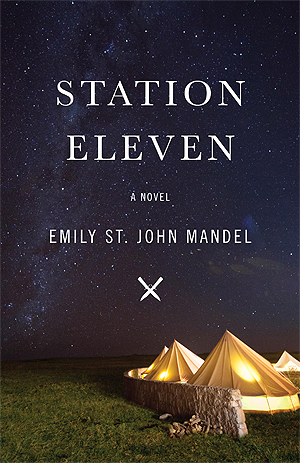 Finally, I also decided to check out Station Eleven by Emily St. John Mandel, a book everyone has been talking about and praising and as a result I was both intrigued and very much ready to be unimpressed. I thought I would just read the first chapter and see how I like the feel of it and decide if I want to read it or dump it. Needless to say, I was ready to dump it. But the book has such a brilliant first chapter that it completely sucked me in. The writing is wonderful and it flows so smoothly that it makes Station Eleven such an enjoyable read.
To be read in November
Best Served Cold by Joe Abercrombie
I will present the books I want to get to in November in order of priority. Starting with the first standalone novel in the First Law series by Joe Abercrombie. I've heard raving reviews about Best Served Cold and it's one of these books I've been meaning to get to since forever. Now that I have finished the First Law trilogy – which I thoroughly enjoyed – I can pick up the three standalones sitting on my bookshelves. I believe, this first one follows a completely different cast of characters than the trilogy and it also takes place in another part of Abercrombie's world. Other than that, I have no idea what it's about. Book synopsis:
Springtime in Styria. And that means war. Springtime in Styria. And that means revenge.
There have been nineteen years of blood. The ruthless Grand Duke Orso is locked in a vicious struggle with the squabbling League of Eight, and between them they have bled the land white. While armies march, heads roll and cities burn, behind the scenes bankers, priests and older, darker powers play a deadly game to choose who will be king.
War may be hell but for Monza Murcatto, the Snake of Talins, the most feared and famous mercenary in Duke Orso's employ, it's a damn good way of making money too. Her victories have made her popular – a shade too popular for her employer's taste. Betrayed, thrown down a mountain and left for dead, Murcatto's reward is a broken body and a burning hunger for vengeance. Whatever the cost, seven men must die.
Her allies include Styria's least reliable drunkard, Styria's most treacherous poisoner, a mass-murderer obsessed with numbers and a Northman who just wants to do the right thing. Her enemies number the better half of the nation. And that's all before the most dangerous man in the world is dispatched to hunt her down and finish the job Duke Orso started…
Springtime in Styria. And that means revenge.
BookDepository: Best Served Cold
Another book I really want to finish before the end of November is the second novel in the Imperial Radch series. As I mentioned above, the first book Ancillary Justice, follows Breq, an android that used to be the AI of a massive imperial starship with thousands of bodies at its disposal. Spanning over a thousand years, the story goes back and forth between the past when Breq was the Justice of Torren and the present when Breq is living inside a frail human body. This completely undesired change was the result of an act of treachery that happened – literally – centuries ago. So far, it's a fun and very interesting. Book synopsis:
What if you once had thousands of bodies and near god-like technology at your disposal? 
And what if all of it were ripped away? 
The Lord of the Radch has given Breq command of the ship Mercy of Kalr and sent her to the only place she would have agreed to go—to Athoek Station, where Lieutenant Awn's sister works in Horticulture.
Athoek was annexed some six hundred years ago, and by now everyone is fully civilized—or should be. But everything is not as tranquil as it appears. Old divisions are still troublesome, Athoek Station's AI is unhappy with the situation, and it looks like the alien Presger might have taken an interest in what's going on. With no guarantees that interest is benevolent.
BookDepository: Ancillary Sword
Finally, the last book I would like to read this month is a book that has the potential to be my favourite of the year. I know three things about it: Thomas at SFF180 gave this book 5 stars (you can watch his review here) and it is an LGBTQ+ science fiction novel of revenge. It has received fantastic reviews from many SFF readers I follow and I truly think The Traitor (also known as The Traitor Baru Cormorant) could be it! Book synopsis:
Tomorrow, on the beach, Baru Cormorant will look up from the sand of her home and see red sails on the horizon.
The Empire of Masks is coming, armed with coin and ink, doctrine and compass, soap and lies. They'll conquer Baru's island, rewrite her culture, criminalize her customs, and dispose of one of her fathers. But Baru is patient. She'll swallow her hate, prove her talent, and join the Masquerade. She will learn the secrets of empire. She'll be exactly what they need. And she'll claw her way high enough up the rungs of power to set her people free.
In a final test of her loyalty, the Masquerade will send Baru to bring order to distant Aurdwynn, a snakepit of rebels, informants, and seditious dukes. Aurdwynn kills everyone who tries to rule it. To survive, Baru will need to untangle this land's intricate web of treachery – and conceal her attraction to the dangerously fascinating Duchess Tain Hu.
But Baru is a savant in games of power, as ruthless in her tactics as she is fixated on her goals. In the calculus of her schemes, all ledgers must be balanced, and the price of liberation paid in full.
Hopefully I will be able to read all of these books before the end of the month. My reading speed has quite declined since the beginning of the year but I want to try and bring it back up to the 100 pages per day which is my goal.  What are you reading in November? And also how is your reading goal for the year going so far? Let me know!
I'm a BookDepository affiliate. If you want to buy a book online (free worldwide shipping) and you go through my links (above), I'll get a small referral commission. Thank you very much for your support!🙂