Hello everyone and happy new year!
Since 2017 is promptly over, I thought I would do a discussion post to predict which books from my 2018 TBR pile, which is mostly fixed and decided on already, will be a 5 star rating for me. This idea originated from Mercy's BookTube video at MercysBookishMusings and many BookTubers and book bloggers went on to make their own 5 star predictions.
Here are some books I predict will get a 5 star rating from me in 2018:
The Fifth Season by  N.K. Jemisin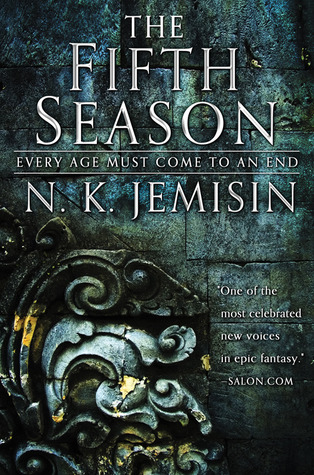 N. K. Jemisin is a well-known author in the SFF genre. Her more recent Broken Earth trilogy, which begins with The Fifth Season, has won major genre awards, like the Hugo in 2016. I have avoided learning many things about the book as I like to go into it knowing as little as possible. So, my prediction that it will be a 5 star book is based mostly on other reviewers whose reading tastes I agree with most of the time. Fans of SFF have been raving about this book and I am really looking forward to pick it up very soon. Book synopsis:
THIS IS THE WAY THE WORLD ENDS. AGAIN.
Three terrible things happen in a single day.
Essun, masquerading as an ordinary schoolteacher in a quiet small town, comes home to find that her husband has brutally murdered their son and kidnapped their daughter. Mighty Sanze, the empire whose innovations have been civilization's bedrock for a thousand years, collapses as its greatest city is destroyed by a madman's vengeance. And worst of all, across the heartland of the world's sole continent, a great red rift has been been torn which spews ash enough to darken the sky for years. Or centuries.
But this is the Stillness, a land long familiar with struggle, and where orogenes — those who wield the power of the earth as a weapon — are feared far more than the long cold night. Essun has remembered herself, and she will have her daughter back.
She does not care if the world falls apart around her. Essun will break it herself, if she must, to save her daughter.
BookDepository: The Fifth Season
A Little Life by Hanya Yanagihara
If someone was to ask me which is the one book I am most certain I will end up giving a 5 star rating to, it's this one: A Little Life. Readers say it's one of the saddest books they've ever read which makes me want to pick it up even more. I've been stalling and waiting with this book because I have this irrational thought that the more I wait, the better it will be. But, I have decided to finally pick it up in 2018 and read it. Book synopsis:
When four classmates from a small Massachusetts college move to New York to make their way, they're broke, adrift, and buoyed only by their friendship and ambition. There is kind, handsome Willem, an aspiring actor; JB, a quick-witted, sometimes cruel Brooklyn-born painter seeking entry to the art world; Malcolm, a frustrated architect at a prominent firm; and withdrawn, brilliant, enigmatic Jude, who serves as their center of gravity.
Over the decades, their relationships deepen and darken, tinged by addiction, success, and pride. Yet their greatest challenge, each comes to realize, is Jude himself, by midlife a terrifyingly talented litigator yet an increasingly broken man, his mind and body scarred by an unspeakable childhood, and haunted by what he fears is a degree of trauma that he'll not only be unable to overcome—but that will define his life forever. 
Jeff VanderMeer's science fiction novel, Borne, is the one book from 2017 that I can't believe I haven't read yet. It sounds amazing and terrifying and, being familiar with VanderMeer's work, I am very eager to read this. Again, raving reviews of this one from reviewers I follow suggest that this might be another 5 star book for me this new year. I hope it will be. Book synopsis:
In a ruined, nameless city of the future, a woman named Rachel, who makes her living as a scavenger, finds a creature she names "Borne" entangled in the fur of Mord, a gigantic, despotic bear. Mord once prowled the corridors of the biotech organization known as the Company, which lies at the outskirts of the city, until he was experimented on, grew large, learned to fly and broke free. Driven insane by his torture at the Company, Mord terrorizes the city even as he provides sustenance for scavengers like Rachel.
At first, Borne looks like nothing at all—just a green lump that might be a Company discard. The Company, although severely damaged, is rumoured to still make creatures and send them to distant places that have not yet suffered Collapse.
Borne somehow reminds Rachel of the island nation of her birth, now long lost to rising seas. She feels an attachment she resents; attachments are traps, and in this world any weakness can kill you. Yet when she takes Borne to her subterranean sanctuary, the Balcony Cliffs, Rachel convinces her lover, Wick, not to render Borne down to raw genetic material for the drugs he sells—she cannot break that bond.
Wick is a special kind of supplier, because the drug dealers in the city don't sell the usual things. They sell tiny creatures that can be swallowed or stuck in the ear, and that release powerful memories of other people's happier times or pull out forgotten memories from the user's own mind—or just produce beautiful visions that provide escape from the barren, craterous landscapes of the city.
Against his better judgment, out of affection for Rachel or perhaps some other impulse, Wick respects her decision. Rachel, meanwhile, despite her loyalty to Wick, knows he has kept secrets from her. Searching his apartment, she finds a burnt, unreadable journal titled "Mord," a cryptic reference to the Magician (a rival drug dealer) and evidence that Wick has planned the layout of the Balcony Cliffs to match the blueprint of the Company building. What is he hiding? Why won't he tell her about what happened when he worked for the Company?
This Census-Taker by China Miéville
And finally, the last book I'm predicting to be a 5 star story is a novella by China Miéville, another author of the science fiction subgenre of the New Weird. The synopsis sounds intriguing and, while I've never read anything by this author before, this book sounds very promising. Book synopsis:
After witnessing a profoundly traumatic event, a boy is left alone in a remote house on a hilltop with his increasingly deranged parent. When a stranger knocks on his door, the boy senses that his days of isolation are over—but by what authority does this man keep the meticulous records he carries? Is he the boy's friend? His enemy? Or something altogether other?
BookDepository: This Census-Taker
So these are four books that I have really high hopes for. I won't say how I almost never give 5 stars to any books, because that's the whole point of the discussion. Sitting down and thinking about which of the books that I am planning on reading in 2018, I'm the most excited about, was a lot of fun! But, of course, I do hope for at least one surprise 5 star rating from books I haven't mentioned. Most of all, I hope 2018 is a wonderful reading year for everyone.
Happy New Year with great new book findings and joyous re-reads of old favourites.
I'm a BookDepository affiliate. If you want to buy a book online (free worldwide shipping) and you go through my links (above), I'll get a small referral commission. Thank you very much for your support!🙂
Cover photo credits to: