Happy New Year everyone! May 2018 be a fantastic reading  for all.
As per usual, the 1st of January starts with many expectations and plans for myself, especially book plans. I am determined to go into the new year strong and read all 83 book on my excel TBR. I am excited, I am motivated and I am organised to read and complete all my personal reading goals for this year (which you can find here My 2018 Reading Goals). Here are the books I want to finish in January.
Book to read in January:
Assassin's Apprentice by Robin Hobb 
I have decided that 2018 will be my year with Robin Hobb, in which I will read her entire series set in the Realm of the Elderlings. This all started with Assassin's Apprentice, the first book in the Farseer trilogy. This will be the very first book I pick up in 2018 and hopefully Robin Hobb will not disappoint. Book synopsis:
Young Fitz is the bastard son of the noble Prince Chivalry, raised in the shadow of the royal court by his father's gruff stableman. He is treated as an outcast by all the royalty except the devious King Shrewd, who has him secretly tutored in the arts of the assassin. For in Fitz's blood runs the magic Skill—and the darker knowledge of a child raised with the stable hounds and rejected by his family.
As barbarous raiders ravage the coasts, Fitz is growing to manhood. Soon he will face his first dangerous, soul-shattering mission. And though some regard him as a threat to the throne, he may just be the key to the survival of the kingdom.
BookDepository: Assassin's Apprentice
Also in January, I want to finish the second novel in the Farseer trilogy, Royal Assassin. The second book is considerably bigger than the first one but I want to finish both in January if I am do successfully complete my year with Robin Hobb. Book synopsis:
Fitz has survived his first hazardous mission as king's assassin, but is left little more than a cripple. Battered and bitter, he vows to abandon his oath to King Shrewd, remaining in the distant mountains. But love and events of terrible urgency draw him back to the court at Buckkeep, and into the deadly intrigues of the royal family.
Renewing their vicious attacks on the coast, the Red-Ship Raiders leave burned-out villages and demented victims in their wake. The kingdom is also under assault from within, as treachery threatens the throne of the ailing king. In this time of great danger, the fate of the kingdom may rest in Fitz's hands—and his role in its salvation may require the ultimate sacrifice.
BookDepository: Royal Assassin
Crossing to Safety by Wallace Stegner
In 2018, I have told myself that I need to read at least four classics, a goal I failed to complete in 2017. So, this year I am starting early. Along with Assassin's Apprentice I will be picking up this modern classic by Wallace Stegner that I bought more than half a year ago. That will be one classic down three more to go. Book synopsis:
Called a "magnificently crafted story . . . brimming with wisdom" by Howard Frank Mosher in "The Washington Post Book World," "Crossing to Safety" has, since its publication in 1987, established itself as one of the greatest and most cherished American novels of the twentieth century. Tracing the lives, loves, and aspirations of two couples who move between Vermont and Wisconsin, it is a work of quiet majesty, deep compassion, and powerful insight into the alchemy of friendship and marriage.
BookDepository: Crossing to Safety
Probably one of the shortest reads I have in my TBR for this year, Tinkers is the 2010 Pulitzer Prize winner. In 2018 I am also undertaking a project I call Pulitzer in the 2010's in which I will read all of the Pulitzer winners that I haven't read yet since 2010. Normally I don't enjoy very short books, but in the spirit of exploration and branching out, I am trusting my reading in the hands of the Pulitzer prize. Book synopsis:
An old man lies dying. Propped up in his living room and surrounded by his children and grandchildren, George Washington Crosby drifts in and out of consciousness, back to the wonder and pain of his impoverished childhood in Maine. As the clock repairer's time winds down, his memories intertwine with those of his father, an epileptic, itinerant peddler and his grandfather, a Methodist preacher beset by madness. 
At once heartbreaking and life affirming, Tinkers is an elegiac meditation on love, loss, illness, faith, and the fierce beauty of nature.
The Amazing Adventures of Kavalier & Clay by Michael Chabon
Michael Chabon won the Pulitzer prize with The Amazing Adventures of Kavalier & Clay in 2001, so this is not one of the books for my Pulitzer in the 2010's project. The Amazing Adventures of Kavalier & Clay is a book I have really wanted to read in 2017 and for some reason didn't. So, it has gone straight into the list for me to read in 2018. Book synopsis:
One night in 1939, Josef Kavalier shuffles into his cousin Sam Clay's cramped New York bedroom, his arduous, nerve-racking escape from Prague finally achieved.
So begins the friendship and partnership that will create The Escapist, a comic strip about a Nazi-busting saviour who liberates the oppressed around the world. It makes their fortune and their name but Joe can think of only one thing: how can he effect a real-life escape for his family from the tyranny of Hitler?
BookDepository: The Amazing Adventures of Kavalier & Clay
As part of my new year goals list, I have decided to read at least one new release of each month, at the end of that month. For January I pre-ordered the fourth book in the Red Rising series which I read last year and really enjoyed. Iron Gold is set ten years after the end of Morning Star and that's all I know about it. Book synopsis:
They call him father, liberator, warlord, Reaper. But he feels a boy as he falls toward the pale blue planet, his armor red, his army vast, his heart heavy. It is the tenth year of war and the thirty-second of his life.
A decade ago, Darrow was the hero of the revolution he believed would break the chains of the Society. But the Rising has shattered everything: Instead of peace and freedom, it has brought endless war. Now he must risk everything he has fought for on one last desperate mission. Darrow still believes he can save everyone, but can he save himself?
And throughout the worlds, other destinies entwine with Darrow's to change his fate forever: 
A young Red girl flees tragedy in her refugee camp and achieves for herself a new life she could never have imagined.
An ex-soldier broken by grief is forced to steal the most valuable thing in the galaxy—or pay with his life.
And Lysander au Lune, the heir in exile to the sovereign, wanders the stars with his mentor, Cassius, haunted by the loss of the world that Darrow transformed, and dreaming of what will rise from its ashes.
The Fifth Season by N.K. Jemisin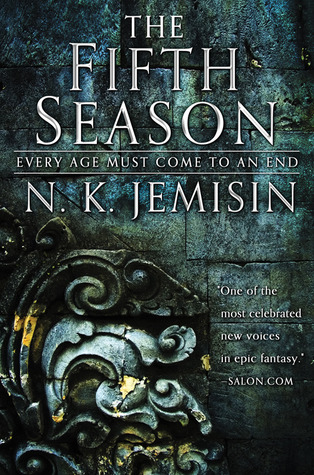 N. K. Jemisin's Hugo winning novel, The Fifth season, marks the beginning of the Broken Earth trilogy and it is one of the four book that I mention in my previous post, 5 Star 2018 TBR Predictions as a potential 5 star book. Another one of my goals for 2018 was to read 5 SFF series, and the Broken Earth trilogy is my second pick. I am planning on reading The Fifth Season in between the two Farseer books so that I take a small break from Robin Hobb. Book synopsis:
THIS IS THE WAY THE WORLD ENDS. AGAIN.
Three terrible things happen in a single day.
Essun, masquerading as an ordinary schoolteacher in a quiet small town, comes home to find that her husband has brutally murdered their son and kidnapped their daughter. Mighty Sanze, the empire whose innovations have been civilization's bedrock for a thousand years, collapses as its greatest city is destroyed by a madman's vengeance. And worst of all, across the heartland of the world's sole continent, a great red rift has been been torn which spews ash enough to darken the sky for years. Or centuries.
But this is the Stillness, a land long familiar with struggle, and where orogenes — those who wield the power of the earth as a weapon — are feared far more than the long cold night. Essun has remembered herself, and she will have her daughter back.
She does not care if the world falls apart around her. Essun will break it herself, if she must, to save her daughter.
BookDepository: The Fifth Season
So, these are the first seven books I am planning on finishing in January. Hopefully I can make a productive first reading month and get into the zone so this year I can complete my reading goal of 83 books. If not, that's okay too.
I wish everyone a wonderful new year and I will see you around more often now for more book discussions!
I'm a BookDepository affiliate. If you want to buy a book online (free worldwide shipping) and you go through my links (above), I'll get a small referral commission. Thank you very much for your support!🙂
Photo by Jamie Street on Unsplash