This month I am bringing, yet again, another big book haul! Apart from the five books that I am planning on picking up in March, I made the mistake to go into a bookstore. There, the temptation was of course very big but I behaved myself and actually came out of it empty handed. Then, the next day I went online and bought four books. And then, a few days later, I bought one more. I know, I am a hopeless case. But, I do have plans for most of the books I bought. As I said, five of them are on my immediate plans for March. I also bought two relatively smaller in size books that I know are fast reads that will be great for readathons I might want to participate in. At least I have some excuses, okay? Here are the books I bought in March.
The Last Mortal Bond by Brian Staveley
So, in March I will be, finally, finishing the fantasy trilogy by Brian Staveley, The Chronicle of the Unhewn Throne which concludes with The Last Mortal Bond the tale of the Malkeenian siblings. Two things. These covers are just so gorgeous and shamefully this was one of the reasons I am continuing this very mediocre series till the end. Secondly, I feel kind of invested in finishing up this trilogy because I hate leaving stories unfinished when they don't suck too much. I think the third book will also tell me if I want to pick up more of Brian Stevely's future works later on. Book synopsis:
The ancient csestriim are back to finish their purge of humanity; armies march against the capital; leaches, solitary beings who draw power from the natural world to fuel their extraordinary abilities, maneuver on all sides to affect the outcome of the war; and capricious gods walk the earth in human guise with agendas of their own.
But the three imperial siblings at the heart of it all–Valyn, Adare, and Kaden–come to understand that even if they survive the holocaust unleashed on their world, there may be no reconciling their conflicting visions of the future.
Book Depository: The Last Mortal Bond
Pretty Girls by Karin Slaughter
Here's the story with this one: Lately, I've been looking for a very good thriller or mystery story which, to me, is a difficult task because I'm usually able to predict how a story will end from early on which spoils most novels of the genre. I recently stumbled upon the name of Karin Slaughter and saw that she has come up with quite a few successful thriller stories. So, I went on Amazon one day and lo and behold, I find a hardocer of Pretty Girls for less than 5 euros with free shipping! I couldn't pass on the opportunity so I snatched it. Book synopsis:
Sisters. Strangers. Survivors.
More than twenty years ago, Claire and Lydia's teenaged sister Julia vanished without a trace. The two women have not spoken since, and now their lives could not be more different. Claire is the glamorous trophy wife of an Atlanta millionaire. Lydia, a single mother, dates an ex-con and struggles to make ends meet. But neither has recovered from the horror and heartbreak of their shared loss—a devastating wound that's cruelly ripped open when Claire's husband is killed.
The disappearance of a teenage girl and the murder of a middle-aged man, almost a quarter-century apart: what could connect them? Forming a wary truce, the surviving sisters look to the past to find the truth, unearthing the secrets that destroyed their family all those years ago . . . and uncovering the possibility of redemption, and revenge, where they least expect it.
Death's End by Liu Cixin translated by Ken Liu
I also picked up the final novel of the Remembrance of Earth's Past trilogy that concludes the wonderful and brilliant science fiction story of humanities first contact with extratterestrial intelligence. The first two books held the same motiff of a slow beginning leading to a fantastic, fast-paced and exciting end. While the writing is not my cup of tea, which might be blamed on the fact that it's a translated work, the plot is just genious and so much fun. So, I want to continue on and finish this excellent trilogy that is also becoming a movie soon! Book synopsis:
Now this epic trilogy concludes with Death's End. Half a century after the Doomsday Battle, the uneasy balance of Dark Forest Deterrence keeps the Trisolaran invaders at bay. Earth enjoys unprecedented prosperity due to the infusion of Trisolaran knowledge. With human science advancing daily and the Trisolarans adopting Earth culture, it seems that the two civilizations will soon be able to co-exist peacefully as equals without the terrible threat of mutually assured annihilation. But the peace has also made humanity complacent.
Cheng Xin, an aerospace engineer from the early 21st century, awakens from hibernation in this new age. She brings with her knowledge of a long-forgotten program dating from the beginning of the Trisolar Crisis and her very presence may upset the delicate balance between two worlds. Will humanity reach for the stars or die in its cradle?
Crooked Kingdom by Leigh Bardugo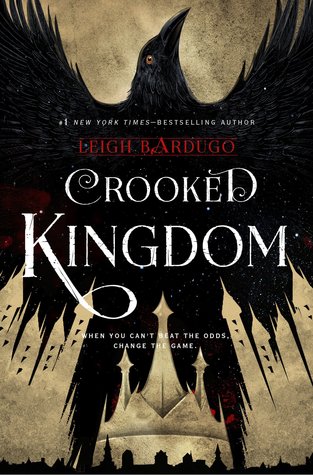 Moving on with the series, I also bought the concluding second novel in the Six of Crows duology that takes place in the Grisha universe as Leigh Bardugo's first Grisha trilogy. This story follows six characters that are organising a heist and is a YA fantasy series that I decided to read because it has received so much praise. Book synopsis:
Kaz Brekker and his crew have just pulled off a heist so daring even they didn't think they'd survive. But instead of divvying up a fat reward, they're right back to fighting for their lives. Double-crossed and left crippled by the kidnapping of a valuable team member, the crew is low on resources, allies, and hope. As powerful forces from around the world descend on Ketterdam to root out the secrets of the dangerous drug known as jurda parem, old rivals and new enemies emerge to challenge Kaz's cunning and test the team's fragile loyalties. A war will be waged on the city's dark and twisting streets―a battle for revenge and redemption that will decide the fate of magic in the Grisha world.
Book Depository: Crooked Kingdom
The Crimson Petal and the White by Michel Faber
During the brief time I spent in the bookstore a few days ago waiting for a friend, I visited the fiction isle in which said friend had recommended Michel Faber to me who, by the way, is also Dutch. I've been eyeing this novel for a while now and I finally caved. I may or may not have gone online a few days later and bought it.. along with a few other books. This looks like a story I will really enjoy and I'm very excited to pick it up. Book synopsis:
Michel Faber leads us back to 1870s London, where Sugar, a nineteen-year-old whore in the brothel of the terrifying Mrs. Castaway, yearns for escape into a better life. Her ascent through the strata of Victorian Society offers us intimacy with a host of lovable, maddening, unforgettable characters." They begin with William Rackham, an egotistical perfume magnate whose ambition is fueled by his lust for Sugar, and whose patronage of her brings her into proximity to his extended family and milieu: his unhinged, child-like wife, Agnes; his mysteriously hidden-away daughter, Sophie; and his pious brother Henry, foiled in his devotional calling by a persistently less-than-chaste love for the Widow Fox, whose efforts on behalf of The Rescue Society lead Henry into ever-more disturbing confrontations with flesh.
Book Depository: The Crimson Petal and the White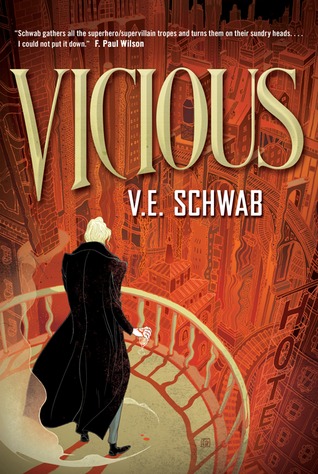 Ever since I started watching BookTube videos, about 2 years ago, I have been hearing the greatest praise for Schwab's adult novel, Vicious. Every single booktuber has loved this story and they hold nothing but the highest regard for both the author and her stories, especially Vicious. I looked around online for it last year, but it was always very expensive – I found it in the Tor hardcover edition that I wanted it for more than 30 euros. Luckily, this month the prize considerably dropped and I seized the opportunity to make it mine. Book synopsis:
Victor and Eli started out as college roommates—brilliant, arrogant, lonely boys who recognized the same sharpness and ambition in each other. In their senior year, a shared research interest in adrenaline, near-death experiences, and seemingly supernatural events reveals an intriguing possibility: that under the right conditions, someone could develop extraordinary abilities. But when their thesis moves from the academic to the experimental, things go horribly wrong. Ten years later, Victor breaks out of prison, determined to catch up to his old friend (now foe), aided by a young girl whose reserved nature obscures a stunning ability. Meanwhile, Eli is on a mission to eradicate every other super-powered person that he can find—aside from his sidekick, an enigmatic woman with an unbreakable will. Armed with terrible power on both sides, driven by the memory of betrayal and loss, the archnemeses have set a course for revenge—but who will be left alive at the end?
The Danish Girl by David Ebershoff
I also wanted to read an LGBTQ+ novel this month and since I've been meaning to watch the movie, I picked up The Danish Girl so I can read it before watching it. This is a historical fiction novel loosely inspired by a true story. Book synopsis:
It starts with a question, a simple favour asked by a wife of her husband while both are painting in their studio, setting off a transformation neither can anticipate. Uniting fact and fiction into an original romantic vision, The Danish Girl eloquently portrays the unique intimacy that defines every marriage and the remarkable story of Lili Elbe, a pioneer in transgender history, and the woman torn between loyalty to her marriage and her own ambitions and desires.
Book Depository: The Danish Girl
Ready Player One by Ernest Cline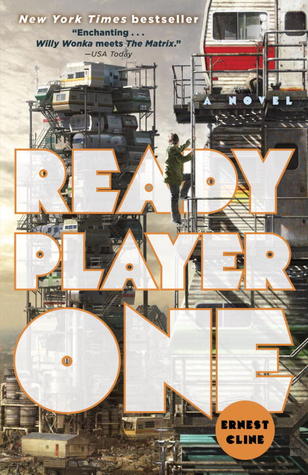 Ready Player One is another book I discovered thanks to BookTube and one that everyone has been talking very highly of and recommending it to everyone. I don't know much about the story because I avoid reading synopses for most of the books since many times they spoil too much, but I am curious to see what I will think about it. Book synopsis:
It's the year 2044, and the real world is an ugly place.
Like most of humanity, Wade Watts escapes his grim surroundings by spending his waking hours jacked into the OASIS, a sprawling virtual utopia that lets you be anything you want to be, a place where you can live and play and fall in love on any of ten thousand planets.
And like most of humanity, Wade dreams of being the one to discover the ultimate lottery ticket that lies concealed within this virtual world. For somewhere inside this giant networked playground, OASIS creator James Halliday has hidden a series of fiendish puzzles that will yield massive fortune — and remarkable power — to whoever can unlock them.
For years, millions have struggled fruitlessly to attain this prize, knowing only that Halliday's riddles are based in the pop culture he loved — that of the late twentieth century. And for years, millions have found in this quest another means of escape, retreating into happy, obsessive study of Halliday's icons. Like many of his contemporaries, Wade is as comfortable debating the finer points of John Hughes's oeuvre, playing Pac-Man, or reciting Devo lyrics as he is scrounging power to run his OASIS rig.
And then Wade stumbles upon the first puzzle.
Suddenly the whole world is watching, and thousands of competitors join the hunt — among them certain powerful players who are willing to commit very real murder to beat Wade to this prize. Now the only way for Wade to survive and preserve everything he knows is to win. But to do so, he may have to leave behind his oh-so-perfect virtual existence and face up to life — and love — in the real world he's always been so desperate to escape.
A world at stake.
A quest for the ultimate prize.
Are you ready?
Book Depository: Ready Player One
The Amazing Adventures of Kavalier & Clay by Michael Chabon
This Pulitzer winner is another book-buy that I blame on the time I spent at the bookstore this month. This and the fact that it won the Pulitzer Prize in 2001 made me really interested in reading it. These and the fact that it has a beautiful cover. And it's a big novel. And it's historical fiction. And it's sounds awesome. Book synopsis:
One night in 1939, Josef Kavalier shuffles into his cousin Sam Clay's cramped New York bedroom, his arduous, nerve-racking escape from Prague finally achieved.
So begins the friendship and partnership that will create The Escapist, a comic strip about a Nazi-busting saviour who liberates the oppressed around the world. It makes their fortune and their name but Joe can think of only one thing: how can he effect a real-life escape for his family from the tyranny of Hitler?
Book Depository: The Amazing Adventures of Kavalier & Clay
And finally, my last book buy of March was a graphic novel that I have been very interested in reading and that I finally did. The story of Scott McCloud was excellent! I will be posting a full review on it soon, but I'm so happy that I bought this and now I have it. Book synopsis:
David Smith is giving his life for his art—literally. Thanks to a deal with Death, the young sculptor gets his childhood wish: to sculpt anything he can imagine with his bare hands. But now that he only has 200 days to live, deciding  what  to create is harder than he thought, and discovering the love of his life at the 11th hour isn't making it any easier! 
This is a story of desire taken to the edge of reason and beyond; of the frantic, clumsy dance steps of young love; and a gorgeous, street-level portrait of the world's greatest city. It's about the small, warm, human moments of everyday life…and the great surging forces that lie just under the surface. Scott McCloud wrote the book on how comics work; now he vaults into great fiction with a breathtaking, funny, and unforgettable new work.
So these are all the books I got in March. I've already read some of them and their reviews are pending and some of them I'm planning on reading soon.
I'm a BookDepository affiliate. If you want to buy a book online (free worldwide shipping) and you go through my links (above), I'll get a small referral commission. Thank you very much for your support!