My Name is Lucy Barton by Elizabeth Strout
My rating: 3 of 5 stars
Lucy Barton has had very challenging relationships with her parents since she was very young. They grew up in poverty and Lucy was always trying to get her mother's approval and love. Now, she remembers the time she spent in a hospital bed due to a simple surgery that went wrong. During these 9 weeks her mother came to visit her for 5 days and they spend a lot of time together after many years of not seeing each other. Through their dialogues and gossip we travel back in time to take a glance at Lucy's life back when she lived in that small house in Illinois with her parents. The relationship of a mother and a daughter through the eyes of the latter who is also a mother herself.
Okay..this book made me sad. Lucy felt like such a sad character to me and I cannot really think of another word to describe my thoughts and feelings about this book other than "sad". That doesn't mean I didn't enjoy it. I appreciated many things in these pages and one of them is the fact that the book managed to make me feel certain emotions even if these emotions were negative.
It interests me how we find ways to feel superior to another person, another group of people. It happens everywhere, and all the time. Whatever we call it, I think it's the lowest part of who we are, this need to find someone else to put down.
This is a book that deals with a very complicated relationship. The one between a mother and a daughter. A mother who has lived in very difficult conditions of poverty and social isolation from the community due to that poverty. A mother who has adapted in these difficulties but this adaptation has of course impacted her relationship with her children. And Lucy is just a child even though she is a mother herself in her thirties. I guess daughters never seize asking and wanting their mother's approval, acceptance, love and care. And mothers never stop caring about their children but sometimes the way of showing this love and caring emotions can be so devastating.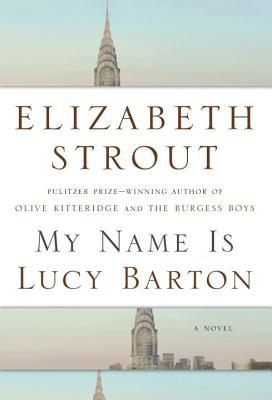 But I think I know so well the pain we children clutch to our chests, how it lasts our whole lifetime, with longings so large you can't even weep. We hold it tight, we do, with each seizure of the beating heart: This is mine, this is mine, this is mine.
What I really enjoyed in this book was the way the human relationships (not just the mother-daughter one, but especially that one) were presented and discussed. Taking the form of gossip or just a random discussion of events about people who had nothing to do with Lucy and her mother, we get to see how they feel about each other and how they choose to approach certain subjects exerting a "dominance-submission" relationship, if you will. Lucy wants to be loved and her mother doesn't want to let Lucy know that she does love her despite their past. I feel like this book can be discussed in length but I don't want to accidentally spoil anything. It would make a really good choice for a book club!
There is that constant judgement in this world: How are we going to make sure we do not feel inferior to another?
There is one things that confused me throughout the book and I am keeping a bit of a negative attitude about it and that is Lucy's narration. Lucy's voice at times was too childlike, too young, too immature, I personally thought. Maybe it was like that on purpose to emphasise her thoughts and feelings at certain points or maybe it was because I received an ARC of the book. But something about the narration threw me off at various points.
Lonely was the first flavor I had tasted in my life, and it was always there, hidden inside the crevices of my mouth, reminding me.
Summing up, this is a very quick book with great philosophies on mothers and daughters, on acceptance and love in an interpersonal but also societal level and some important messages about human relations. I thoroughly enjoyed it; it made me sad and it got me thinking. I would definitely recommend it to anyone who enjoys more philosophical books about people's interactions. I think every mother and daughter can find something in this book to keep inside their minds and think about and it's also a book that you can read at different times in your life and it will offer you different perspectives and thoughts every time. I have to say though, I am not sure whether many guys would actually enjoy this kind of story.
I received a free copy of this book from NetGalley in exchange for an honest review.
I am a BookDepository affiliate. If you want to buy a book and go through this link I'll get a small commission: