This is one of my favourite annual posts in which I present my five favourite books that I read this year plus the most disappointing book I picked up in 2016. Note here, this list does not contain books that were published only in 2016. These are books that I came to read in 2016
Let's start with the worst book I discovered this year:
Ugly by Margaret McHeyzer (book review link)
If I could go back in time and avoid reading this book I would. Impossibly – to me – this book has a 4.03 star rating on Goodreads so I am obviously holding an unpopular opinion here. Nevertheless, I feel very strongly and very negatively about this novel. Specifically, I found it extremely badly written and horribly conceptualised as a plot. Not only was the story horrible itself but the cover..Seriously…what is this cover, people? It was the hugest disappointment of this year.
This year I also read some brilliant novels. Here are my top 5 books of 2016 in order of awesomeness:
This list cannot exist without the exquisite novel that won the Pulitzer in 2014.  The Goldfinch was a wonderful literary experience. Epic in scope, Donna Tartt introduced a character that will stay with you for a long time after you turn the last page. Perfect for fans of literary fiction and long, prose-rich novel fans. If slow-paced, lyrical books are you style, you can't go wrong with this one.
The Nightingale is probably the one book I have recommended the most to people since I read it back in February. It is a beautiful story praising the power of women during war-time and the "battles" that moms, sisters and daughters had to fight when men had to fight in the military far away from home. This was just a wonderful story, sad but also hopeful and I am really glad to have discovered Kristin Hannah as an author. I highly recommend this novel to anyone who enjoys fiction or historical fiction.
BookDepository: The Nightingale
Bird Box was a suspenseful horror apocalyptic novel that really kept me at the edge of my seat. I love end-of-the-world stories when they are delivered well and Josh Malerman definitely manages to captivate and thrill his readers. This might not be the ideal novel for those who don't particularly enjoy scary books but I had a great time reading it and I have decided to pick up more horror novels in 2017 because of it.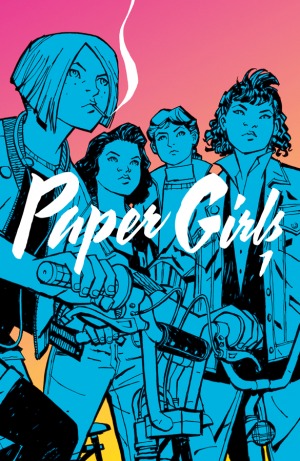 BookTubers, bloggers and readers have been praising Vaughan's graphic novel series, Saga. I had the chance to read his newest comic, Paper Girls, from NetGalley and I loved it. It was a fun, brilliant first volume, a great representation of what I would imagine a science fiction, time-travelling story would be like. It seems that Brian K. Vaughan is always associated with fantastic graphic novels and I am very excited to pick up more of his work in the future.
BookDepository: Paper Girls Vol. 1
And the winner of the title of The Best Book I Read in 2016 goes to…Dark Matter by Blake Crouch!  I cannot recommend this book enough. In fact, I am planning on holding a giveaway on the blog in which the winner will receive a gift copy of Dark Matter, so keep an eye out for that tomorrow! This book came out this year and it is a mind-twisting story that will thrill and excite you! Blake Crouch has done an excellent work, setting up the pace of his novel in a dynamic way that adds tension and bewilderment to the reader and presents a truly mind-blowing adventure.
This has been a great reading year in which I discovered many talented new authors (not mentioned here) but also authors who have already been published (many of the authors mentioned here). I am very excited to read more this new year, and explore new worlds and stories.
Happy New Year to everyone and have a wonderful time discovering new books and revisiting old favourites in 2017!
I'm a BookDepository affiliate. If you want to buy a book online (free worldwide shipping) and you go through my links (above), I'll get a small referral commission. Thank you very much for your support!