Hello everyone!
It's been a while..
I'm currently almost at the end of my vacation time in Greece and going through my second readathon of the week. And, although I've been away from many things like university and my dogs, I haven't stopped reading books.
A major literary award, the Man Booker Prize of 2017, just announced the longlist of the 13 competing titles. After watching multiple videos and reading articles about the MB17, after looking and researching all the books I finally decided to buy them all!
Here's the plan: I want to read the whole Man Booker longlist before the 13th of September when the shortlist is announced. I want to get an idea of all the books that made it past the first round into the longlist and make predictions on the shortlist. I also want to review all the books of the longlist before that time here on my blog. Mainly, I am really interested in this specific literary award and I want to be part of it in some way. Will I make it to read all 13 books in such a short amount of time? We shall see!
I call it Project Man Booker 2017. 
As I said, I purchased all the books of the longlist but two which haven't officially been published yet. Let's go through the longlist and talk about it:
4 3 2 1 by  Paul Auster (US) (Faber & Faber)
I remember when this book came out in January of this year I was very interested in it because of its size first of all, as I am always attracted to big books for some reason, but also because of sheer exposure. I would walk into the book store and there it was, looking at me, expecting me to pick it up every time. I also thought, at the time that I decided to buy it back in January, that this has a chance to be longlisted for the Man Booker Prize. Seeing how I was very eager to dive into the longlist I thought I could get a head start if I guessed correctly the fate of 4 3 2 1 in the MB17. And I did! 4 3 2 1 is sitting on my bookshelf and, depending on when the rest of the books arrive, may be my next read. Book synopsis:
On March 3, 1947, in the maternity ward of Beth Israel Hospital in Newark, New Jersey, Archibald Isaac Ferguson, the one and only child of Rose and Stanley Ferguson, is born. From that single beginning, Ferguson's life will take four simultaneous and independent fictional paths. Four Fergusons made of the same genetic material, four boys who are the same boy, will go on to lead four parallel and entirely different lives. Family fortunes diverge. Loves and friendships and intellectual passions contrast. Chapter by chapter, the rotating narratives evolve into an elaborate dance of inner worlds enfolded within the outer forces of history as, one by one, the intimate plot of each Ferguson's story rushes on across the tumultuous and fractured terrain of mid twentieth-century America. A boy grows up-again and again and again.
Days Without End by Sebastian Barry (Ireland) (Faber & Faber)
I am very happy to see a novel about two men falling in love making it into the longlist this year. Days Without End won Sebastian Barry the Costa Book Award, making him a winner of this particular prize for the second time. Barry has dedicated this book to his gay son, Toby, and everything I've heard about it so far sounds wonderful. I am looking forward to receiving this in the mail soon and diving straight into it. Book synopsis:
After signing up for the US army in the 1850s, aged barely seventeen, Thomas McNulty and his brother-in-arms, John Cole, fight in the Indian Wars and the Civil War. Having both fled terrible hardships, their days are now vivid and filled with wonder, despite the horrors they both see and are complicit in. Then when a young Indian girl crosses their path, the possibility of lasting happiness seems within reach, if only they can survive. 
BookDepository: Days Without End
History of Wolves by Emily Fridlund (US) (Weidenfeld & Nicolson)
And then we have a debut novel! What a wonderful thing it must be to have your first novel nominated for the Man Booker Prize. Again, I've heard great reviews about Emily Fridlund's first book, but I cannot help but feel skeptical about it being just that. Her first published book. I think you can only expect so much from a new author and I am fairly confident that it won't be without mistakes but I am very eager to read it and see for myself. Book synopsis:
Even a lone wolf wants to belong…
Fourteen-year-old Linda lives with her parents in an ex-commune beside a lake in the beautiful, austere backwoods of northern Minnesota. The other girls at school call Linda 'Freak', or 'Commie'. Her parents mostly leave her to her own devices, whilst the other inhabitants have grown up and moved on.
So when the perfect family – mother, father and their little boy, Paul – move into the cabin across the lake, Linda insinuates her way into the family's orbit. She begins to babysit Paul and feels welcomes, that she finally has a place to belong.
Yet something isn't right. Drawn into secrets she doesn't understand, Linda must make a choice. But how can a girl with no real knowledge of the world understand what the consequences will be? 
BookDepository: History of Wolves
Exit West by Mohsin Hamid (Pakistan-UK) (Hamish Hamilton)
I bet everyone has heard by now of Exit West. It's one of these books in this year's longlist that bookstore's are very keen to promote and many bloggers and BookTubers have read and reviewed. The reviews I've heard of are mixed. Reviewers that I follow either have loved this novel or absolutely hated it which is rather strange but also makes me even more curious to read it and see what I think of it. It's interesting to note that Mohsin Hamid has been shortlisted for the Man Booker back in 2007 with his novel The Reluctant Fundamentalist. Book synopsis:
In a city swollen by refugees but still mostly at peace, or at least not yet openly at war, Saeed and Nadia share a cup of coffee, and their story begins. It will be a love story but also a story about war and a world in crisis, about how we live now and how we might live tomorrow. Before too long, the time will come for Nadia and Saeed to leave their homeland. When the streets are no longer useable and all options are exhausted, this young couple will join the great outpouring of those fleeing a collapsing city, hoping against hope, looking for their place in the world . . .
Solar Bones by Mike McCormack (Ireland) (Canongate)
Solar Bones is one book in this list that I'm not very sure about. In fact, I think I'm not going to enjoy it and I don't know if this is bad or good seeing that I am going into it expecting to be utterly bored and disappointed. This novel is written in an innovative manner which is that the whole book is one single sentence. A very long sentence indeed, one of more than 200 pages length, but one sentence at that. It could be a disaster or a masterpiece. It remains to be seen. The book was actually published in Ireland back in 2016 but wasn't eligible for the Man Booker Prize until Canongate published it in the UK. Book synopsis:
Marcus Conway has come a long way to stand in the kitchen of his home and remember the rhythms and routines of his life. Considering with his engineer's mind how things are constructed – bridges, banking systems, marriages – and how they may come apart.
Mike McCormack captures with tenderness and feeling, in continuous, flowing prose, a whole life, suspended in a single hour.
Reservoir 13 by Jon McGregor (UK) (4th Estate)
I don't know much about Reservoir 13 other than the fact that it's a mystery novel which kind of makes it this year's Eileen. Jon McGregor was nominated for the Man Booker Prize in 2002 with his novel If Nobody Speaks of Remarkable Things which I haven't read but I am interested to see what I will think of Reservoir 13. I am usually not very satisfied after reading a mystery novel so I'm, again, skeptical about how this will go. Book synopsis:
Midwinter in the early years of this century. A teenage girl on holiday has gone missing in the hills at the heart of England. The villagers are called up to join the search, fanning out across the moors as the police set up roadblocks and a crowd of news reporters descends on their usually quiet home.
Meanwhile, there is work that must still be done: cows milked, fences repaired, stone cut, pints poured, beds made, sermons written, a pantomime rehearsed.
The search for the missing girl goes on, but so does everyday life. As it must.
As the seasons unfold there are those who leave the village and those who are pulled back; those who come together or break apart. There are births and deaths; secrets kept and exposed; livelihoods made and lost; small kindnesses and unanticipated betrayals.
Bats hang in the eaves of the church and herons stand sentry in the river; fieldfares flock in the hawthorn trees and badgers and foxes prowl deep in the woods – mating and fighting, hunting and dying.
Elmet by Fiona Mozley (UK) (JM Originals)
J
ohn Murray is an imprint of Hodder & Stoughton that I had never heard of before and they launched back in 2015 JM Originals for "fresh and distinctive writing" bringing us Elmet which will be published in August of 2017. Could we call this an indie title of this year's longlist? I don't know. I haven't heard a single thing about Elmet as not many people have actually read the book but I am pretty sure this fact is about to drastically change, especially if the novel makes it to the shortlist. I will admit, I am somewhat apprehensive about it. I still haven't purchased this one, waiting for it to be published first instead of preordering it. Book synopsis:
Daniel is heading north. He is looking for someone. The simplicity of his early life with Daddy and Cathy has turned sour and fearful. They lived apart in the house that Daddy built for them with his bare hands. They foraged and hunted. When they were younger, Daniel and Cathy had gone to school. But they were not like the other children then, and they were even less like them now. Sometimes Daddy disappeared, and would return with a rage in his eyes. But when he was at home he was at peace. He told them that the little copse in Elmet was theirs alone. But that wasn't true. Local men, greedy and watchful, began to circle like vultures. All the while, the terrible violence in Daddy grew.
The Ministry of Utmost Happiness by  Arundhati Roy (India) (Hamish Hamilton)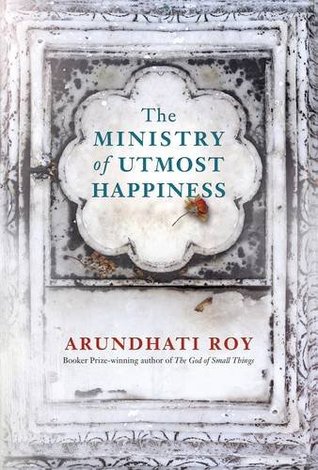 One of the strongest contestants for this year's win and a second book that probably everyone and their mother has heard of by now is the new and much awaited novel by Arundhati Roy. Roy has already received the Man Booker Prize of 1997 for The God of Small Things and her newest novel has every reviewer I'm following raving about it. Apparently it's that good! I will be keeping an open mind while I am waiting for it to make its way to my home. Book synopsis:
The Ministry of Utmost Happiness takes us on an intimate journey of many years across the Indian subcontinent, from the cramped neighborhoods of Old Delhi and the roads of the new city, to the mountains and valleys of Kashmir and beyond, where war is peace and peace is war. 
The engine of Roy's story is a hijra (India's third gender) named Anjum, and the story begins with her unrolling a threadbare Persian carpet in a city graveyard she calls home. Anjum's charisma draws a vibrant assemblage of outcasts to join her–other hijras, Kashmiri freedom fighters, activists, orphans, low-caste Hindus and Muslims, and a host of animals. Anjum's home is a place where the formerly unwanted embrace each other's true selves.
We encounter the odd, unforgettable Tilo and the men who loved her, including Musa, sweetheart and ex-sweetheart, lover and ex-lover. Their fates are as entwined as their arms used to be and always will be. We meet Tilo's landlord, a former suitor, now an intelligence officer posted to Kabul, and then we meet the two Miss Jebeens. The first is a child born in Srinagar and buried in its overcrowded Martyrs' Graveyard. The second is found at midnight, abandoned on a concrete sidewalk in the heart of New Delhi.
BookDepository: The Ministry of Utmost Happiness
Lincoln in the Bardo by George Saunders (US) (Bloomsbury Publishing)
And yet another novel that has been receiving a lot of attention and promotion by book reviewers and sellers and which has been highly praised by many people who I follow is this beautiful-looking novel about President Lincoln grieving his dead son. George Saunders offers a unique reading experience, one for which I'm looking forward to. Book synopsis:
February 1862. The American Civil War rages while President Lincoln's beloved eleven-year-old son lies gravely ill. In a matter of days, Willie dies and is laid to rest in a Georgetown cemetery. Newspapers report that a grief-stricken Lincoln returns to the crypt several times alone to hold his boy's body. 
From this seed of historical truth, George Saunders spins an unforgettable story of familial love and loss that breaks free of realism, entering a thrilling, supernatural domain both hilarious and terrifying. Willie Lincoln finds himself trapped in a strange purgatory – called, in Tibetan tradition, the bardo – invisible to his father, bowed at the tomb. Within this transitional realm, where ghosts mingle, squabble, gripe and commiserate, and stony tendrils creep towards the boy, a monumental struggle erupts over young Willie's soul. 
BookDepository: Lincoln in the Bardo
Home Fire by Kamila Shamsie (UK-Pakistan) (Bloomsbury Circus)
Home Fire is the second book I haven't yet purchased and know nothing about. It comes out in August as well and I will be picking it up after its publication. We shall see more about it then. Book synopsis:
Practical-minded Isma has spent the years since her mother's death watching out for her twin brother and sister in their North London home. When an invitation to grad school in America comes through unexpectedly, it brings the irresistible promise of freedom too long deferred. But even an ocean away, Isma can't stop worrying about her beautiful, headstrong, politically inclined sister, Aneeka, and Parvaiz, their brother, who seems to be adrift—until suddenly he is half a globe away in Raqqa, trying to prove himself to the dark legacy of the father he never knew, with no road back.
Then Eamonn Lone enters the sisters' lives. Son of a powerful political figure, he has his own birthright to live up to—or defy. Is he to be a chance at love? The instrument of Parvaiz's salvation? Suddenly, two families' fates are inextricably, devastatingly entwined.
Autumn by Ali Smith (UK) (Hamish Hamilton)
Can you believe I have never read a single book by Ali Smith? And to be honest, Autumn doesn't exactly sound like a book I would be choosing to read was it not for the Man Booker Prize but here I am, buying it anyway! I did hear very good reviews about it saying that it's a beautiful novel so, while I am a little unsure about it, I'm also very interested to check out something new to me. Book synopsis:
Fusing Keatsian mists and mellow fruitfulness with the vitality, the immediacy and the colour-hit of Pop Art (via a bit of very contemporary skulduggery and skull-diggery), Autumn is a witty excavation of the present by the past. The novel is a stripped-branches take on popular culture and a meditation, in a world growing ever more bordered and exclusive, on what richness and worth are, what harvest means.
Autumn is the first installment in Ali Smith's novel quartet Seasonal: four standalone books, separate yet interconnected and cyclical (as the seasons are), exploring what time is, how we experience it, and the recurring markers in the shapes our lives take and in our ways with narrative.
Swing Time by Zadie Smith (UK) (Hamish Hamilton)
The fourth overhyped novel that we meet as we go down the longlist is Swing Time by Zadie Smith, another Smith I've never read anything from. Wrongs will be rights with this Man Booker Prize – it kind of rhymes, too. Reviewers generally seem to disagree with all the buzz surrounding Swing Time so I'm curious to see what I will think of her novel. Book synopsis:
Two brown girls dream of being dancers–but only one, Tracey, has talent. The other has ideas: about rhythm and time, about black bodies and black music, about what constitutes a tribe, or makes a person truly free. It's a close but complicated childhood friendship that ends abruptly in their early twenties, never to be revisited, but never quite forgotten, either.
Dazzlingly energetic and deeply human, Swing Time is a story about friendship and music and stubborn roots, about how we are shaped by these things and how we can survive them. Moving from northwest London to West Africa, it is an exuberant dance to the music of time. 
The Underground Railroad by Colson Whitehead (US) (Fleet)
A
nd finally, the last but most certainly not least book to make it to the 2017 Man Booker longlist – surprise, surprise – is Colson Whitehead's The Underground Railroad. If you follow the major literary prizes you will surely know that Whitehead has conquered – among others – both the National Book Award and the Pulitzer Prize. His novel The Underground Railroad sure is a force to be reckoned with but will it be a winner with Paul Beatty's Sellout preceding it last year? We shall see. I already own this book and brought it on vacation with me, foreseeing that it should be making it on the Man Booker longlist. I was right! Book synopsis:
Cora is a slave on a cotton plantation in Georgia. Life is hellish for all the slaves but especially bad for Cora; an outcast even among her fellow Africans, she is coming into womanhood—where even greater pain awaits. When Caesar, a recent arrival from Virginia, tells her about the Underground Railroad, they decide to take a terrifying risk and escape. Matters do not go as planned and, though they manage to find a station and head north, they are being hunted.
In Whitehead's ingenious conception, the Underground Railroad is no mere metaphor—engineers and conductors operate a secret network of tracks and tunnels beneath the Southern soil. Cora and Caesar's first stop is South Carolina, in a city that initially seems like a haven—but the city's placid surface masks an insidious scheme designed for its black denizens. Even worse: Ridgeway, the relentless slave catcher, is close on their heels. Forced to flee again, Cora embarks on a harrowing flight, state by state, seeking true freedom.
BookDepository: The Undeground Railroad
And there it is, the Man Booker 2017 longlist in all its glory. If you want to hear more about the books from someone who has read most of them – all of the ones who have come out already – I recommend you check out Steve's commentary video on it:
What do you think about the longlist this year and if you've read any of the books, let me know what you think of them!
I'm a BookDepository affiliate. If you want to buy a book online (free worldwide shipping) and you go through my links (above), I'll get a small referral commission. Thank you very much for your support!🙂